LSU vs. West Virginia: Where Is WVU QB Geno Smith in the Heisman Trophy Talk?
March 10, 2017
Rob Carr/Getty Images
It seems that all of the talk about conference realignment has had a similar affect on college football as did the NFL lockout, prior to the start of this year's professional football season. 
Who's staying? Who's leaving? 
What conference will fold?  
Will some conferences merge? 
Will there be new conferences forming?  
Will there be a few "super conferences"?
All of these questions are diverting attention from the important issues. 
Who's the best team?
Who will win the current conference? 
Who will compete for the National Championship? 
Who will be the Heisman Trophy contenders?
SEC, ACC, PAC 12, Big 12, Big 10, Big Easy—who cares right now? 
Let's play some football. 
We can worry about conference realignment later.
Today ESPN's College GameDay Football Edition makes its first ever appearance in Morgantown, West Virginia for the 8 p.m. contest between the No. 2 LSU Tigers and the No. 16 WVU Mountaineers.
This is a perfect opportunity to see Heisman hopeful Geno Smith in action. 
Smith is in his second year as starting quarterback for the Mountaineers and has shown much improvement since last season.  
However, he is not mentioned in the talk of the Heisman Trophy.
But, should he be? Yes!
In his first three games, Smith has already racked up a stunning 1,008 passing yards with first year coach, Dana Holgorsen's offensive scheme. 
Smith has shown he can find an open receiver no matter what kind of pressure he faces.
Smith doesn't look for his favorite receiver; he looks for the receiver who can make the play. 
That particular receiver is different on each play. 
As a matter of fact, Smith has thrown the ball to 12 different jersey numbers already this season.
When the time does arrive that his hands guys cannot get open, Smith has no problem trotting down the field himself.
This is the type of player that every coach dreams of having on the chart.
This is the type of player that NFL scouts enjoy taking the time to watch. 
Geno Smith knows this, too.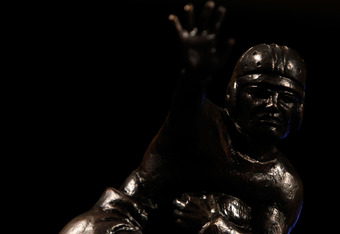 Jeff Zelevansky/Getty Images
However, Smith isn't worried about the NFL scouts; he is simply concerned with leading his team to victory.
Smith—a junior—is majoring in athletic coaching education and is already advising and teaching other Mountaineer teammates.
Last season Smith was named first team all-BIG EAST by ESPN.com, Rivals.com and Phil Steele and second team by the BIG EAST coaches.
No, Smith has not gotten much attention as a Heisman hopeful as of yet. 
However, following this week's game against LSU, Smith will be a household name and will continue to be for the remainder of the season. 
Smith will lead the Big East in passing and more than likely be in the top-five nationwide.
Expect to see Smith among the four finalists for the Heisman Trophy. 
The winner will be announced on Saturday, December 10, 2011.