Juan Martin Del Potro Is Slowly but Surely Returning to the Top of Men's Tennis
September 20, 2011
Srdjan Stevanovic/Getty Images
This weekend, Argentina booked its spot in the Davis Cup final in December, courtesy of Juan Martin del Potro, David Nalbandian and an injured world No. 1, Novak Djokovic. The win provides Argentina with an opportunity to avenge their 2008 defeat to Spain, where the Spanish team, without Rafael Nadal, still managed to take out Argentina.
Del Potro's win over Djokovic was only the Serb's third loss this year—the two latter both caused by injury. Had Delpo won it fair and square, it would have been the signature win that the tennis world, and del Potro himself, have been waiting for all year. Alas, all we got out of the draw was that he can still play at a high level.
Del Potro has had more bad luck in his short career than most players endure over the course of their entire career. This year, he's climbed up the rankings, starting from a low of No. 485 after the Australian Open. In comparison, Rafael Nadal's injuries in 2009 and slow start in 2010 never saw him fall below fourth in the world. Del Potro has truly had to climb his way up from rock bottom. 
Now, the gentle giant is up to No. 13 and has a top ten position within shooting distance. If he plays well enough in the fall, he can even aim for participation in the World Tour Finals. 
Many speculated that del Potro would be back at, or near, his best by the time we hit August and the North American hard-court swing, where the Argentine has excelled in the past.  
Instead, he fell to Ernesto Gulbis, Marin Cilic, Roger Federer and, eventually, Gilles Simon at the US Open.
Del Potro's season has been a story of "almost, but not quite there yet."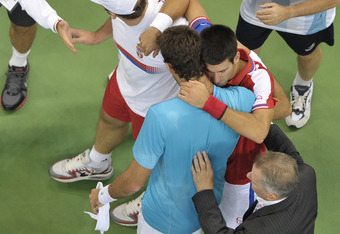 Srdjan Stevanovic/Getty Images
In the early spring, del Potro won two tournaments and scored some decent wins, defeating Robin Soderling twice, and Fernando Verdasco once.
He was set to meet Rafael Nadal in a much-anticipated meeting at Madrid, but a new injury forced him to withdraw prior to the match and stalled his progress.
Yet, when he played the unbeatable Novak Djokovic in the third round of the French, Delpo took the second set, before darkness postponed the match and Djokovic came out rejuvenated and claimed the third and fourth sets.
At Wimbledon,he didn't have much luck in the draw either, playing Nadal in the fourth round. The match was very close, 127-127 in points won in the middle of the fourth set, but Nadal edged out both tiebreakers and secured the match in four sets.
If anything, playing the two best players of the season that closely should have given Delpo the necessary confidence to strike back once play on his favourite surface began. However, no strike came, not even at the US Open, where he hadn't lost a match since 2008.
His Wimbledon defeat repeated itself, this time falling to Gilles Simon, courtesy of two tie-breakers and three missed set points in the fourth—not to mention way too many unforced errors to beat a player like Simon. 
Maybe we've been expecting too much from Delpo? Maybe it is unrealistic to expect him to get back to the level at which he left the game, given he's missed almost an entire year of tennis due to his wrist surgery?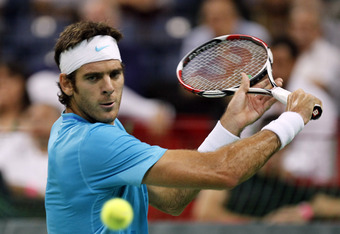 Srdjan Stevanovic/Getty Images
Nevertheless, at the end of 2009, it looked as if this man, not Djokovic or Murray, was the man who could, and would, challenge the Federer-Nadal duopoly. 
After all, it was Delpo who nearly prevented Federer from completing his career Grand Slam at Roland Garros in 2009. It was also Delpo who smashed Nadal 6-2, 6-2, 6-2, before taking Federer out in the fifth set of the US Open to become the first man to beat Fedal in a slam. And this was all done before turning 21.
He followed it up at the World Tour Finals, where he beat Federer in the round robin play before falling to Nikolay Davydenko in the final. 
Then came injury, which left del Potro unable to challenge Nadal and Federer in 2010 and Djokovic and Nadal in 2011.
What to expect?
Can we expect Delpo to extend the big four to the big five? If so, when? 
His game certainly has what it takes. If we take a look at two of the most important stats in tennis, Delpo is neck and toe with Federer for 2011. I'm taking about hold games and return games won. 
Federer is third on the ATP tour in hold games won, winning 89 percent, while Delpo is fourth, winning 88 percent. In return games won, Federer is 12th and Delpo 13th—with both players winning 27 percent. Delpo is even seventh best at converting breakpoints (45 percent), while Federer is down at 38th (40 percent).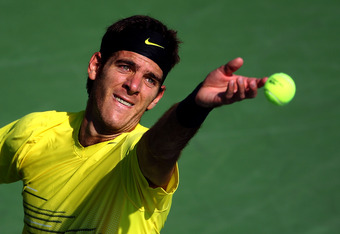 Julian Finney/Getty Images
He's also better than Federer when it comes to saving break points, saving 67 percent (fifth best) to Federer's 64 percent (13th best). Of course, looking at the stats alone doesn't factor in the opposition played.
Delpo hasn't made it to the deep end of as many tournaments and hasn't run into Nadal-Djokovic a combined eight times. Nevertheless, the fundamentals are clearly there for del Potro.
His 6'6" height aids him in his service games and, for a guy that big, Delpo moves extraordinarily well. He has some of the hardest groundstrokes on both wings and, once he's in the zone, he can hit them anywhere on the court.
So, what is he lacking at the moment?
If anything, the last two years have shown how important confidence is in men's tennis. Late 2009 and early 2010, post-injury, Nadal was still a shadow of his former self, lacking the confidence to execute and lacking belief in his own body.
Then came the clay, the first victory and four to five months of complete dominance. A big win can do that for a player, just as Djokovic's US Open semifinal win over Federer and Davis Cup victory with Serbia propelled him into being the player he's been this year.
Del Potro needs a big win. He needs a win over one of the big four, in order to show himself and others that he's back. And he might as well do that in the Shanghai Masters or BNP Paribas Masters in Paris. 
Delpo is 11th on the year-to-date ranking, trailing Tomas Berdych at eighth by a mere 300 points. A big tournament win, or simply some good results, should be enough to get him to top eighth on the YTD ranking, thus securing him a spot at the World Tour Finals.
That would be a suitable pre-Davis Cup finish to a year that has already seen Delpo battle his way up from the very bottom.