10 Grand Slam Matches Roger Federer Should Have Won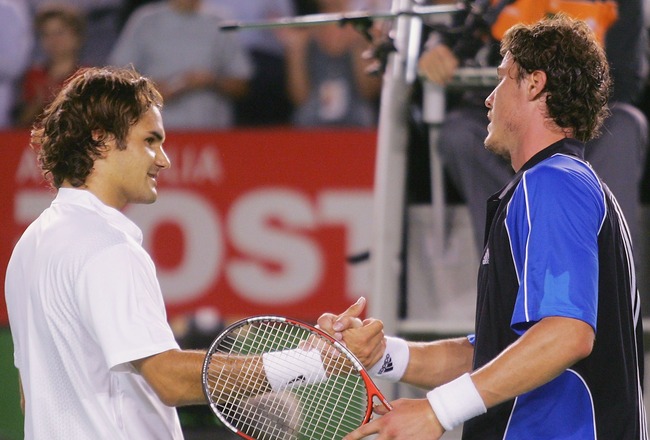 Sean Garnsworthy/Getty Images
Roger Federer just lost to Novak Djokovic, having had two match points in their US Open semifinal match. The same thing happened last year.
Both of these matches, without question, are ones that Federer should have won. However, these aren't the only Grand Slam matches in his illustrious career that escaped from him
These are 10 matches that Federer was in position to win and should have been able to close out but couldn't.
A little over a week ago, I wrote an article about matches Federer should have lost. This is the other side to the story.
Federer vs. David Nalbandian: Australian Open 2003 (4-6, 6-3, 1-6, 6-1, 3-6)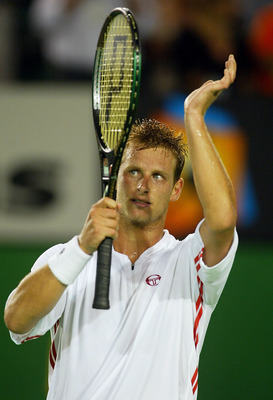 Mark Dadswell/Getty Images
David Nalbandian had been Roger Federer's rival going back to his youth.
Federer managed to win the fourth set and push it to a decider, but collapsed in the fifth, only managing to win one game.
Later in his career, his record would improve against the Argentine dramatically, but still sits just over 50 percent.
Federer vs. Marat Safin: Australian Open 2005 (7-5, 4-6, 7-5, 6-7(6), 7-9)
Sean Garnsworthy/Getty Images
Like in his recent encounter with Djokovic, Federer actually had match points in this one.
An ill-advised hot dog shot and superior play from the Russian saw both erased, however.
Federer had beaten him handily in the final the year before, but the mercurial Russian stepped his game to a new level in a match that all who saw it surely remember.
Federer vs. Rafael Nadal: French Open 2006 (6-1, 1-6, 4-6, 6-7(4))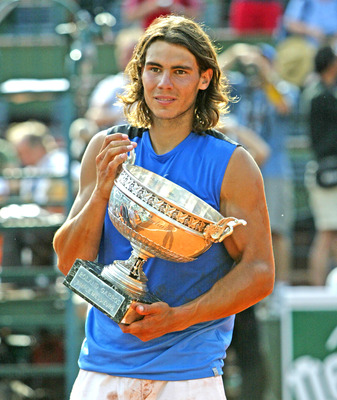 Cynthia Lum/Getty Images
Out of all their battles at Roland Garros, this is the one I think Federer should have won.
He was at the height of his powers and took the first set in dramatic fashion, allowing just one game from the greatest clay court champion of all time.
As is always the case though, Nadal bounced back and Federer could not even push it to a decider, succumbing in four sets and letting what felt like thousands of break points elude him.
Federer vs. Rafael Nadal: Wimbledon 2008 (4-6, 4-6, 7-6(5), 7-6(8), 7-9)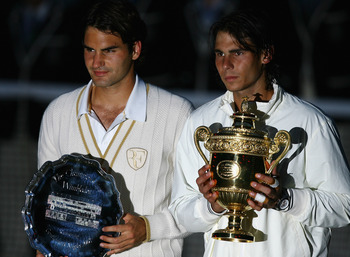 Julian Finney/Getty Images
The hardest one for Federer fans to stomach.
Rafael Nadal came out executing a clear game plan to great effect, taking the first two sets in front of an increasingly stunned center court crowd.
Federer defends his Wimbledon crown with the same vehemence as Nadal in Roland Garros, though, and came back to win the next two sets in memorable tiebreakers, with pinpoint serving and precision passing shots.
It wasn't enough though, and in comparing their five-set records, it's obvious why Nadal was able to emerge as the victor. It was a loss Federer described as even more painful than his implosion in Paris just weeks before.
Federer vs. Rafael Nadal: Australian Open 2009 (5-7, 6-3, 6-7(3), 6-3, 2-6)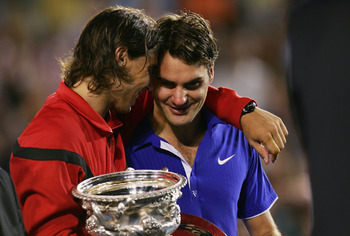 Scott Barbour/Getty Images
This match had innumerable high-quality exchanges and break point opportunities for both sides.
Nadal played his better, though, and Federer let two sets that were well within his grasp slip away and played a fifth set reminiscent of his match against Nalbandian in 2003.
Had he put a higher percentage of first serves in and played the break points better, this could have been the fourteenth trophy for the maestro before his first French Open crown.
Federer vs. Juan Martin Del Potro: US Open 2009 (6-3, 6-7(5), 6-4, 6-7(4), 2-6)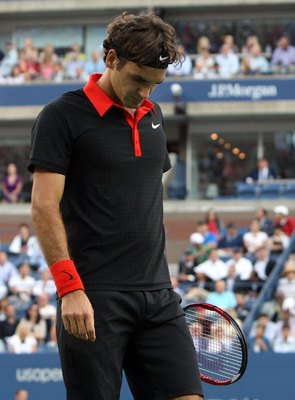 Jim McIsaac/Getty Images
Federer was up two sets to one and two points away from the match against an opponent in his first grand slam final.
What transpired few saw coming.
Del Potro rocketed forehands that broke the sound barrier and left Federer stunned and frustrated in a fifth set that matched the score line of his loss against Nadal in the Australian Open the same year.
The hardest part to digest is that had Federer won this and the Australian Open, he would have had all four trophies won in the same year and both were winnable matches.
Federer vs. Robin Soderling: French Open 2010 (6-3, 3-6, 5-7, 4-6)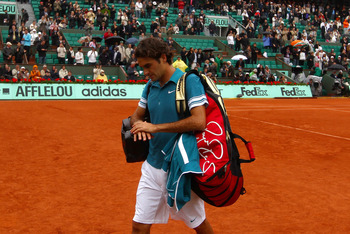 Clive Brunskill/Getty Images
Federer had destroyed him in their final at Roland Garros a year earlier.
What a difference a year makes.
Federer's plan of containing Soderling with clever drop shots and running him around as though on a string fell apart as the Swede was able to dictate play and rocket forehand after forehand passed the maestro.
Federer had a set point in the third set to take a two set to one lead, but Soderling came up with a breathtaking backhand overhead and went on to take the set and the match.
Federer vs Novak Djokovic: US Open 2010 (7-5, 1-6, 7-5, 2-6, 5-7)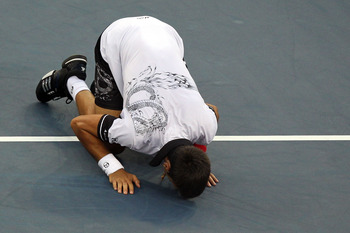 Al Bello/Getty Images
In a strange seesaw affair, this match eventually was forced to a decider.
Federer had won all the competitive sets, and as the fifth began, it seemed he would close it out, especially when he gained match points.
But Djokovic came up with two breathtaking forehands, and after Federer let those go his play fell apart and Djokovic was able to beat Federer in their semifinal for the first time in their past three encounters there.
Federer vs Jo Wilfried Tsonga: Wimbledon 2011 (6-3, 7-6(3), 4-6, 4-6, 4-6)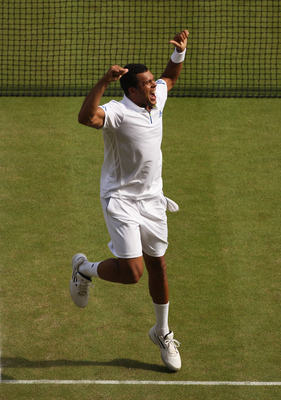 Oli Scarff/Getty Images
Federer went up two sets to love. He had never lost before in that position.
But Tsonga came out firing, and Federer's stats in the last three sets were far from poor. The Frenchmen just came up with some riveting stuff that left Federer eliminated in the quarterfinal match of his favorite tournament for the second year in a row.
Federer vs Novak Djokovic: US Open 2011 (7-6(7), 6-4, 3-6, 2-6, 5-7)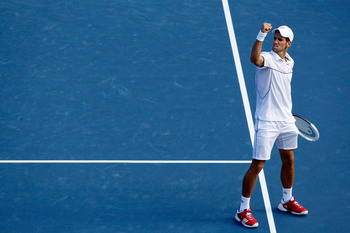 Jared Wickerham/Getty Images
Once again it went to a fifth set, and once again Federer had match points.
There were some notable differences, though. Federer was up two sets to none. Federer held match point on his serve this time.
But shadows of last year crept into his game, and Djokovic was able to rocket a winner passed the maestro (who later called it "lucky," if not in so many words), and never looked back from there.
Keep Reading