Mickey Mantle: Statistical Reality Undermines Legendary Status
September 14, 2011
Jim McIsaac/Getty Images
Baseball people, owners, general managers, managers, coaches, scouts, players and fans, have for the longest time been enamored with statistical analysis. Even before sabermetrics and predictive modelling and chemistry and string theory were used to evaluate the relative worth of a player, we would all look at the back of a baseball card to see how our favorite and not-so-favorite players performed.
The baseball card served as the encyclopedia of the baseball world for generations, and you could sit on a porch with your friend and argue who's better than whom using only the stats listed on that little cardboard rectangle.
Statistics, therefore, have undoubtedly been the foundation of how we evaluate a player over the course of their career. And with that said, a closer look at Mickey Mantle's career reveals some startling realities, realities that point to The Mick not necessarily being who we all thought he was.
To anyone who is, ahem, mature enough to have actually seen Mantle play, or to have grown up in a time when he was discussed not as an ancient, mythical creature but rather as a relevant and current baseball presence, the idea that Mantle is anything less than supernatural is virtually blasphemous. He was the natural evolutionary step after Ruth, Gehrig and Dimaggio, after all, and nothing short of luminous.
The reality, though, is that Mantle does not even remotely approach the consistent brilliance of those Yankee icons; not from a statistical perspective, at least. Now, this is no cause for shame, of course, as Ruth, Gehrig and Dimaggio are three of the standard bearers for the definition of baseball immortal for all of history, not just in terms of their place in Yankee history.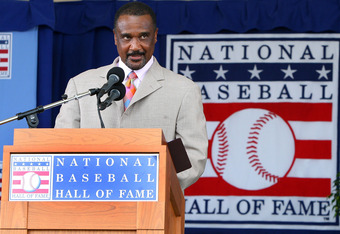 Jim McIsaac/Getty Images
With this said though, Mantle has a tough time comparing to many of his fellow Hall of Famers, men whose statistical performance match their legendary reputations. We'll address some examples of this later on, but for now let's look at Mantle's production only.
Despite a slew of injuries, and despite a dependence on alcohol that undermined his wondrous natural talents, Mantle played for 18 seasons. This is no small feat in an era where physical conditioning programs consisted primarily of jumping jacks, push-ups and a quick nap. Additionally, there was no arthroscopy or million dollar rehab programs to rely on. So, kudos to Mantle for playing through what has been described as immense pain for much of his career.
Over those 18 seasons, Mantle put up some truly wonderful individual seasons from a statistical perspective, including of course his Triple Crown year of 1956 (.353/52 HR/130 RBI/1.169 OPS). In that 1.169 OPS, by the way, was a .705 slugging percentage, giving an indication of what Mantle was capable of when healthy and, presumably, in control of his various demons.
It's seasons like this one that invariably lead to the search for more like it, however there is just one other in Mantle's career that compares, 1961 to be exact, and only a handful of others that can, with kindness, be considered to be in the ballpark, so to speak. His line of .317/54 HR/128 RBI/1.135 OPS from 1961 is superb, to be sure, but again we face the dilemma that it stands almost alone with 1956 as a measure of what Mantle should have been expected to approach year after year.
Perhaps most shocking of all, in presenting Mantle's 1956 and 1961 numbers for review we've just now covered exactly half of the seasons where he produced 100 or more RBI. Above all, this is a true indication of where Mantle faltered statistically in terms of earning his god-like reputation. You can argue that batting average is an overrated statistic, but the value of run production cannot be overstated.
That Mantle produced 100 or more RBI in a season just four times during his 18-year career is a serious blow to his memory, and has perhaps the most detrimental impact on his standing amongst baseball greats.
By comparison, Willie Mays and Duke Snyder, the two players Mantle was and is most often compared to, had ten and six seasons of 100 or more RBI respectively. If the standard is reduced to seasons of 90 or more RBI, Mantle with nine still trails Mays (12) by three and only equals Snyder. While Mays played four more seasons than did Mantle, three of those seasons, much like Mantle's last four years, were not in any way representative of Mays at his best. Snyder, like Mantle, played 18 seasons in all.
Turning once again to how Mantle stacks up against other Yankee greats, it is illuminating to realize that DiMaggio produced nine 100 or more RBI seasons in his 13 year career and another two of 90 or more. Considering that DiMaggio missed all of his prime years to World War II, and that he did not play in any 162-game seasons, it becomes clear that Mantle does not fare well in any comparative sense when up against DiMaggio. The gulf, in terms of production, is simply immense.
As for how Mantle compares to Ruth and Gehrig, well, the numbers don't even place Mantle in a serious discussion. Having said that, the eras were significantly different and toe-to-toe comparisons, therefore, are not entirely meaningful. What is meaningful, though, is to take a look at how Mantle compares with another player in the Hall, a player whom very few would think compares in any way to Mickey Mantle.
That player, Jim Rice to be precise, who had to wait until twenty years after he retired to be inducted to the Hall, produced eight 100 or more RBI seasons and another of 90 or more, tying Mantle (first ballot Hall of Famer) in the latter comparison but handily outdoing him in the former.
Mantle does have a significant edge in OPS, .977 to .854, but, in the end, does it matter whether you knock in a run with a single or a home run?
In reality, on base percentage and RBI totals are the two most significant barometers of offensive potency, and while Mantle has an extraordinary career OBP mark of .421 as compared to Rice's .352, the edge that Mantle holds in this category does not compensate for his less than admirable abilities to drive in a run.
Does one comparison eradicate Mantle's accomplishments? No, it does not. To be fair, there are any number of players in the Hall with fewer overall RBI than Mantle. That is to say, or acknowledge really, that runs batted in is not the only way to measure a player.
In the case of Mantle though, considering he was in the heart of the Yankees order during a period that saw the team win seven World Series—and compete in another five—during a 14-year stretch, you would imagine that he would have had endless opportunities to put up some serious RBI numbers.
Having not seen Mantle play, this writer is admittedly incapable of fully assessing Mantle as an athlete and baseball player. Statistics though, are the single most effective method to objectively evaluate a player's career, and as such Mantle is considerably more viable as a legendary great when one avoids looking at the numbers.
How far you hit a ball and how fast you run are indications of talent and ability, and by all accounts Mantle was singularly talented when compared to his contemporaries, predecessors, and successors. Statistically, however, Mantle gets lost in the shuffle.
So where do sabermetrics come into the discussion? Frankly, they don't, and for a simple reason. The basic building block behind all sabermetrics is this notion of the replacement player. In other words, how would someone else have done in the same situation, with the someone else being the average player.
While this is a wonderful approach of evaluating a player against his peers, remember that the premise we're discussing is not simply Mantle versus his peers but Mantle versus other baseball legends. Using that measure, Mantle, as apparently blasphemous as it may seem to say, is simply not the player many thought him to be.