Novak Djokovic: How Long Before His Legacy Matches to Rafael Nadal's?
September 14, 2011
Chris Trotman/Getty Images
Novak Djokovic just beat Rafael Nadal for the sixth consecutive time this year, all in finals and two of them in grand slam finals. If he did not before, he certainly now stands utterly alone at the top of the tennis world.
The last two years have seen monumental change of momentum in men's tennis. At the onset of 2010, Roger Federer stood atop the tennis world and tennis history, having won three of the last four slams he last entered and having suffered a close defeat in the fourth to upcoming Juan Martin Del Potro.
He had 16 slams compared to Pete Sampras' 14 and Nadal's six, and few hesitated proclaiming him the greatest ever.
But once the clay rolled about, it became clear that 2010 was all about Nadal. He more or less cleared the table from April til September, winning three slams and three clay masters in the process.
Federer and Novak Djokovic both made some good results at the tail-end of the season, but in the end, it was all about Rafa.
At the start of this year, the talk of the town was about the Rafa Slam. Could he or could he not become the first man since Rod Laver to win four consecutive slams, even though it wouldn't be in the same calendar year?
As it turned out, he couldn't. But very few doubted that he was on track to edging closer and closer to Federer's magical 16.
Then came Mr. Gluten-Free, whose confidence has skyrocketed by taking out Roger Federer at the U.S. Open and subsequently winning the Davis Cup for Serbia.
Previously criticized for wilting and resigning if it got too hot or if he was feeling a minor ailment, Novak Djokovic 2.0 was now a model of fitness and stamina.
He proved that to everyone who cared to pay attention when he beat Rafael Nadal in two consecutive hard-court finals within a two-week span—each time after trailing a set.
In the Miami match, he had Rafa—the tennis world's equivalent to the energizer bunny—physically on the ropes in the third-set tie-break. 
Could he repeat it on clay? Yes, he could.
Could he repeat it in a five-setter? Yes, he could.
For each and every challenge asked, Novak rose to it. After their first two meetings on hard court, it became clear to me that he both could and would repeat it on clay. The reason?
For the first time ever, Rafael Nadal was facing a foe who was winning the long rallies against him.
Never before has the baseline bully found his equal or superior in this respect. Why not on clay, I asked? And, indeed, why not?
Courtesy of Roger Federer, Nadal didn't get to meet Novak Djokovic in the French Open final. But he did not escape the man for whom he has no answers at Wimbledon and the U.S. Open.
Mind you, prior to this season, Novak was 7-16 and 0-5 in finals against Rafa. Now, he's 13-16 and 6-5.
How Far Can Novak Go?
Many people believe it is only a matter of time before Djokovic comes down from the sky and starts playing tennis with the mortals again.
Nadal himself has said that Djokovic is going through a year that may be impossible to repeat. 
But if you take a closer look, there is no reason why Djokovic should not be able to continue his dominance. It is not as if his game is based on excessive risk-taking and he just happens to be in the zone all the time.
Rather, his game is methodically built upon sound foundations. He's always been among the best returners on the tour. Now he breaks his opponents at will, breaking Rafa an astounding 11 times in the U.S. Open final.
His serve has come back and his hold game is now on par with the best servers on the tour. When a guy with the best return game suddenly also has one of the best hold games, you can see why he is next-to-impossible to beat.
Everything points to further dominance by Djokovic, and thus a rapid catch-up with his more heralded peer, Rafael Nadal.
He's but the French Open away from having won all slams. He's already won the World Tour Finals and the Davis Cup.
Unless Rafa brings something radically new to the table, how many people would favor Rafa against Nole at the French—or anywhere else, for that matter?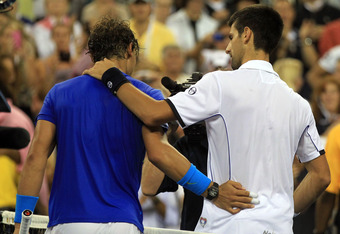 Matthew Stockman/Getty Images
Is there any reason not to believe Novak would prevent Rafa from piling up further slams? Any reason not to believe he would pile up an additional 2-4 a year for the next three years to come? 
Yes, and no. 
No, because there is no immediate threat to his further dominance. The one man who has prevented him from winning all four slams and came within a point of robbing him of the U.S. Open is aging, and though he may still be able to upset Djokovic, the rivalry should tilt in Djokovic' favor. 
And yes?
Well yes, because tennis is unpredictable and we do not know who will suddenly rise and dominate the season or become a serious challenger.
Yes, because Rafa has never been a man who has backed away from a challenge.
Yes, because although Rafa does have a matchup problem with Novak, a return to that 2010 U.S. Open serve and a more aggressive game-plan like the one he employed in the third set of the U.S. Open should give him a much better chance of scoring a win against Novak.
And yes because that immensely-talented guy named Andy Murray just might get his act together and pull a Djokovic. If he somehow manages to win one slam, wouldn't there be a whole lot of reason to believe that can give him the sort of confidence he so badly needs?
Moreover, Murray is the second- or third-best returner in the game, but he is only No. 35 this year for service games held.
If he can make the transition Djokovic has done and improve his serve and first-serve percentage, improve his forehand and get his head and confidence together, he surely has enough game to challenge Djokovic.
So, to answer the question in my title:
It looks as if Novak Djokovic is on course to match his own legacy with Rafa's in the next two or three years, depending on how you interpret "match." A French Open win and a three more slams would make them 8-10 in slams, providing Rafa doesn't add further in the same period.
Right now, four Slams for Novak over the next two years seems a conservative estimate. But none for Rafa perhaps even more so.
But rather than trying to predict the exact date that Novak will match or eclipse Rafa, I will say that it certainly looks as if he will, when all is said and done.
Then again, it also looked as if though Rafa would do that to Roger at the start of this season, and six more slams now seem a tall mountain to climb for Rafa. It doesn't for Novak (who trails Rafa by six).
While I personally believe he has a very good chance of getting to around 10 slams and maybe even more, it is a little early to say with any certainty as to the when and if it definitely will happen.