Novak Djokovic's Unprecedented Men's Tennis Domination Ends with US Open Victory
September 13, 2011
Mike Stobe/Getty Images
There are several points worth considering in this year's US Open Men's Tennis Championship and the related media coverage. These include where to place Novak Djokovic in tennis history, what to say about his victories this year and his level of domination, and whether the seeding at the US Open makes any sense.
The most important of all? How could anyone have watched Novak Djokovic's domination of Rafael Nadal on Monday in the rain extended last major championship of the year and proclaim that it was an even match? Opening by winning six games in a row in the first set after losing the first two games to Nadal, dominating the end of the second set, and closing by winning all but one of the last set's seven games, Djokovic's dominant  6-2, 6-4, 6-7 (3), 6-1 win, his sixth win in finals this year against Nadal, undoubtedly would have told any sane, unbiased critic that Djokovic is by far the better player than Nadal this year.
Yet, watching this wonderful victory was needlessly punctuated by Nadal apologists and fans, starting by fan number one John McEnroe, who proclaimed it was an even match, suggested that Djokovic was faking a bad back, and pronounced Nadal the best defensive player in the game if not in history.
Nadal himself, although perhaps unintentionally, belittled Djokovic's superiority by claiming that Djokovic's run may be the greatest year of all time, one no one will ever match.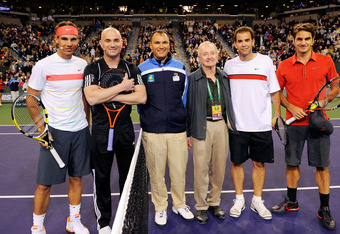 Kevork Djansezian/Getty Images
Do not let those who write about the Greatest Of All Time (GOAT) persuade you that this was an even match. Sure, many of the rallies lasted forever. Yet, the three sets won, and the one when Djokovic was getting treatment for a bad back that eventually lowered the speed of his first serves from the mid 120s to the 80s (in MPH) which was the only even one of the match, were as dominating as any in any sport.
During the long rallies, one was reminded periodically of Mike Tyson finally meeting his match when facing fighters who were not intimidated by the posturing and facial expressions of a bully. Rafa Nadal may be nothing like Tyson. Yet, his facial expressions and posturing do the world of sports intimidation proud. And his previously magnificent blows and radar-like aim, like Tyson's huge and direct punching power, have been shown to be merely mortal when facing Djokovic.
In his back-handed nod to Djokovic, McEnroe statement that Nadal was the best defensive player in the world of tennis (did he say ever?) gathered the weight of the moment in proclaiming Djokovic the best offensive player. Dick Enberg later began to talk of the talents of both defenses. Yet defense or offense, the truth was on display during the 2011 US Open Finals. 
Novak Djokovic has now ascended the throne of the tennis world. There is no other player like him. And only one, who should never have met him in the semifinals, stands as tall and remains the best in the world of all-time. Roger Federer. Who took Djokovic to five sets, had two match points, and beat Djokovic in the French Open semifinals. Only Federer seems to have Djokovic's measure. And he is unfortunately not meeting Djokovic in tournament finals given his number 3 ranking in the world.
Still, Federer should have met Djokovic in the US Open Finals this year had the seeding been done in a way that followed normal sports seeding anywhere other than the sports world. There is no acceptable answer as to why Djokovic met Federer in the semifinals.
Since when does the player seeded first have to play the third seed when the top four seeds remain? In no sport. Djokovic should have played fourth seeded Andy Murray, and third seeded Federer should have played second seeded Nadal. 
After witnessing the last two matches played by Djokovic, there is no doubt but that the better player and match was Federer against Djokovic. Remember, Federer had played a relatively healthy Djokovic to five sets. The last set was close and great. 
So, Djokovic had to play the other two best players in the world in order to win his championship.
Nadal had the easy road to the Finals. Why? Because he was defending champion?
By the end of the US Open, as if it was not clear before, there can be no question but that Novak Djokovic has the opportunity to be the greatest player of his time. Djokovic does not seem to be as complete a player as Federer. And he will never be as fluid and effortless as Federer. Even on today's tennis stage, Federer seems to dominate in ways that differ from Djokovic.
In briefly turning to the GOAT question, there was never better proof that equipment has changed this game dramatically than the US Open. Indeed, while Federer still refuses to use the latest in tennis technology, the control of the ball and racket that is possible with the latest tennis rackets may be best seen by the angles one can achieve today as opposed to the rackets of old. Current technology allows such precision that one can hit a middle court serve and strike the outside line half way or even less toward the net. They also allow what would have been impossible spin in the old days put balls in unusually high positions for the opponent, both destroying the opponent's accuracy and ability to hit the ball as forcefully in return.
What would these rackets have achieved in the hands of Rod Laver, John Newcombe and for that matter Jimmy Connors? We will never know.
Suffice it to say that we could have seen very different winners and totally different dominance. Older equipment leveled the playing field. Unlike today, superior talent was "dumbed down." Perhaps without this leveler, the very short Rod Laver would have had little or no chance of accomplishing what he did. We will never know. 
Yet, there is one thing that cannot be denied, one thing that is so profound we cannot ignore its historical significance this year. One thing that makes this year unlike any other in history.
Djokovic's 64-2 record.
Indeed, without the premature end to the French Open, Djokovic would have had the first true Men's Grand Slam of the Open Era and his record would have been an even more astounding 66-1. Even with that loss, he has become only the sixth man in Open history to win three majors in the same year. And his record of 64-2 was achieved with everyone healthy, including Murray, Nadal and Federer, his three main competitors with the last two among those always mentioned as potentially the GOAT of tennis.
For those who still proclaim Nadal better than all in tennis today and yesterday, pay heed to the record here. If he is the best, what is Djokovic? Is this year really an aberration, as Nadal proclaimed? And if so, how much of an aberration?
The answers will have to wait.
What does not have to wait for an answer is the question: "Who is the best player in tennis today?" For this question, only one answer exists. Novak Djokovic.