2011 US Open Tennis: In Hands of Novak Djokovic the Sport Is in Trouble
September 13, 2011
Mike Stobe/Getty Images
After now having some time to step back and assess the US Open Grand Slam, it is time for some sobering observations. 
The sport is indeed in trouble. 
Yes, Novak Djokovic has had a stellar year, probably the best ever with only two losses on the season.  Yes, it has been interesting how he beat Rafael Nadal six times during the year.  However, despite all these facts, the sport is headed on a downward spiral. 
For five long years, both Nadal and Roger Federer dominated the sport in a spirited yet gentlemanly fashion.  The desire to win was laid out on the court and left on the court once the game was finished.  So, what has changed?
Djokovic has changed the game of tennis and I would argue it is not for the better.  It started as early as two years ago against Andy Roddick at the US Open.  Roddick was joking about Djokovic's tendencies to retire for many different illness reasons. 
Not only did Djokovic not take the humor lightly, he used his bitterness to air his grievances out on a pro-Roddick crowd.  He took it out personally on the crowd and was understandably booed off the court.  The atmosphere transformed into more of a bad wrestling match than tennis.  
Tennis has always had its bad boys—players such as John McEnroe, Jimmy Connors and, to some extent, Marat Safin caused great controversy with their on-court behavior.  However, Djokovic has gone one step further by communicating with the crowd (albeit in some extremely patronizing and insulting ways) in order to win his match.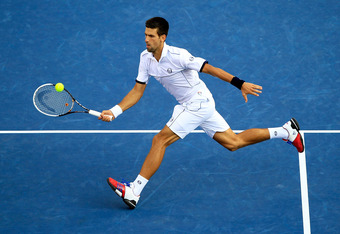 Chris Trotman/Getty Images
Djokovic, to his credit, in the past has been very gracious when he lost.  However, he is crossing the line now by introducing the cheap wrestling entertainment antics to the sport.  The excitement of tennis should rest solely on its quality of play and not by a circus of personality freaks.
The Djokovic-Federer semifinal was probably the first step in the real degradation of the sport.  Rather than concentrate completely on his match, Djokovic decided to solicit the crowd for encouragement.  Did Federer ever do this in his career?  No, I do not have any recollection of any such antics.  If he did, I would be the first to chastise him. 
The crowd gets behind Federer completely because of his quality of play and fair sportsmanship.  Therein lies the difference of class between Djokovic and Federer.  Djokovic had to go and solicit his support during his match, which really cheapens the sport. 
Djokovic is a great player.  He is a funny entertainer and he has a good spirit about him.  He will go on to have a stellar season and maybe dominate another year at least.  With Federer and Nadal seemingly declining, Djokovic has fallen quite short to live up their established sportsmanship and fair play that has inspired new fans in tennis. 
Djokovic does not inspire on the same level and threatens to plunge tennis into a professional wrestling look-a-like sport complete with "the Incredible Hulk" impersonations upon victory.  Andy Murray is incredibly hard to watch because of his grumpy antics during his matches, even when he wins.  Do we really need to see how large he can open his jaw when he celebrates a point? 
Up until now, tennis has set itself apart from its rivalling sports with its players' pure concentration on the match, but with the ascension of Djokovic, this is now in peril.