UFC Fight Night 25: Jake Shields vs. Jake Ellenberger—Head to Toe Breakdown
September 13, 2011
The Battle on the Bayou goes down this Saturday, September 17th, at 9pm ET on SPIKE TV.
UFC Fight Night 25 features two of the UFC's best welterweights, Jake Shields and Jake Ellenberger, in a fight that surely has title contention significance.
Shields is coming off of a unanimous decision loss to Georges St-Pierre at UFC 129. Prior to the loss, Shields was on a five year, 15 fight win streak, during which time he won Rumble on the Rock 9, the EliteXC welterweight championship, and the Strikeforce middleweight championship. With a career record of 26-5, Shields may only be two fights away from a rematch with GSP.
Ellenberger is on a hot streak of his own with four straight wins since losing his UFC debut to Carlos Condit. Though he's been fighting lesser competition since losing to Condit, Ellenberger has impressively knocked out three of his last four opponents. Though he has a career record of 25-5, Ellenberger has yet to face high level talent on a consistent basis; this fight should test his mettle.
Neither fighter immediately jumps out as being far and away superior, so let's take it point by point:
Striking: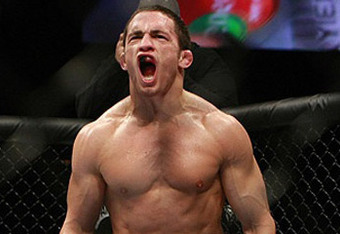 Though Shields has shown improvement from his time working at the Fairtex Academy in San Franciso, he still remains a grappling first fighter. Of his 26 wins, he only has three knockouts
Ellenberger, training out of the Reign Training Center with such fighters as Jason "Mayhem" Miller and Mark Munoz, has been something of a knockout artist through his career. Of his 25 career victories, 16 have come by way of KO or TKO.
According to FightMetric, Ellenberger is, at least during his stint in the UFC, a slightly more accurate striker and is better on his feet defensively. This is a difficult comparison to use, however, given the variance in the number of fights being used.
From a technical standpoint, I see striking to be fairly even, though Ellenberger has a clear advantage due to his knockout power.
Advantage: Ellenberger
Wrestling/Grappling:
This is where I think the fight will be won or lost.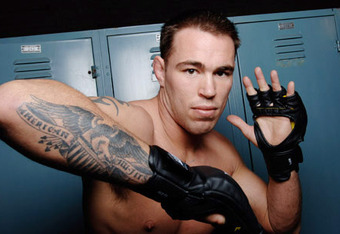 Both fighters are talented wrestlers with NCAA Division II amateur experience, though Shields is easily the more highly decorated.
He has a black belt in Brazilian Jiu Jitsu under Cesar Gracie, and has combined his submission expertise with his wrestling prowess to form a style that he calls "American Jiu Jitsu".
Though Ellenberger has recently shown dominant takedowns and takedown defense, he will want to avoid spending too much time on the ground where Shields is most dangerous. Especially since, should Shields sweep him, Ellenberger doesn't present much of a threat off of his back.
I think Ellenberger may be the slightly more effective MMA wrestler, but Shields' submission game and ability to put opponents in danger on the ground is too good to ignore.
Advantage: Shields
Intangibles:
Both men have impressive chins—Shields has only been knocked out once, and Ellenberger's lights have remained on through all of his 30 fights. It's hard to say who is more durable, but given his recovery from a Dan Henderson "H Bomb" and subsequent victory, Shields' toughness stands out.
Conditioning was a big question for Shields after his lackluster win over Martin Kampmann, but through his most recent five-round fight with GSP, his cardio looked to be fine. Ellenberger hasn't often seen a fight through to the end, but he has been deep in the third round often enough that his cardio shouldn't really be a factor.
Though I hate to include it, the recent death of Shields' father, Jack Shields, is hard to ignore. Jack served as Shields' manager, and was, by all accounts, very close with his son. Shields decided to continue on with this fight in spite of the recent loss of his father, so I expect him to come into this fight very motivated by his father's memory.
Shields has proven through his career to be a very game fighter, and has used his toughness to get him through a fair share of his fights. I give him the intangible edge.
Advantage: Shields
Though Shields doesn't completely outshine Ellenberger anywhere in the cage, his grappling prowess and toughness will allow him to drag Ellenberger into "deep water", where he is the more experienced man.
I expect to see a very close up and down fight, fought on the ground and on the feet, with Shields emerging victorious in a close decision victory.
Pick: Jake Shields