US Open Tennis 2011: What Happened to Rafael Nadal in the 4th Set of the Final?
September 14, 2011
Clive Brunskill/Getty Images
Rafael Nadal looked up to his box, fist clenched. Novak Djokovic's forehand had died on his own side of the net, handing the Spaniard the third set of their US Open final, trimming his deficit to two-sets-to-one.
As the fourth set began, Nadal had almost everything going in his favor: he had won the previous set, captured all the momentum and should have had more left in the tank after playing a much less physical semifinal than his Serbian opponent.
To make matters worse for Nole, he felt a twinge in his back during his opening service game of the fourth set, which he nonetheless won.
What followed was something that no viewer could  imagine. The fighting spirit inside Nadal seemingly died, as he watched Djokovic pound away at ground-strokes and roll 6-1 in the final set.
Usually mentally tough and never giving up, world No. 2 Nadal had no answers in the fourth set. The top-ranked player, Djokovic, had them all.
Nadal played the same tennis that had failed him early on, standing deep behind the baseline and letting a free-swinging Novak push him from side to side.
By the end of the match, Djokovic's back caused a hindrance in his serve, which was traveling somewhere between 90 and 105 MPH. Instead of running around his backhand and attempting to get aggressive with his return, Rafa played back lazy, short slices on which the Serb absolutely feasted.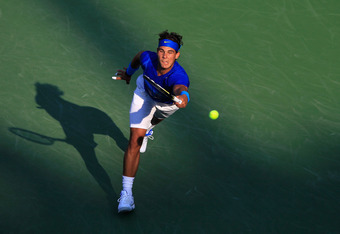 Chris Trotman/Getty Images
Although the first two sets were also losses, Nadal seemed to be fighting and still played a handful of solid points. Djokovic was just too good. He hit his returns deep and with pace, he was getting free points off his serve and he would step in and hit a huge shot whenever the chance arose.
Finally, during set three, something clicked inside Rafa. If he lost, he would go down fighting. He started flattening out his strokes, going after his backhand and hitting the 125 MPH serve that he used so effectively en route to winning the same title last year.
By the time that set was under his belt, it seemed as if he could turn that into a victory. Djokovic seemed deflated while Nadal seemed as hungry as ever.
The fourth set was something unheard of on Nadal's part.
He might have been ailing, but even so, he has been known to never give up. During the final two games, he would pop up shots and not chase them down when Nole hit them to the open court.
His expressions told viewers: This guy is too good for me.
Roger Federer suffered from similar lapses against Nadal: stubbornness to change his game, as well as giving up late in matches and pushing back bad returns, utterly out of answers.
Rafa didn't look like a man who had just come back from the brink and taken the energy out of his crushed opponent. Instead, he looked tired, hurt and out of gas.
One possible explanation for his demise is the simple fact that it is tough to play an injured opponent. The reason why is that your mentality switches.
Why go after shots if by just keeping the ball in play, your opponent will eventually give in?
Some athletes may feel pity for their wounded adversary and try not to make him move too much.
Of course, Novak's back injury seemed relatively serious, and Nadal probably didn't want his 11th major victory to feel empty.
The other reason was that the Djoker's back issues actually benefited him.
By removing basically all pace from his first serve, he left Nadal flustered on the other side of the net. Nadal couldn't create his own pace, so instead, he pushed the serve back, setting up the Serb for winner after winner, giving him points that were his to Rafa's to lose.
There are so many strategies that the defending champ could have tried.
He could have hit inside-out forehands on his returns, going for broke, especially once he was down a break and had nothing to lose.
A thought a bit outside the box: as the match progressed, Djokovic's returns seemed a little too predictable.
Sure, a good deal of them were unbelievable, but most were high, deep, down-the-middle returns, something that exposed many flaws in Rafa's game, such as not backing up enough after the serve.
The answer to this problem might have been to experiment with the serve-and-volley.
Nadal could have at least tried this, and if it failed, then too bad, it's better to go down swinging than looking.
Yes, Nadal's game was a tad off, but it was flaws in the mentality and game-plan that eventually led to his loss.