Serena Williams Shocked; Samantha Stosur Wins the US Open in Straights
September 11, 2011
Matthew Stockman/Getty Images
The result of the women's final was a foregone conclusion: Serena Williams would win it and be back at the top of women's tennis. B/R and the internet in general were already, prior to the final, ripe with articles about how Serena towers over the entire WTA, is the true No. 1. and virtually unbeatable. 
Unfortunately for Serena and her fans, the celebration was premature. 
Samantha Stosur took her apart in straights, 6-2, 6-3, employing many of the same weapons Serena normally employs to bully her opponents. 
Not counting Serena, Stosur very well may have the best serve in the women's game. She's one of a select few who can effectively use the kick-serve and did so with much success. 
Another area of the game where Serena is normally the master is the return of serve. But again, Stosur eclipsed her in that respect today. While Serena normally takes bit cuts on her opponents second serves, it was Stosur doing that today, while Serena had a much harder time handling the kick in Stosur's second. 
Moreover, Stosur sliced her way out of trouble with Serena being unable to do much about the slice. But most importantly, Stosur came out with a gutsy game-plan and executed it to perfection.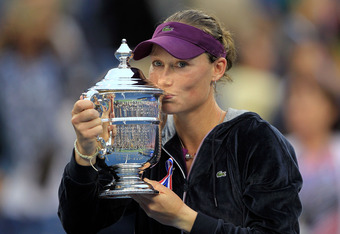 Chris Trotman/Getty Images
Stosur won 50 percent more of the points, made a mere 12 unforced errors to Serena's 25 and even outgunned Serena in the winner's department with 20 against 19. The difference in how they handled the second serve proved pivotal.
While Stosur won 67 percent of Serena's second serve, and had plenty of them to prey on, Serena only won 37 percent on Stosur's second and even less on her first.
While the match was a dominant win, you still couldn't help feeling Serena might claw her way back to victory. After all, she's done it so many times in the past.
And while she came out a bit flat in the first, an incident, let's not dwelve more into that for now, with the umpire spurred her anger and propelled her forward in the second.
But Stosur would not be denied. She withered the storm and continued doing what she did best: break Serena's serve. While Serena managed to break once and hold four times, Stosur broke her five! times and held her own serve seven out of eight times.
It doesn't happen often than Serena get's broken more often than she holds.
Stosur, who's had trouble coming in as the favourite in her last Slam final at the French Open 2010 against Francesca Sciavone, thrived as the underdog. She showed little nerve and lots of guts and fully deserved the US Open title and her first Slam.
And hats off to Serena for being a class act, once the match was finished, that is.