Did Roger Federer, Subconsciously, Want to Lose Against Djokovic to Avoid Nadal?
September 11, 2011
Chris Trotman/Getty Images
I know, I know, I know. 
The idea is preposterous. And it might be completely off from reality. Nevertheless, here it goes. 
The basic argument is that Roger Federer no longer wants to face off with Rafael Nadal in a Slam final and even less so in the one slam they haven't met yet, the US Open. 
Why would he not want that? Simple. He's lost to Nadal in every other Slam final and he himself has only managed to win against Rafa at Wimbledon. Were he also to lose at the US Open, the humiliation and domination would be complete. 
At this point, you might be wondering why Federer didn't also lose the French Open semi-final in order to avoid Nadal. By this logic, it is because the dynamic it completely reversed there. Federer has nothing to lose against Rafa in Paris and everything to win. Even another 2008 beatdown wouldn't have hurt his legacy. As it happened, the French Open proved that Federer was still there and not beaten easily. 
But where are the facts to back up this insane idea, you might ask?
Well, you need to interpret the data in a certain way, but once you do, there is some evidence for it. 
Rafa and Roger haven't met in a Slam outside the French Open since the Australian Open 2009, where Rafa broke Roger's heart, again.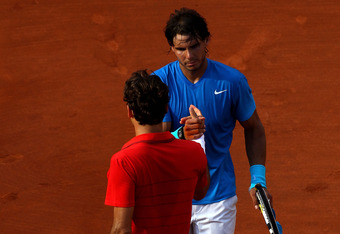 Alex Livesey/Getty Images
Since then, the Maestro has made it to five slam finals, winning three (French Open 2009, Wimbledon 2009, US Open 2009 (RU), Australian Open 2010, French Open 2011 (RU)).
With the absence of the French Open, Nadal has not been waiting in any of the other finals. More importantly, for this crazy theory at least, is the fact that Federer knew that Nadal wouldn't be waiting as Nadal was already out of the tournament, when Federer played his semifinal (even at the US Open 2009, where Nadal played and lost the first semifinal to Juan Martin Del Potro).
The other 'evidence' of this idea is Federer's two consecutive five-set loses to Novak Djokovic at the US Open, both of them after holding two matchpoints on serve. 
Last year, Federer played the late semifinal and knew Nadal would be waiting in the final. Moreover, he also knew that Nadal would be completely fresh after a, comparatively speaking, easy draw, where no one had pushed him. 
Federer also knew, that he would probably be spend after an exhausting five-setter against Nole and therefore he would be easy prey for the ominous looking Nadal less than 20 hours later.
This year, while Federer didn't knew Nadal would be waiting, he could certainly expect it given the history between Nadal and Murray and given how convincing Nadal had looked in his two previous matches.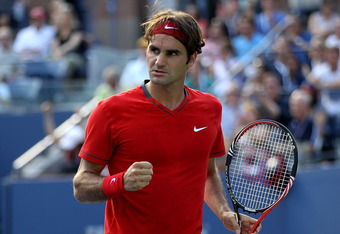 Matthew Stockman/Getty Images
Those are my facts and evidence. I'm not saying that Federer went down on purpose by virtue of a conscious decision. But knowing that his nemesis is waiting and that he, Federer, has a serious match-up problem against this nemesis that doesn't go away unless you go indoors to the lower-bouncinng, faster surface at the WTF in London, Federer just might, somewhere deep down, have feared another meeting.
After all, the man is concerned about his legacy. And while he in his dominant youth wasn't afraid to square it off with Nadal on clay courts, from which his head-to-head suffered, he might be unwilling to give up his last fortress, that is, not having been beaten by Rafa at the US Open.  
The article is easy to counter. No one wants to lose, no one loses on purpose. They compete to win and are willing to risk the loss in order to have a chance of getting the win.
And while I agree with that, I'm also surprised and baffled by the way Roger went down last night. And this subconscious fear of meeting Rafa, especially after a tiring match, might be one of the factors explaining the defeat.
The other factor, of course, being the phenomenal Novak Djokovic, who played well and gutsy, took his chances and happily accepted the presents Roger was handing him.
But why not just go down in straights, you may rightfully ask?
On this account, consciously, Roger wants to win. He goes to the match with that mindset and he plays his competitive best for most of the match. But as he is about to win, such as being up match-points or being up two sets to love, reflection creeps in: 
'I'm on my way to another clash with Rafa, oh s...', and he gets broken at the onset of the third set and again when he's serving for the match.
Pure imagination? Or is there some grain of truth in this, I admit, very preposterous idea?