Roger Federer's Losses More Agonizing Than the Sweetness of His Victories
September 11, 2011
Last night, tennis fans, and sports fans all around the world were privileged enough to witness yet another epic match involving Roger Federer and world no. 1 Novak Djokovic. Both players were visibly tense and nervous in the early stages, and with the first set being decided in a tiebreak, it led to some overly-cautious tennis from both men.
Neither player made an impression in the return game, but Federer struck the first blow in the tiebreak with an early mini-break. The world no. 3 jumped out to a 5-2 lead in the tie break, (Djokovic gifted one of those points with a double fault) but Federer returned the favour immediately after with a double fault of his own. Often times the level of hype can be a burden on professional athletes, and it showed in a first set which was uncharacteristically sloppy.
At 6-3, Federer was in control of the tiebreak, with the set on his racquet, but Djokovic wasn't ready to concede the 1st set. He fought gamely, and battled back to 6-6, but Federer kept his cool and his nerves to prevail.
Both men were well aware of what was at stake; Djokovic is making a strong case for the greatest single season in the history of men's tennis. If he does prevail against Nadal in Monday's final, you'll be hard-pressed to find anyone in opposition to this marvelous feat. Federer, on the other hand, was trying to remain a relevant part of the picture. He still is, no doubt about it. This is the first year Federer hasn't won a Grand Slam since 2002.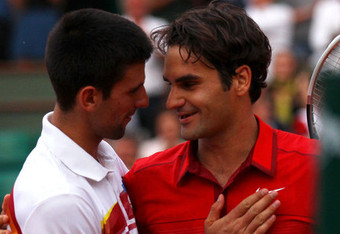 With the first set to his name, Federer opened up to his sublime best in the second set, serving brilliantly, moving forward and into the court with intent. Djokovic looked a confused and beaten man. Federer cruised without much resistance coming from the other end, and was in complete control of a match that had gotten away from the world's no. 1. 7-6 6-4. Federer was at his best yet again, but this is where matches get tricky for Roger these days. He's no longer the great front-runner. We know what happened against Tsonga earlier this year at Wimbledon when he squandered a two sets to nil lead. At some stage of a Federer match, there is a dip, a lull, a loss of concentration, which appears to affect his movement as well.
Through the third and fourth set, inexplicably, Federer looked like a nomad, a man lost, dazed and confused. Did he forget who held the two-set lead? Credit goes to Djokovic for making a statement early in both of the third and fourth sets. He had a comeback on his mind, and tennis' newest champion seems intent on proving to everyone that no task is insurmountable. As Federer continued to wander around the court lethargically, Djokovic seized control of this dream semi-final encounter, his body language more positive than at any other stage of the match. His shots had more pace, depth and purpose. Federer was left scrambling, off-balance, and with no suitable retort available. Djokovic steamrolled and won the fourth set with two breaks of serve, 6-2.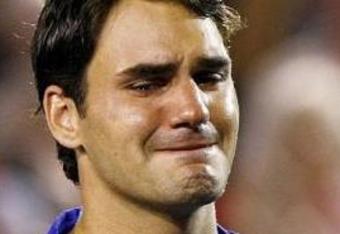 The match squared up at two sets apiece, one had to feel Novak was in control. He had the momentum. He looked fitter, quicker, the more sharp of the two, and most importantly, the player most likely to be brave and take the necessary risks.
Surprise, surprise. Instead of retreating meekly, and playing a defensive style of tennis that has become all too familiar in his losses over the past few years, Roger came out firing. Perhaps desperation and the magnitude of what was about to happen started to set in. His second wind was with him. Immediately there was a noticeable improvement in his footwork, which inevitably led to more winners. He was beginning to attack and dictate the pace of play as he did in the first two sets of the match. With Federer playing from ahead, serving first in the deciding set, and his energy levels high, he was slowly starting to pressure the Djokovic serve. You felt a break-of-serve coming, and in the eighth game, with Federer leading 4-3, Novak cracked, losing his serve at love.
5-3, 40-15. Federer was about to put a disappointing season behind him, and certainly avenge his loss to Novak at the same stage of the US Open last year. Federer squandered a few match points in that duel, but on Novak's serve. With the match on his racquet, Federer produced a first serve which would have aced most opponents. Novak lunged, grasped, and took a full swing. Whether it was luck, fate, destiny or just skill, he returned Federer's serve out wide with interest, a cross court forehand winner which painted the line. Federer caught the top of the tape a point later with a forehand that refused to cross Djokovic's side of the net. They were at deuce, and a few points later Federer double faulted under intense pressure to once more allow Djokovic into the match.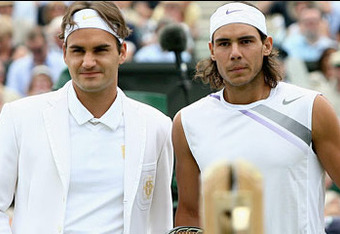 From being totally dominant in the fifth set, and having everyone on Arthur Ashe stadium eating out of the palm of his hands, Federer reverted to defensive tactics. The forlorn figure of the third and fourth sets returned, and he was a man who looked bemused, perhaps not quite comprehending what was transpiring right in front of him. There was no way back for Federer, even with the lead at 5-4 and forcing Djokovic to serve to stay in the match. Roger had nothing left to offer. He was beaten, psychologically, and when the mind is weary and possesses no answer, the body will succumb.
There was no resistance from Federer, and from being 3-5 down, Novak surged to win the last four games of the match, punctuating what will forever be a memorable, historic clash between two great champions.
Yet another heart-wrenching loss for Federer, which raises a point of interest, are Federer's losses more memorable than his conquests? In his first 10 Grand Slam triumphs, he was never forced to a fifth set. In fact, he was never really forced to out-think his opponent. His skill was so vastly superior that there was no need to let the mind play any tricks. He could simply do what he does best, play tennis. In 35 sets of tennis in the grand slam finals, Federer emphatically claimed 30 of those sets. Even his losses to Nadal at the French Open seemed to make no impact, not to Federer, nor the tennis world, because two weeks later you could count on Federer's dominance on the grass courts of Wimbledon.
When Nadal finally pushed Federer to the brink in the 2007 Wimbledon final, his first five-set final in a Grand Slam, you knew the tide was changing. Two of those sets were tiebreaks. Federer kept his cool in both, and prevailed 6-2 in the deciding set. For the first time there was an element of drama and uncertainty when Federer took the court. Perhaps doubt was creeping into the mind of the great champion. One year later, it proved to be true. In what has to date been described as the greatest match ever played, Rafael Nadal dethroned the man who had won the previous five Wimbledon championships. Nadal won the fifth set in fading light, 9-7. It would be hard to imagine ever witnessing a match of this class, quality, or shot-making ever again, especially when you take into consideration that the record books will be especially kind to these two men, perhaps the two greatest tennis players to have ever graced the sport.
While Federer was able to bounce back later that year to win the U.S. Open over Andy Murray, more shock was in store. Another classic encounter with his fiercest rival, Nadal. This time in the finals of the Australian Open. Once more, it was a fantastic showdown which somehow managed to live up to the hype, both men owning the baseline with ferocious and lethal ground strokes, exchanging one knockout punch after the other. However, the end result would not differ, another demoralizing, gut-wrenching defeat at the hands of Nadal, again in 5 sets, this time bringing Federer to tears. He was inconsolable. Even Nadal was emotional as he offered the beaten champion a shoulder. It almost took away from Nadal's moment, another sensational victory, and his first at the Australian Open.
Nadal was inside his head, there was no way around it, and Federer started to look more and more vulnerable. Now it wasn't only against Nadal. Although 2009 didn't start well, he registered what will go down as one of his most significant victories, a French Open title. Federer had to battle, coming from two sets down against Tommy Haas, and being forced to five sets by Juan Martin Del Potro as well. He eventually defeated Robin Soderling in straight sets in the final.
Federer then made more history as he joined Bjorn Borg and Rafael Nadal as the only men to have ever won the French and Wimbledon in the same year. A few weeks later, in a nail-biting, gripping encounter with Andy Roddick, Federer was once again a Wimbledon Champion. For pure drama, the match rivaled his final a year earlier against Nadal, but the quality of the match was nowhere in the vicinity.
With 2009 looking like his year, and a chance to once against claim three Grand Slam titles in a season, Federer eased himself into the finals of the U.S. Open against the 20-year-old Juan Martin Del Potro. It was the Argentinian's first Grand Slam final and there was doubt as to who was the overwhelming favourite. Federer won the first and third sets relatively easily, but lost the second and fourth in tiebreaks, which was highly unusual as Federer had built such an impressive record in crunch time over the years. The fifth set promised to be epic, but failed to deliver, as Federer looked listless and Del Potro ran away with the set and the match 6-2 in the fifth.
2010 saw Federer return as the Australian Open champion, but he then went on to be shockingly beaten by Robin Soderling at the French, and Thomas Berdych at Wimbledon, both in the quarterfinals, and both equally emphatic. This broke one of Roger's most impressive streaks, 23 consecutive grand slam semifinal appearances. Federer was bullied and dominated throughout those encounters, and his strangle hold on the sport was being relinquished. 
More anguish awaited Federer as he engaged in a legendary semi-final clash with Novak Djokovic. Federer's skills didn't appear to be deteriorating, but it was clear to see that the rest of the pack knew he was no longer mentally sharp. Players weren't in awe of him. He was no longer unbeatable. It's difficult being at the top. There isn't much to change when you're always in the winners circle. All you can do is continue to work hard and hone your skills. Meanwhile, everyone else is gunning for you. What was apparent is that Federer's opponents were no longer going to allow to the great champion to force the pace of play. His losses were becoming all too familiar. He was the one on the run, side to side, up to the net, and back to the baseline, no longer the dictator, he had to react.
Squandering two match points in last year's semi-final, as he did last night, Federer has proven that his mind isn't where it needs to be. It's difficult to watch especially when it is plain to see that his body is still cooperating, and holding up its end of the bargain. Usually the situation is reversed, where physically a player's skill begins to deteriorate first, and the mind slowly withdraws later.
After all is said and done, he is a 16-time Grand Slam champion, the greatest tennis player of all time, and a man who should seriously factor in to the debate of greatest athletes of all time. His accomplishments on the court as a tennis player, and off the court as a human being and a humanitarian can never be denied. These losses, however, have left him and his most fanatical supporters scarred.
In the end, I will choose to remember what I saw. A man who made this game look beautiful, effortless, graceful, sublime, and elegant. How he did it at a time when everyone else chose to bludgeon the ball with sheer brute force and power is beyond my grasp. Not only did he retain this style of tennis, he excelled at it, and he achieved more than any other player in the history of the game.
Roger Federer brought me back to the game of tennis, a sport I loved and cherished as a child, but I lost interest in during my early adult years. He made me want to pick up that racquet and step foot on the court once again, mimicking his every movement, his every step, his every swing.
Federer's greatness will not be measured by numbers, money, or titles, but by the inspiration he will provide to thousands of future tennis players in the years to come. If you had to teach anyone how to play the game of tennis, and you could only use one player as an example, is there any doubt as to who you would reference?