US Open Tennis 2011 Results: Andy Roddick and Isner Advance to Quarterfinals
September 8, 2011
Al Bello/Getty Images
Thursday was a banner day for American men's tennis as they put two of their own into the quarterfinals at this US Open.
The Americans that advanced, Andy Roddick and John Isner, seem to be playing with a lot of confidence. They both handled higher-ranked players in the round of 16 and no one would be shocked if they gave their quarterfinal opponents a run for their money.
Andy Roddick vs. David Ferrer
This match had an odd feel to it from the start. A couple of games were played on Louis Armstrong Court before Roddick noticed that the playing surface under his feet was bubbling thanks to all the rain the court had seen in the last two days. After failing to try to fix the bubbling, tournament officials moved this match to Court 13, a court that seats less than 600 spectators.
Once there, Roddick looked like a new player. He was playing attacking tennis and Ferrer, known for his steady play, was committing errors left and right. The match point was a fitting one, as Roddick cracked a forehand winner down the line, a shot he had been criticized for no longer taking.
Storyline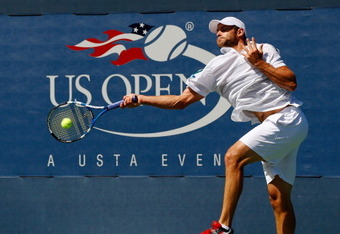 Mike Stobe/Getty Images

This all looked like a perfect storm for Roddick to get beaten. The weather has kept these players off the courts for several days, which effects a rhythm player like Roddick more than a grinder like Ferrer.
Ferrer's grinding style also promised to be a huge problem for Roddick if he was going to play defensive tennis like he had been for the last couple years. Roddick answered back with a great match, headlined by aggressive play.
What's next for Roddick?
Roddick will move on to face one of the tournament favorites, Rafael Nadal. Nadal quickly quieted doubters on Thursday with a straight sets victory over Gilles Muller. He was taken to a tiebreak in the first set, but that's not all that alarming when you consider Muller was up 3-0 in that set when play was resumed on Thursday.
With how well Roddick is playing, you can't count him out, but it would sure take a vintage Roddick performance to win.
John Isner vs. Gilles Simon

Unlike Andy Roddick, I think there were many who felt that Isner had a great chance to beat Simon. Isner has been serving and winning tiebreakers at a torrid pace.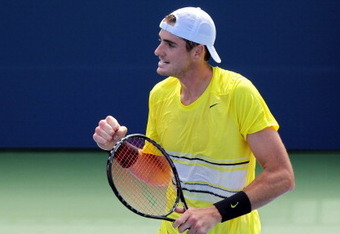 Al Bello/Getty Images
Simon is seeded 12th, but I'm not sure that he is that type of player. Isner took care of business in four sets against the Frenchman.
Storyline
Even though many liked his chances to beat Simon, I think there was still a feeling that Isner needed this win to prove that he should be taken seriously as a contender.
The key for Isner was to win his serves and win tiebreaks, and he did both of those things on Thursday.
What's next for Isner?
Isner will move on to face Andy Murray, who rolled past American Donald Young. Murray has been playing inspired tennis ever since he survived that marathon match with Robin Haase, but he is far from unbeatable.
Murray's defensive style is well-equipped to handle Isner's serve and forehand, but If Isner serves like he did Thursday, it might not matter.