US Open Tennis 2011: Handicapping the Odds for the Remaining 8 Women's Players
Nick Laham/Getty Images
The 2011 US Open is rapidly approaching the end with the finals just four days away. With just eight players on the women's side remaining, each player is trying to get into the winning groove with enough momentum to propel themselves to the ultimate goal, being the champion of the US Open.
Now we all know who the players to beat are, but the US Open is notorious for upsets, which can occur at any moment. Regardless, look forward to an excellent last week of tennis at the 2011 US Open in New York.
Angelique Kerber (Unseeded)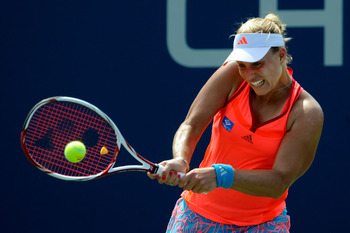 Patrick McDermott/Getty Images
Coming into the 2011 US Open unseeded and ranked 92nd in the world, Angelique Kerber is a long shot to win the title or even advance to the semifinals in her match against Flavia Pennetta of Italy, but that is a more favorable matchup than some of her fellow quarterfinalists.
Kerber has won each of her matches in the Open in straight sets, with the exception of her victory over 13th-ranked Agnieszka Radwanska in the second round. This ups her chances of victory as she has improved throughout the tournament and should be looked at as an underdog threat.
Despite her strong play thus far, Kerber's odds at winning it all are very slim and put her on the outside looking in.
Serena Williams (No. 28 Seed)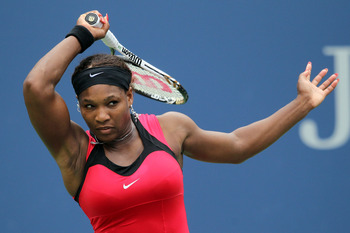 Nick Laham/Getty Images
Watch out world, Serena Williams is back. Williams has absolutely dominated opponents thus far in the US Open, and although her quarterfinals opponent Anastasia Pavlyuchenkova is seeded above her, Williams shouldn't have many problems powering her way to a semifinal berth.
The way Serena has played since coming back from a potentially deadly blood clot has been incredible. She is seemingly playing as though there really is no tomorrow and is very inspired. Though the youthful dominance of Serena has seemingly disappeared, the new veteran Serena Williams may be potentially just as good in this year's US Open.
We give her a very good shot and being a finalist and eventual champion.
Flavia Pennetta (No. 26)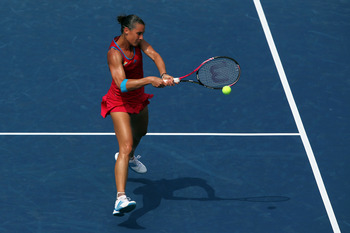 Nick Laham/Getty Images
Entering the 2011 US Open as a fairly unknown, Flavia Pennetta is in just her third Grand Slam quarterfinals, with the other two being at the US Open in 2008 and 2009. Pennetta is known best for her success in the doubles game, but 2011 could give her an opportunity to finally break into the semis as a singles player.
Pennetta has been known to play spoiler in the past, defeating the likes of Justine Henin, Maria Sharapova, Martina Hingis and Venus Williams, and the same could be the case in 2011.
Given her potential based on previous underdog victories, Pennetta has a great shot at the semis and a few lucky hits and unforced errors could see her make the final.
Anastasia Pavlyuchenkova (17th Seed)
Julian Finney/Getty Images
No. 17 seed Anastasia Pavlyuchenkova came into the 2011 US Open having never made it past the fourth round, but she has already made it past there as she finds herself with a quarterfinal match against the legendary Serena Williams.
She has never had success in any Grand Slams, and unfortunately the matchup against Serena does not bode well for her hopes in 2011. Williams is too strong and experienced a player for Pavlyuchenkova and leaves her with very little chances of advancing in 2011.
Andrea Petkovic (No. 10 Seed)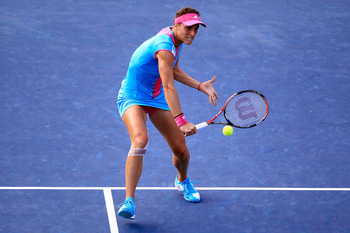 Chris Trotman/Getty Images
Somehow the 2011 US Open quarterfinals found themselves with the four highest seeded players duking it out against one another on the women's side. Andrea Petkovic comes in as the 10th seed and will need to upset No. 1 ranked Caroline Wozniacki if she wants any chance at the finals.
Wozniacki isn't untouchable however, and Petkovic has a good shot at taking the No. 1 seed out of the Open. Petkovic is having the best season in her career making the quarters at both the Australian and French Opens, and is 45-15 on the year.
Andrea Petkovic will easily be Wozniacki's most difficult test of the US Open and will give her a solid match and could be beaten.
Petkovic has the best odds at a final appearance of any underdog remaining.
Samantha Stosur (9th Seed)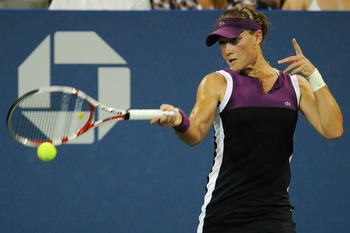 Patrick McDermott/Getty Images
Samantha Stosur is coming off her most successful campaign in tennis ever from 2010. She was a runner up at the French Open and made the quarters at the US Open. 2011 has not treated her so nicely in grand slams seeing her make early exits at all three prior to the Open.
This is not a good sign for the 10th ranked Aussie. Half of her matches to this point have taken her to the third set, and she has had multiple sets decided by tiebreak. None of her performances have really stood out, and she seems destined to have her hands full with number two seeded Vera Zvonareva in the quarters.
Stosur has the skill to pull off victory to move her onwards in the Open, but the likelihood isn't very high.
Vera Zvonareva (2nd Seed)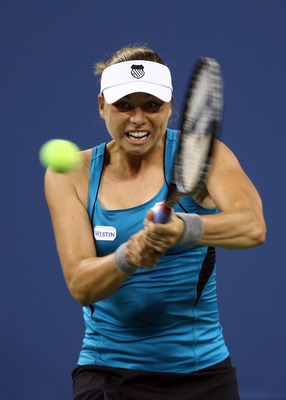 Julian Finney/Getty Images
The runner up in the 2010 US Open, Vera Zvonareva has returned with revenge on her mind. She wants to get back to the finals and win this year. Currently at the highest ranking of her career (second overall), Zvonareva poses a real threat to the other players in her quest for the title. Not only has she been the runner up in the 2010 US Open, but so to the 2010 French Open and was knocked out of the semi's in this years Australian Open.
Zvonareva's style utilizing her speed and instinct, as well as mental stability in tight matches has caused issues for her opponents when matches or even rallies get longer as she is able to outwit and out run her opponents more times than not.
If her stamina, skill, and motivation aren't enough to give her one of the best shots at the 2011 US Open title, then she is out of luck, but don't expect that luck to run out anytime soon.
Caroline Wozniacki (Number 1 Seed)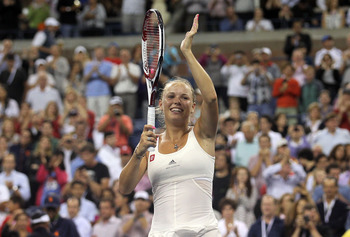 Nick Laham/Getty Images
Finally we have come to world number one Caroline Wozniacki. With the exception of her most recent match against Russian Svetlana Kustnetsova, Wozniacki has dominated the US Open thus far, and is seemingly unstoppable. Having held the world number one ranking for 46 weeks and winning six events in 2011 already, Wozniacki seems poised to finally win a grand slam event.
If the need to prove she deserves the number one ranking in women's tennis isn't enough, Wozniacki is 53-12 on the season. Unfortunately for her, multiple of her opposition have defeated her recently including Samantha Stosur, Vera Zvonareva, and Serena Williams. The draw is not on her side this year, and she could see problems en route to the finals. Zvonareva may have a better shot that Wozniacki at this years US Open as we don't know what type of pressure Wozniacki can handle.
Wozniacki on paper has the best chances at winning the US Open, but may have to take the toughest route to get there.
Women's Odds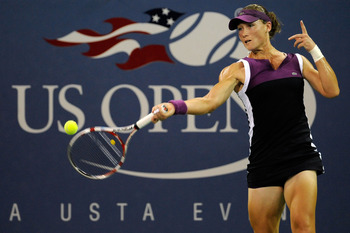 Patrick McDermott/Getty Images
In all reality, the 2011 US Open has come down to three women: Serena Williams, Vera Zvonereva, and Caroline Wozniacki. These are the names to watch down the stretch and the ones who have the best odds of winning it all.
Nonetheless, the final week of the Open is sure to be filled with upsets, and surprising finishes.
Keep Reading