Ana Ivanovic: Loss Against Williams Proves Ivanovic Not Quite Back in Top Form
September 5, 2011
Patrick McDermott/Getty Images
As the wins and positive results continued to pile up, hope was beginning to mount that popular Serbian player Ana Ivanovic was back in top form.
After her quick loss to Serena Williams, we now know that Ivanovic still has a long way to go to get back to the form that won her a French Open championship back in 2008.
Soon after she won that French Open, things went south for Ivanovic.
On the surface, things were going great for her. Her success and model-good looks had made her one of the more popular and marketable players on the WTA Tour. Newspaper and magazine articles about her and pictures of her were everywhere.
On the tennis court, however, things weren't going so well. Ivanovic was piling early exits upon more early exits at big tournaments.
It wasn't just the losses. It was the way she was losing. Her serve was all over the place and played error-filled matches.
There were whispers that she was more concerned with her career as a model than her career as a tennis player. It seemed that she was Anna Kournikova all over again.
In a time when there was a power vacuum at the top of women's tennis, Ivanovic had seemed to miss her chance to establish herself as the top player on tour.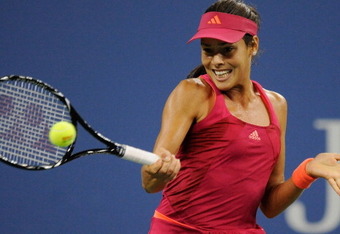 Patrick McDermott/Getty Images
In 2011, she had finally started to put some positive results together. She had reached several tournament semifinals and in the most recent Grand Slam event, Wimbledon, she had made it to the third round. The third round is nothing to get overly excited about, but given her struggles, it was a step in the right direction.
This US Open seemed like her best chance to announce to the world that she was fully back. She had advanced easily into the round of 16. 
In reality, her success in New York made her a paper tiger. Her first round match was against Ksenia Pervak, a player ranked outside the top 50. She won her second round match because her opponent pulled out with an injury. In the third round, she took on Sloane Stephens, an American who was in over her head. She was bound to be exposed at some point.
There is still time for Ivanovic. She is young enough that adjustments can be made to make her a contender again, but she isn't there yet. Her run through the US Open should be taken as a step in the right direction, but not as a sign that she is back to the top rung of the WTA Tour.