US Open Tennis 2011: Recapping the Best from Sunday's Action
September 5, 2011
Chris Trotman/Getty Images
The first Sunday of the US Open often separates the men from the boys and the women from the girls. It is on the first weekend that storybook runs often come to a close, as the competition simply gets too stiff. This is the point where the real contenders shine.
The matches themselves left something to be desired, but the true contenders did emerge.
Nadal Advances Past Nalbandian
The Spaniard was tested by his good friend David Nalbandian, but in the end, it was a straight-sets win. Rafael Nadal waited out Nalbandian in the first set, as the Argentine played some of the best tennis he had played all year.
Once Nalbandian wore down, Nadal pounced and won the match 7-6, 6-1, 7-5.
The bigger drama came in the post-match press conference when Nadal collapsed out of his chair due to cramps in his leg. Nadal was up talking and laughing quickly, and it appears that he will be fine for his round of 16 match against Gilles Muller.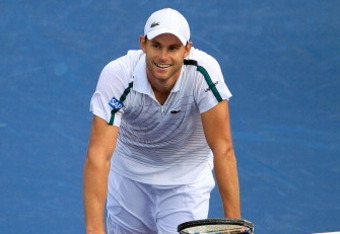 Chris Trotman/Getty Images
Murray Trounces Lopez
Andy Murray looks to be rounding into form well. On Sunday, he soundly defeated Feliciano Lopez 6-1, 6-4, 6-2. This match proved much easier than his second-round marathon against Robin Haase.
Murray will move on to face upstart American Donald Young. This would seem to be a mismatch, but Young may be the hottest player in the field, and he has beaten Murray before.
Roddick Advances with Ease
Andy Roddick continued his methodical march through the US Open by downing wild card Julien Benneteau 6-1, 6-4, 7-6.
Roddick has had a favorable draw so far, but that will change quickly. He will take on David Ferrer, a player perfectly suited to beat him, in the round of 16.
Young Continues Improbable Run
Donald Young surprised yet another ranked player by beating 24th-ranked Juan Ignacio Chela 7-5, 6-4, 6-3. Young moved well and came to the net effectively, taking away Chela's advantage as a counter-puncher.
Young's biggest test yet will be in the round of 16 against Andy Murray. Young will have to have the match of his life to beat Murray, but he has beaten him before.
Other Notables
Gilles Simon outlasted 2009 US Open winner Juan Martin del Potro 4-6, 7-6, 6-2, 7-6.
David Ferrer beat Florian Mayer 6-1, 6-2, 7-6.
John Isner defeated fellow American Alex Bogomolov Jr. 7-6, 6-4, 6-4.
Gilles Muller won the only match between two unseeded players today 6-1, 6-4, 6-4 over Igor Kunitsyn.
Flavia Pennetta advanced past Shuai Peng 6-4, 7-6.
Angelique Kerber won the only match between two unseeded players on the women's side by beating Monica Niculescu 6-4, 6-3.