US Open 2011: Why John Isner Must Be Taken Seriously as Contender
September 4, 2011
Streeter Lecka/Getty Images
In Grand Slam tennis tournaments, there are roughly three big classifications of players. There are non-factors, dangerous players and contenders.
The non-factors are obvious, but it's the distinction between dangerous players and contenders where the line is so fine.
Ever since he burst onto the scene two years ago with a round of 16 performance in the US Open, Isner has been lumped in with so many others as dangerous players, but not serious contenders.
His big serve made him tough to play on any given day, but the rest of his game was so unrefined that he could be beaten if you could simply waited out his service games.
Isner still isn't a complete player, but he has improved to the point that he has to been taken seriously as a contender to make his way to the final weekend of this tournament.
It starts with his record in tiebreakers. A player with a serve as good as his has to have a good tiebreak record. Isner survived two tiebreakers against Marcos Baghdatis in the first round. If the drops one or both of those, it's a different match.
There also seems to have been a change in Isner's playing style. No player his size is going to do a lot of volleying, but it appears that he has made a concerted effort to work on his movement and be more aggressive within points. Sometimes, just extending the point another hit or two is all it takes to get an error out of your opponent.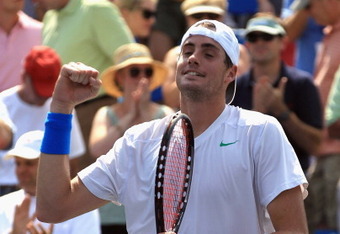 Streeter Lecka/Getty Images
Of course, having the right draw helps as well. Robin Soderling was originally supposed to be in Isner's section, but he had to withdraw from the tournament before it started.
Likely because of Soderling's absence, fellow American Alex Bolgomolov Jr has advanced to face Isner in the third round. As good a story as Bolgomolov is, you can't help but think his run is all but over.
If and when Isner moves on to the round of 16, Juan Martin del Potro will likely be waiting in what should be a fun match between two huge hitters. Beyond that, Andy Murray is the biggest name in the way. It's not out of the realm of possibility that Isner could beat Murray.
Gone are the days that Isner is considered little more than a frustrating player for the favorites to play. Starting with this tournament, he is a player that is a real contender to beat anyone thanks to his huge serve and confident play.