US Open Tennis 2011: Is an Easy Draw Enough to Propel Rafael Nadal to Title?
September 4, 2011
Chris Trotman/Getty Images
On Friday, Rafael Nadal showed no ill effects of recent injuries, cruising throughout his match against Nicolas Mahut, who retired down 6-2, 6-2. 
The world No. 2 then watched as Jurgen Melzer and Ernests Gulbis, two of the tougher players in his section, bowed out to seemingly lesser opponents. 
From the beginning Rafa had an easy draw with compatriot David Ferrer—the best player in his quarter—and many struggling veterans like Mikhail Youzhny, Andy Roddick and Melzer.
Youzhny dropped out to an on-form Gulbis, who has since lost; Roddick has been solid, but still hasn't shown much of a killer instinct; Melzer fell Friday to Igor Kunitsyn. 
Nadal's path to the finals now looks a little something like this: he next faces Argentine veteran David Nalbandian—a good player, but probably not fit enough to hit with Nadal in a five-set match.
Then comes the winner of Kunitsyn and Gilles Muller, two players who surely won't pose too many issues for Rafa.
Nadal next gets hard-working Ferrer. Although Ferrer has fought past Nadal twice previously in Slams, Nadal holds a 13-4 head-to-head record, and should be the heavy favorite for this match. It is very hard envisioning a win for Ferrer in these circumstances.
Then is the semis, where the most likely opponent is Andy Murray, the Scot who has already been pushed to five sets by Robin Haase. 
Murray is a great hard-court player, and could be seen as a favorite to take out Rafa. However, Nadal has beaten Murray twice already in Slams this season, and Murray did not look so good in his last match.
Clearly Nadal has a great path to the semis, where either Murray or Juan Martin del Potro—2009 US Open champion—will wait.
Many times, when top players play a handful of tough matches in the early rounds, they run out of gas by the time the stakes get high and lose in the finals of that tournament. For example, Nadal in the Wimbledon championships, struggled through three straight four-setters, and looked completely outmatched by Novak Djokovic in the final. 
The question is: Does the inverse hold true?
If Rafa can roll through the early rounds, which is seeming more and more likely, can he keep his best tennis for the late rounds and repeat as the champion in Flushing Meadows?
The answer depends on how Nadal plays.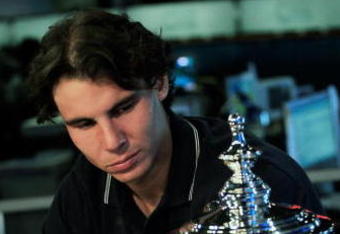 Chris Trotman/Getty Images
If he simply tries to wear down his opponents, playing the defensive style that we saw on the clay courts, he will be unable to adjust when the tougher matchups come around.
If, however, he plays like we all saw him during his great run to the crown in '10, he will use less energy, and be much more fit when matches against the likes of Murray, Djokovic or Roger Federer pop up.
Is that to say that if the Spaniard plays correctly, he emerges as the favorite to win the crown for the second consecutive time? No.
Djokovic is still the best player in the world. He has still beaten Rafa five straight times. He is still in scary-good form and still the heavy favorite.
However, the way the draw has opened up is very good for Nadal. It's really tough to envision Rafa losing to these sub-par players, and he should make the semifinals without breaking much of a sweat. 
Bottom Line: Just because Nadal has an easy draw does not necessarily mean he will win the title. He could go through to the finals without dropping a single game against lesser opponents, and still lose to the Djoker in the championship.
However, Nadal's draw will surely help him out a lot. He can play aggressive tennis, and that always helps. Many times when he wears down opponents, he tries to keep up that style against better players and loses.
The draw is an advantage for Nadal, but in the end he controls his own destiny.