Maria Sharapova: Why She Is a Lock to Be in the 2011 US Open Final
September 2, 2011
Chris Trotman/Getty Images
Maria Sharapova has been relatively on-form this year. Though, as she has proven time and time again, she has the capability to be a very streaky player. However, all-in-all, she has maintained a level of consistency both in and out of the majors that no other player has been able to replicate. For that reason, she sat atop the "Race to the Championship rankings" last week and was only this week surpassed by Wozniacki. Wozniacki, though, has played a whopping 18 events this year to Sharapova's 11.
It is safe to say that this year's US Open is Sharapova's to lose before the final match. Having reached the semifinal of the French Open and the final of Wimbledon, Maria is looking primed to go one step further at this year's open. If Serena falls, she should do just that. Sharapova has the power, the game and the mental fortitude to win this year's Open.
Most importantly, though, Sharapova has the draw. Her side of the draw has fallen to shambles after Petra Kvitova and Venus Williams left for their own reasons. Sharapova is streaky and, thus, any of her matches could be her last. That being said, she crushed Yakimova in the second round and looks to be on a roll. 
Here is how her draw pans out:
Third Round
Sharapova vs. Pennetta 
Pennetta is a very tough player, one whom Sharapova could have quite a bit of trouble with. They have a 2-1 head-to-head in Maria's favor and all of those encounters were three sets. Pennetta's win, though, has to be taken with a grain of salt as it occurred while Sharapova was on her immediate comeback from shoulder surgery in 2009. The other matches were over 5 years ago. Sharapova has the capability to come through this in straight sets. Though Pennetta is a great player, I do not see her taking out Maria. 
Fourth Round
Sharapova vs. Peng or Goerges
Either of these players would be a tough fourth round opponent for Maria, but she has wins over each of them in Grand Slams this year. She won convincingly over Peng at this year's Wimbledon and in three sets over Goerges at the Australian Open. If Sharapova plays Peng, I see a repeat, straight sets victory coming Maria's way. A match with Goerges will most likely play out the same way, but I think it will be a bit more difficult. 
Quarterfinal
The quarterfinal round will be Maria's easiest for the rest of the tournament. The highest-seeded player she could meet is 27th seed Lucie Safarova, a player against whom Sharapova has a losing record. However, that match occurred on clay and one would expect Maria to reverse the roles in this match. The other possible match-ups would be against Monica Niculescu, Alla Kudryavtseva, or Angelique Kerber. All of these players have never been to a slam quarterfinal and would most likely crumble under the pressure alone. Actually, none of these players usually make it past the first round of slams. Expect Sharapova in two against any of them.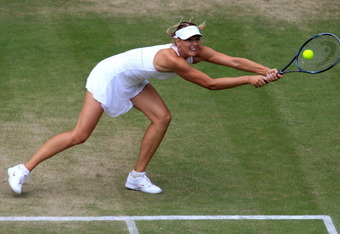 Pool/Getty Images
Semifinal
Sharapova vs. (most likely) Zvonareva or Lisicki
There are eight possible opponents for Sharapova in the semifinal, but the two most likely options are Vera Zvonareva, the world No. 2, and Sabine Lisicki, recent Wimbledon semifinalist. Sharapova beat Lisicki in the Wimbledon semifinals and Zvonareva at the Cincinnati semifinals this year, therefore she would be favorite against either. That being said, both women will go for broke against Maria and the 6'2" Russian will have the most to lose. However, her experience should pull her through. 
Final
The two most likely candidates for a final berth against Sharapova are World No. 1 Caroline Wozniacki and current force of nature on the tour Serena Williams. Sharapova can beat both, but Williams will be much, much more difficult. Sharapova will have to be on to beat either, but she will need to be at her best ever to beat Serena. 
The final is up in the air at this point, but I think Sharapova, more than any other player, has an automatic final berth if she does not screw up beforehand.