Tommy Haas: The Father of the House
September 2, 2011
Matthew Stockman/Getty Images
The voracious hum that douses the courts of Flushing Meadows kindles a lingering feeling that a major tennis tournament is rudely eavesdropping on a vital conversation or obstructing the paramount consumption of an ice-cream.
Not that there should have been fear of Tommy Haas being subdued by the furore as he ignited the most improbable of his many resurgences on Court 13, dismissing the capable Colombian Alejandro Falla with a display of remarkable solidity.
Indeed, it might even be miraculous. Haas is the father of this New York house, a player of such longevity that Pete Sampras could once be considered a peer and Roger Federer a nuisance.
However, so manifold are the injuries that have fragmented his career, Haas considers himself to be 33 going on 29. This was his twelfth match since an arduous 13 month period of convalescence from a hip injury and only his fourth victory. Momentum has eluded him at a time when there is no allowance for backward steps. He has either underwhelmed against lesser players or shown promise in a losing cause against brighter lights such as Juan Monaco and Thomaz Bellucci.
The US Open draw offered some overdue lenience. In the first round, Haas ran into Jonathan Dasnières de Veigy, a player almost exclusively of the second-tier whose name suggests he may well have participated in the storming of the Bastille. Other than a wobble in the third set, Haas progressed comfortably, his normal menu of blaspheming, racquet dispensing and chuntering aside.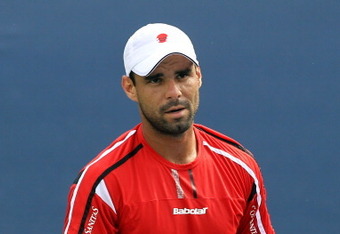 Matthew Stockman/Getty Images
The win was one thing, beating Falla was another, proving that a body that has so cruelly failed him was attuned to the demands of consecutive five-set matches was the acid test. Falla had overcome the strangely high-ranked yet harmless figure of Victor Troicki in his opening match and with a style synonymous with red clay, might have promised a durable examination of the German's game from the baseline.
Caution pervaded in the first set until Falla earned a break point at 4-4. Haas saved it and he never looked back. There was no time for that. He clubbed his groundstrokes with ever increasing conviction and unravelled his full repertoire of shots as he won the first set tie-break impressively.
As he ran through the second set, Haas seemed to be reclaiming some of the years he had lost with every game, moving with increasing fluidity and peppering Falla's forecourt with a barrage of perfectly judged drop shots and flourishing backhand winners. Haas was young again.
Falla launched a sturdy resistance in the third set, going a break up early on but Haas was soon back on terms and sealed the one match point he would need after the point of the match. After a thunderous forehand approach from Haas, Falla dug out a superb low cunning cross-court defence. Haas responded with a stunning half volley on the stretch to which his opponent could only offer an easy put away.
One Falla error later the match was over. 7-6, 6-1, 7-5 – plus one single finger pointing to the sky, the final gesticulation of many and affirmation of whose tune this court was dancing to.