2011 US Open Draw Analysis: Will It Be a Novak Djokovic vs. Rafael Nadal Final?
September 1, 2011
Chris Trotman/Getty Images
This is an analysis after the first round.
We have seen that Novak Djokovic seemingly carries no shoulder injury and Andy Murray gives promise of going deep into the tournament.
However, Roger Federer and Rafael Nadal seem to be struggling. The struggles of Federer are more of an alarm signal than Nadal's because the Swiss generally hits the ground running whereas the Spaniard is known to struggle in the early rounds.
Looking at what the luck of the draw has awarded the four gladiators, I find the top half offers an easier route to the final for the No. 1 and No. 3 seeds than the bottom half, which offers paths littered with landmines for the No. 2 and No. 4 seeds.
Djokovic faces Carlos Berlocq in the second round and may have to face Nikolay Davydenko in the third round as well as Richard Gasquet in the fourth round. His quarterfinal opponent could be Tomas Berdych.
None of them are likely to cause Djokovic any problems. Indeed, some of them may well retire with bouts of sickness or sore arms or shoulders or whatever—or even give a walkover.
If Djokovic does lose before the semifinals, it will only be because of his shoulder.
Federer has a slightly more difficult path. His path to the quarterfinals could be Dudi Sela- Bernard and Tomic-Radek Stepanek. His quarterfinal opponent could be Jo-Wilfried Tsonga or Mardy Fish.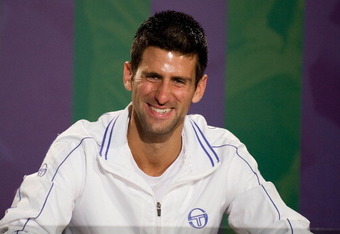 Pool/Getty Images
I do not expect Tomic to trouble Federer as the great Swiss has shown vulnerability only against big hitters.
Nevertheless, it must be remembered that these two have never met before and Tomic is a talented, up-and-coming player. One can never rule out an upset when an aging superstar meets a rising young star.
The only real danger lurking in Federer's quarter is Tsonga, who beat the Maestro the last two times they met. But Tsonga appeared bothered by a sore arm at Montreal and Cincinnati, and what is more, he has to get past Mardy Fish.
It is unlikely that Fish will trouble Federer. They are of the same generation and Federer enjoys a 6-1 head-to-head advantage over him.
Murray has the toughest path to the semifinals. His path may look like Robin Haase-Feliciano Lopez-Stanislas Wawrinka. His quarterfinal opponent could be Gilles Simon or Juan Martin Del Potro.
It is fortunate that Robin Soderling isn't fit. Otherwise, he too would have been there in the draw to challenge Murray.
Del Potro, although not at the 2009 level, nevertheless displayed his scary awesome serves in the first round.
However, should Murray keep up the good form he had displayed at Cincinnati, he will be there on the second Saturday of this event.
Lastly, we come to Nadal's quarter. It is a mystery to me as to why so many observers have claimed he has an easy draw.
While Andrey Golubev wasn't likely to cause an upset, he has a good serve and forehand so it could at least have been anticipated that he would tire out the Spaniard.
Nadal's path is likely to be Nicolas Mahut-Ivan and Ljubicic-Ernests Gulbis. 
All three players have the potential to trouble or even upset Nadal. Gulbis, on his day, can upset anyone.
Nadal quarterfinal opponent could be David Ferrer or Andy Roddick. He enjoys a favorable head-to-head against both, being 6-3 against Roddick and 13-4 against Ferrer.
However, on hard courts he is 3-3 against both.
It must also be remembered that Ferrer beat Nadal at the last grand slam at which they had met, which was this year's Australian Open.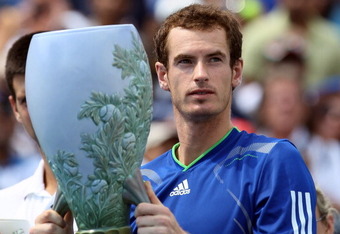 Elsa/Getty Images
True, Nadal was handicapped by a hamstring injury but it must not be forgotten that Ferrer was pushing Nadal to the limit before the top seed sustained the injury.
If this were 2010, I would have predicted that Nadal would definitely be there on the second Saturday.
But this year, we have been seeing a strange Nadal. He cannot be counted upon to close out matches. He is plagued by some virus and sundry injuries. And most frightening of all, the dreaded foot injury, which had threatened to derail his career in 2005, appears to be back.
But Nadal has battled with injuries for much of his career so we cannot even rule out his succeeding in getting past everyone. His interviews give the feeling that he, at any rate, hasn't ruled himself out.
So the most probable scenario come the semifinals would be a matchup of the Top Four.
If Djokovic does not have any shoulder problems and Nadal's foot problem is under control, then we can expect a Djokovic-Nadal final.
Most bookies would back Djokovic for the win. But if Nadal has somehow made it to the finals, this time I would back him for the title.