US Open Tennis 2011: 5 Reasons Novak Djokovic Will Struggle in New York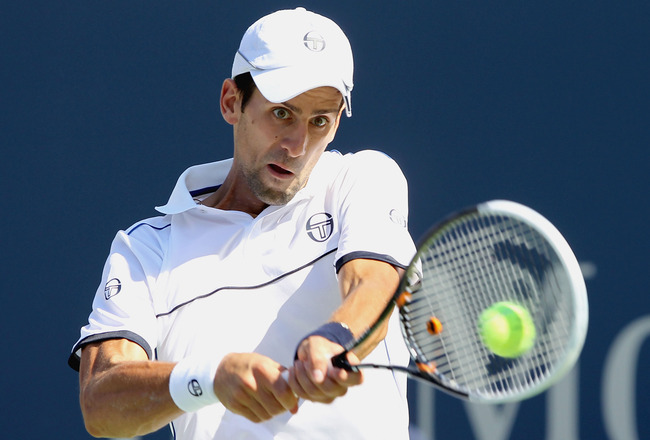 Matthew Stockman/Getty Images
Novak Djokovic has certainly left his mark over the past couple years in the ATP. In his last seven Grand Slam appearances, Djokovic has been in the quarterfinals every time, the finals three times and won twice.
He's lost only two matches in all of 2011.
Here we are at the 2011 US Open, and there is reason to worry about how well Djokovic will perform. Yes, he did win his first-round match against Conor Niland, but his opponent retired. Why do I believe there is cause for concern?
Here's five answers to that question.
Recent Injury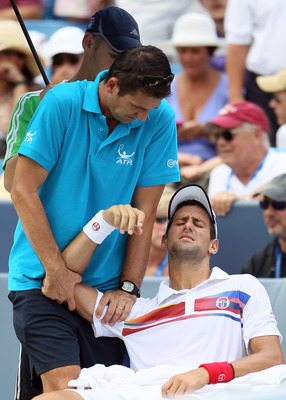 Elsa/Getty Images
Djokovic's sore shoulder is perhaps the biggest reason he could struggle at Flushing Meadows. He's playing, but this injury occurred a couple weeks ago in the Western & Southern Open in Cincinnati.
Since then, the fans have basically been in the dark about the extent of the injury.
When it comes down to it, this injury—should it still be persisting—is going to really hinder him when he has to play some of the better athletes in the US Open.
Tennis, while not a very physical game in the way football or soccer are physical games, requires a lot of running and swinging. If that shoulder is bad, the swing will be bad.
Upcoming Talent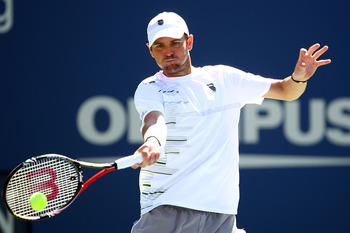 Julian Finney/Getty Images
The man in the picture is Mardy Fish. Some of you probably didn't know that because all of the tennis attention goes to Novak Djokovic, Roger Federer and Rafa Nadal.
More to the point, Fish is one of the guys vying for their first Grand Slam title, and doing it with a vengeance. Fish is joined by Gael Monfils, Robin Soderling and Andy Murray in that pursuit.
With Djokovic's aforementioned injury, these men will certainly take advantage of a vulnerable situation. He won't be 100 percent, so the "new blood" in the ATP will rise to the occasion.
In years past, no one could compete for a title with a real chance. Now, there's so many talented young guys, Djokovic's title run is by no means a lock.
Hindered Confidence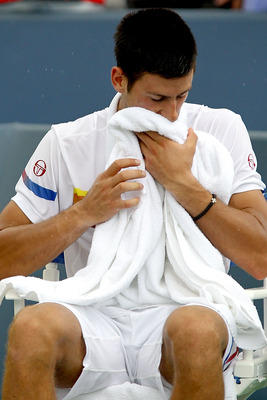 Matthew Stockman/Getty Images
Novak Djokovic is 58-2 in 2011. Anyone with that record would have plenty of confidence.
However, Djokovic had to retire from his last tournament due to his injury. After an incredible winning streak, he's been knocked from his perch.
For athletes, getting on a roll and staying on that roll is key to their success. Djokovic's only other loss came in the French Open, and I haven't seen him be as dominant in his performances since then.
In tennis, being frustrated and having no confidence can be very destructive to a player's game.
Tough Draw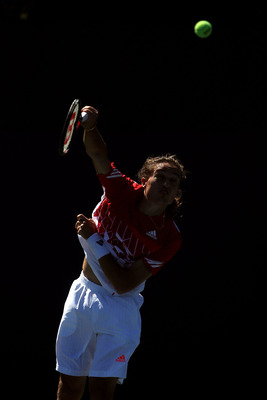 Nick Laham/Getty Images
Naturally, Djokovic has a couple unseeded players to get through. He shouldn't have a problem mowing through the first couple rounds.
However, when it comes time to answer the critics, Djokovic may run into guys like Alexandr Dolgopolov (22) and Richard Gasquet (13). Both of these men are out to prove they're the best.
If Djokovic had an easy draw, he could probably play his way right into the finals, injury or not.
Of course, there are one or two more obstacles to get by...
Rafael Nadal and Roger Federer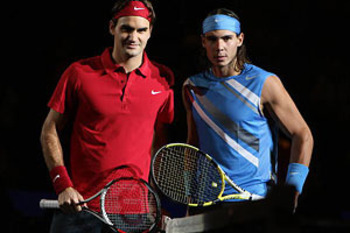 If anyone thinks these two are ready to be knocked off their pedestal, think again.
These are the two biggest reasons that Djokovic could end up struggling at the tournament. It's true that he's beaten both of them at one point, but how many times have Roger Federer and Rafa Nadal beaten each other?
Given his performances in 2011, Djokovic has been the assumed winner of the US Open.
Believe me when I say that these two men will run interference with those thoughts.
Keep Reading