Serena Williams and the WTA Grand Slam Curse: Why Players Fail to Repeat
August 31, 2011
Julian Finney/Getty Images
On the WTA Tour, there seems to be a prevailing trend of players rising to the top only to come crashing down mere months later. Sadly, examples of this abound and, in the past three years, there haven't been many players that actually defied this pattern.
From players who failed to win a Slam although they were ranked No. 1 in the world to players who won Slams but were not able to repeat any kind of similar performance later, the women's tour seems to be in dire need of finding a player who can rise to the top and maintain that level.
It all seemed to start with the retirement of Justine Henin. Although Henin had not played well in 2008, she and Sharapova were seated at the top of the game and seemed primed to stay there for quite some time. In a decision that shocked the tennis community, Henin retired before the 2008 French Open and Sharapova suffered a right-shoulder injury that would take her out of the game for nearly nine months. 
At the 2008 French Open, 2007 finalist Ana Ivanovic rose to the occasion, winning her maiden Slam title and thus ascending to the No. 1 ranking. She looked to be in great form, but at Wimbledon of that year she fell to Zheng Jie and has never been the same since. She lost what appeared to be her confidence, her service toss and her composure all at the same time. 
With Ivanovic struggling, her compatriot Jankovic rose to the No. 1 ranking and, making it to the 2008 US Open final, looked like a rising star who would finally see her day in the sun. She lost that match to Serena WIlliams, but she gave Williams, one of the greatest players of all-time, a good run and proved herself as a solid force in the women's game. However, since that day Jankovic has not made it back to a Slam final.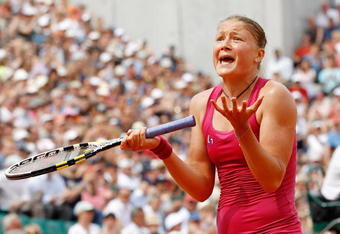 Matthew Stockman/Getty Images
Serena, a deserving No. 1, took over the reins from Jankovic when Jankovic's game began to collapse. Soon after, though, Dinara Safina, a relative veteran on the tour, began to get her game together and seemed like a player who could truly ascend to the top of the women's game.
Well, Safina made it to the 2008 US Open semi-finals, followed by final runs to the 2009 Australian and French Open finals. In the final match in Paris, Safina completely fell apart after, as the number-one seed in the draw, absolutely crushed everyone in the field leading up to that last match against Kuznetsova. 
After this crushing defeat, Safina made it to the 2009 Wimbledon semifinal where she was absolutely demolished by Venus Williams, winning only one game in the match. Safina only fell from that point, staying for nearly half a year at the No. 1 ranking but never winning a Slam title. She suffered a back injury in late 2009 that has kept her out of the game pretty much definitively since 2010. 
Now, more recently, players like Francesca Schiavone, Petra Kvitova and Li Na have done essentially the opposite. They went into a Grand Slam tournament where not many expected them to win, only to hold the trophy two weeks later.
However, none of these players has been able to hold their form since. Both Kvitova and Na have had disappointed Slams since winning their respective titles, and Schiavone has never really been able to cause much damage on the tour when not at Roland Garros.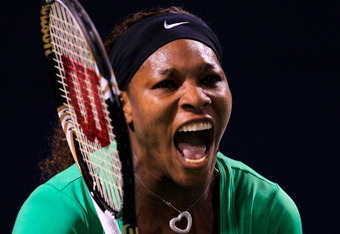 Chris Trotman/Getty Images
In addition to these players, Caroline Wozniacki, the current No. 1, seems to be currently headed more down the Safina path than the path to greatness. It is too early to write her off just yet, but if she cannot pull off a win at this year's U.S. Open or next year's Australian Open, I do not see her sticking around at the pinnacle of the game for much longer.
The women's game is not lacking in star power. There is the incredibly talented, Siberian Glamazon Maria Sharapova, who is coming back into form. There is the absolute force of nature Serena Williams, who seems to be on cruise control on the drive to  claiming the 2011 U.S. Open crown. There is also the injury-prone Kim Cljsters, the mom who has one of the best comeback stories in tennis. However, these players are severely lacking in consistency. 
You would think Clijsters is a UFC fighter on the side, given the number of injuries she procures each year. Sharapova is able to produce brilliant matches that make you wonder how she has only won three Grand Slam tournaments, only to follow that match up with one in which she serves over 20 double faults and seems to be unable to take down relative unknowns.
Serena, on the other hand, seems to take at least one Slam off per year, and has since she came onto the tour over a decade ago. She and her sister have stated they do not abide by a "regular" schedule, and they prove that year after year. 
The three aforementioned women are arguably the best women currently active on the tour, as they all possess incredible mental fortitude, competitive drive and tennis ability. However, they are all devoted to things other than tennis.
Sharapova and Serena have outside interests, such as fashion, while Clijsters has a daughter to raise. Sharapova may be able to rise to the top of the rankings and stay there if her game allowed her to, but Serena and Clijsters just don't seem to have the long-lasting dedication or health to be consistent forces on the tour. 
So, with all of this being said, how can this "success curse" on the WTA be broken? Sharapova, Williams, and Clijsters (assuming the latter is able to come back from her injury woes) can hold down the fort for the next year or two, winning 2/4 of the slams in 2012 and allowing some relative unknowns to snag the other two.
However, long-term, a crop of new players (whether they are truly inexperienced or just new to Grand Slam success) needs to step up and take over the game. The game needs a Seles to come onto the tour and dominate everyone, re-shaping the game and forever altering how professional women play tennis. 
Where is this new star? She may be currently on the tour, like an Azarenka or Kvitova, or she could be on the rise (Madison Keys looks to have a lot of promise). One can only hope that, some time in the next couple of years, a new generation will rise to the challenge of truly winning a Slam instead of merely stumbling into the final and happening to play LESS badly than the other player on that last Saturday. 
When will this new star rise to the challenge? Who knows, but given the state of complete anarchy in the women's game, one would pray that she shows up soon.