Maria Sharapova Pushed to the Edge by Rising British Star Heather Watson
August 30, 2011
Julian Finney/Getty Images
On the women's side of British tennis, there has been growing optimism. With Elena Baltacha now firmly in the top 100, and occasionally overpowering world-beaters, she is joined by a host of new talent such as Naomi Broady, Laura Robson and probably the strongest of them all, Heather Watson.
After winning the junior title in 2009, the latter has seen her senior ranking smash into the top 100. At this moment in time she sits just outside at 104. 
With British No. 1 Baltacha advancing in years, the press have begun to talk of the new girl behind the Great Britain resurgence. She is now beginning to represent a glowing image of the consistency and greater level of play being witnessed on the women's side of the British game. Her capabilities leave many contemplating the prospect her becoming a seeded player, at the least.
This year, sadly the draws and results have not gone Watson's way. Since her debut win in the first round of the French Open, she has suffered two first round exits at Wimbledon and now the US Open. 
Yet, these do not tell the full story of a Guernsey girl who will be a force to be reckoned with in the not so distant future.
At SW19, her intelligent play and impressive footwork edged her into an early lead as she took the first set 6-2 against Mathilde Johansson of Sweden. Her dominant first set display gained her immediate attention, but sadly it was not to be as an arm injury took the wind out of her sails, leaving her to battle on in pain as she was eventually overcome by her more established opponent.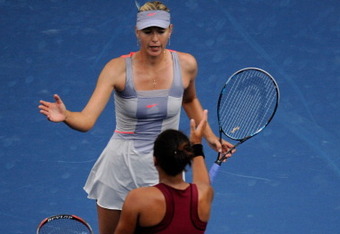 Patrick McDermott/Getty Images
Whilst she suffered a 2-6, 6-4, 6-4 defeat, it has to be said that her opponent struggled to take full advantage. Imagine the rapturous applause had she defeated Johannson minus one arm. It would have been a truly inspiring spectacle. 
Watson certainly had chances and if the injury had not occurred she would have made light work of her opponent. 
When Watson's attentions turned to the US Open, her heart must have pounded a million miles an hour as she was picked to face title favourite Maria Sharapova in Round 1, and it is worth noting that fellow Brit Laura Robson gave Maria a scare in Round 2 of Wimbledon.
Robson forced the Russian beauty to a first set tie break before Sharapova took it up a gear in the second set.
So it was not a complete lost cause for Watson. She had to make sure she didn't let Sharapova run away with the match. 
And she gave it an almighty challenge. With Sharapova's serve its harmful erratic self in the first set, Watson utilised her intuitive playing style to take full advantage and the first set 6-3. When Sharapova began to edge herself back into the game, Watson continued forcing rallies.
Eventually Sharapova took control, but not after being tested in winning the final two sets 7-5, 6-3. Watson's tenacity and stubbornness to accept defeat showed as Sharapova was demanded to close the match after losing an opportunity to serve for it at 5-1.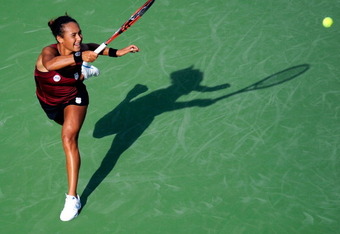 Patrick McDermott/Getty Images
You can confidently speculate that had Watson not been drawn against the title favourite, that she could have extended an impressive run into the tournament. Such a journey would have given her a well deserved rankings boost and opened up the draw for her in later slams. 
Whilst British players who exert promise in their youth have tended to fizzle out in later years, Watson seems able to subvert that trend.
She will be a top ranked player in future seasons and next time she plays Sharapova, she will be armed with the knowledge of how she can defeat her more illustrious opponent. 
What she has to do now is win titles outside of Grand Slams to move her ranking into a position where a first round draw against the likes of Sharapova is not an option. 
This is something she is more than capable of achieving. In doing so she could earn herself the coveted British No. 1 spot, with current perennial leader Baltacha looking to exit the sport next year. 
Whilst she may have suffered such a close-fought defeat, the name Heather Watson will now be brandished throughout discussions as a future title winner—not only by British optimists but by the tennis world at large.