US Open 2011 Day 1: 10 Matches To Watch Out For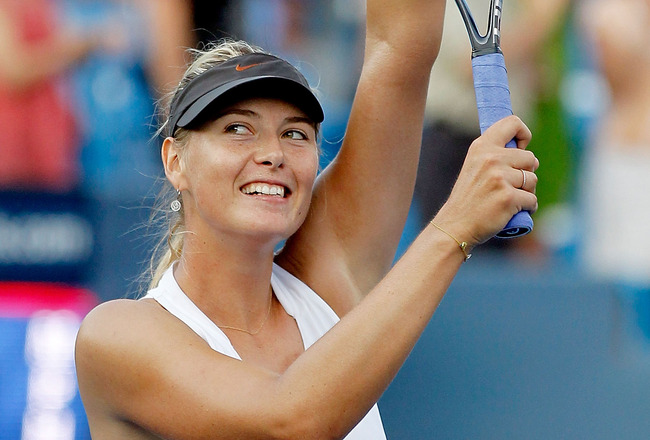 MASON, OH - AUGUST 21: Maria Sharapova of Russia celebrates her win over Jelena Jankovic of Serbia during the final of the Western & Southern Open at the Lindner Family Tennis Center on August 21, 2011 in Mason, Ohio. (Photo by Matthew Stockman/Getty Images)

Incredibly, the US Open is, for yet another year, about to begin. Here commences the culmination of the long and exciting North American hard court season, in a grand slam held at the greatest of cities, New York.
This year, besides the 10th anniversary of 9/11 and the disturbing presence of Hurricane Irene, the US Open was dealt a grave blow in the withdrawal of Kim Clijsters, the two-time defending champion. However, the defending men's champion, Rafael Nadal, will be here, along with the new world No. 1, Novak Djokovic.
It's Day 1, and we already have some star names—Maria Sharapova, Venus Williams and Roger Federer will all be here to grace the opening session at Flushing Meadows. Along with the stars, there are the journeymen, whose abilities nowadays are in some cases no less great than some of the best—whose battles provide much candy for the eyes at times. Here are 10 matches of day one, for their stars and avatars:

The Stars
Maria Sharapova vs Heather Watson (second match, Arthur Ashe Stadium)
She's had a terrific 2011, playing some of her best tennis in some years to reach the semifinals at the French and the Wimbledon final, but Maria Sharapova is the sort of person who looks for more. What she makes of Heather Watson may well tell us how ready she is for making that extra step in her comeback.
Venus Williams vs Vesna Dolonts (third match, Arthur Ashe Stadium)
It has been many years since Venus Williams last won the US Open, but she remains a crowd favourite nonetheless. She hasn't played much tennis of late, although one suspects Vesna Dolonts may just be the nice warm-up she needs to get going her at Flushing Meadows.
Roger Federer vs Santiago Giraldo (fourth match, Arthur Ashe Stadium)
Roger Federer needs no introduction, and one could do with knowing something about Santiago Giraldo—but there isn't much. That's probably as much as Federer will end up knowing, too, once this match is over.

The Young vs The Younger
Ryan Harrison vs Marin Cilic (first match, Louis Armstrong Stadium)
Marin Cilic has been playing for a while, but he isn't that old. His opponent, Ryan Harrison, would make him look like a veteran, however, and attempt to make a statement early at this US Open about his prospects as potentially America's Next Big Thing. Harrison is a terrific talent, and will have the home crowd support, too—but Cilic will be tough to beat.
Gael Monfils vs Grigor Dimitrov (fifth match, Louis Armstrong Stadium)
One remembers watching Gael Monfils play Michael Russell right here in 2006, looking just the freshy on tour that Grigor Dimitrov has come to understand in the last few months. The latter, dubbed "Baby Federer" by some, is a very fine player, too, pushing Monfils' own good friend Jo-Wilfred Tsonga hard at Wimbledon this year. It will be a fascinating contest—both young, but one trying to make the other look older.

Americans to Watch
Mardy Fish vs Tobias Kamke (first match, Arthur Ashe Stadium)
Is Mardy Fish really a favourite at the US Open? Having won the most matches in the Series so far, and by far playing the best tennis of his career, he must have some chance, at least. His first match against Tobias Kamke will be a good litmus test.
Melanie Oudin vs Romina Oprandi (fourth match, Court 4)
Melanie Oudin had a dream run here at Flushing Meadows a couple of years back, reaching the quarterfinals, and the memories may serve her well again. She will need to get out of obscurity first, and beating Romina Oprandi may do just that.

Giants, Worms and Fire
Ivo Karlovic vs Fernando Gonzalez (second match, Court 6)
A big serve, and an even bigger forehand—Ivo Karlovic, Mr Ace, against Fernando Gonzalez, who lives off the one shot; it will be a fascinating contest.
Radek Stepanek vs Philip Kohlschreiber (third match, Court 11)
First-rounders always provide some room for contrast, and Stepanek and Kohlschreiber may do jus that—the former a veteran and player of the old school, the latter, a representative of the new era of power baseliners. Both are terribly talented, although Stepanek may have the upper hand in wiliness.

Sibling Rivalry
Urszula Radwanska vs Agnieska Radwanska (fourth match, Court 11)
Tennis has seen the Bryan brothers and the Williams sisters, but hailing from Poland are the Radwanska siblings, both accomplished players, separated by just a year. It is a most unusual thing for siblings to take up the same profession, and more so to be equally good at it; most of all, to meet at the first chance at a Grand Slam. Their parents would be so proud.
This article is
What is the duplicate article?
Why is this article offensive?
Where is this article plagiarized from?
Why is this article poorly edited?