U.S. Open Preview: Mardy Fish and 5 Dark Horses in the Men's Singles Bracket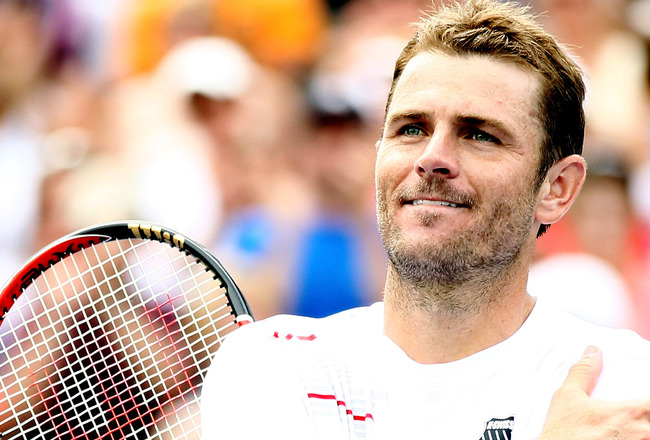 Elsa/Getty Images
With Hurricane Irene threatening to put a major dent into the buzz surrounding the U.S. Open in Flushing, New York, the sports world is still wondering if anyone not named Nadal, Federer or Djokovic has a chance of taking this Grand Slam title.
Minnesota-born Mardy Fish is garnering a lot of support and publicity, being the top ranked American in the field. Mardy is scheduled to take on German Tobias Kamke, who is unknown and ranked No. 92 in the world. Fish, being ranked 8th in the ATP World Tour, should be able to make the quarters and could surprise some people by getting to the semifinals.
The question is, though, can he upset any of the Big 3 on one of the world's biggest stages?
Fellow American John Isner, ranked No. 28 in the world, is another dark horse because of his favorable draw. If Isner can get through his first two matches, using his size to power through his opponents, he will probably face Robin Soderling who is ranked sixth in world.
Is Isner ready to burst onto the international stage for something other than his epic marathon match last summer?
Jo-Wilfried Tsonga and Gilles Simon, two respectable Frenchman, are definitely ready to burst on to the big-time scene. Tsonga defeated Roger Federer in the Wimbledon quarterfinals to the reach his first semifinals of a Grand Slam tournament and put up a great show against Novak Djokovic.
Simon is an exciting player, as is 10th ranked Spaniard Nicolas Almagro who has a good chance to make it deeper into the U.S. Open than ever before.
Let's take a look at these five superb players and their respective hopes of surprising some of the big names in the next couple of weeks.
1. Mardy Fish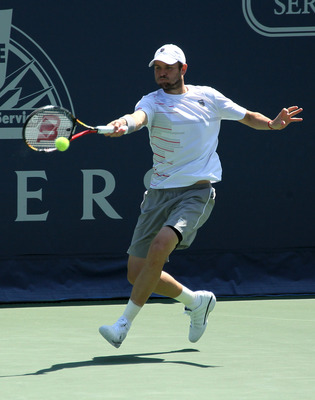 Stephen Dunn/Getty Images
As mentioned before, the top-ranked American in the field begins his quest to bring glory to the home country against Tobias Kamke in the first round. The German Kamke, ranked 92nd in the world, should not be much competition for the hot Fish, who has been very good in 2011 thus far.
Fish explained his mindset in taking on the Big 3 in an interview to Yahoo's ThePostGame, saying:
"You've just got to throw a bunch of different stuff and those guys and try to make them uncomfortable," Fish says. "Thinking like a pitcher is the best analogy. You have got to throw curveballs and change-ups and fastballs and body serves otherwise you are just going to let him get in a groove."
Fish has defeated Rafael Nadal this year and took Novak Djokovic to the limits before losing to him in Montreal only weeks ago. Fish has been playing tremendous tennis thus far and is the best shape of his career. His draw looks fairly decent, with three very winable matches. After Kamke, Fish will face the winner of Malek Jizeri and Theimo de Bakker, two heavy underdogs to the mighty Fish.
Fish has the game and the mindset to take his game to the next level and knock off Roger Federer, who is in his bracket, along with either Djokovic and Nadal. Fish will have the home crowd support cheering him on, which might just be able to propel him to greatness in similar fashion to Andy Roddick in 2003.
2. Gilles Simon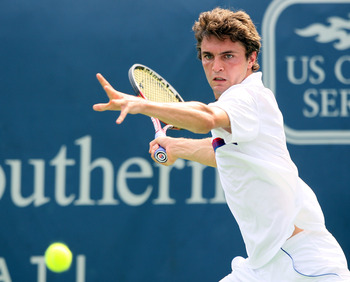 Elsa/Getty Images
Gilles Simon, the 27-year-old Frenchman who was ranked as high as sixth in the world, comes in to the U.S. Open as a definite sleeper pick.
Simon, a wiry athletic 6 feet tall, appears no different than the average tennis pro until you see him serve. His powerful serves and quick returns separate him from the pack, making up for average size. His favorite player was Michael Chang growing up, who taught him that "you don't have to be tall in order to be a great player," Simon has said.
Simon's first round match is against the Brazillian Ricardo Mello, who reached the third round of the U.S. Open in 2004 but has made no noise since. Simon should be able to breeze through the first few matches but might run into trouble against Juan Martin del Potro.
Del Potro, the 18th ranked player in the world, would be Simon's third round match-up, and he must get past him and Andy Murray to make it to the quarterfinals. Simon should be up to the task as he is flying under the radar but well respected.
Look for Gilles to be facing Robin Soderling or another player for a ticket to the semi-finals. This is his time to shine, and he will be ready to grab his opportunity full on.
3. Jo-Wilfried Tsonga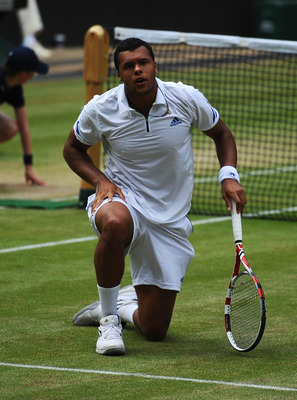 Clive Mason/Getty Images
Standing in Mardy Fish's way of making a big American statement is Frenchman Jo-Wilfried Tsonga. The big 6-foot-2-inch power server has a very refined game, making him a difficult opponent.
Tsonga has already beaten Roger Federer this year at Wimbledon and given Djokovic potentially his best match in a long time, giving Tsonga a lot of respect coming into Flushing.
Tsonga begins against Yen-Hsun Lu of Chinese Taipai, who has never gotten past the second round of a U.S. Open. Tsonga will blow Lu out of the water and should not have any issues in his second round match against the winner of a Andreas Haider-Maurer and Sergei Bubka duel.
In the third round, Tsonga will probably face 19th ranked Fernando Verdasco, a talented player in his own right. Verdasco will pose a challenge, but Tsonga should be able to muscle by him. This would set up a showdown with Fish in the quarterfinals.
Tsonga can overtake Fish, just as he has proven that he can overmatch Federer. Although he has not had any success or luck against Nadal, he has an international stage to make a splash if he can get through to the semi-finals.
4. John Isner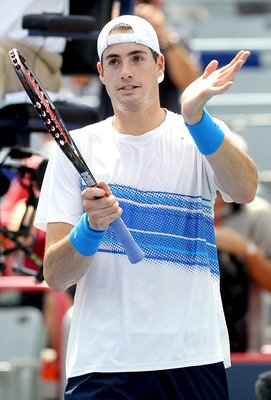 Matthew Stockman/Getty Images
Isner, the big American who made headlines for the marathon match against Nicholas Mahut in the 2010 Wimbledon Championship, is quietly riding in to Flushing for the U.S. Open under the radar.
Now ranked 28th but previously reaching as high as 18th, Isner has had minor setbacks the last few months but seems to be figuring out his game. At 6 feet 9 inches tall, Isner's size is a huge benefit but can throw his form off very easily.
Isner has played Mardy Fish and Top 10 ranked Frenchman Gael Monfils well this season, just coming up short and might be due for a breakout performance.
Isner begins his quest to turn some heads against Marcos Baghdatis, with Robby Ginepri or Joao Souza waiting in the second round. Isner must get past Soderling in the third round, which will be no easy task.
Robin Soderling is ranked sixth in the world and has reached three semi-finals in the last two years. He has won numerous titles in the process, establishing himself as another dark horse to unseat the Big 3 of Djokovic, Federer and Nadal.
Look for Isner to play much improved tennis during the next couple of weeks and transcend into a standout American player on the verge of stardom.
5. Nicolas Almagro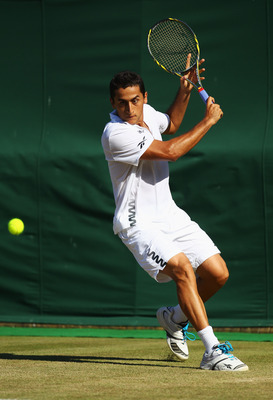 Julian Finney/Getty Images
Almagro, the 10th ranked player in the world, is on the verge of breaking into big time tennis with a standout performance in the U.S. Open. Now 26 years old, Nicolas must either accept mediocrity or make a statement during the next few weeks.
Almagro, a Spanish product out of Murcia, Spain, begins his tournament against Julein Benneteau of France. Assuming Almagro wins, he will face either Ryan Sweeting or Denis Istomin.
With previous victories against his potential next opponents in Andy Roddick and fifth ranked David Ferrer, a fellow Spaniard, Almagro would be in the quarterfinals with a match-up against Rafael Nadal.
Almagro has no success in defeating Nadal but has had respectable matches against him. Almagro grew in the ranks because of upsets against Ferrer, Robin Soderling and Fernando Verdasco in the 2010 French Open to make the quarterfinals.
Almagro has a well-refined game that might be able to upset some big time players during the U.S. Open. If he can get hot and play excellent tennis, he has the potential to turn some heads and make some noise against the world's top competition.
Look for Almagro to make it to the quarterfinals and then give Nadal everything he has in hopes of makes his first semifinal appearance in a Grand Slam tournament.
Keep Reading