Manchester City vs. Tottenham: 5 Things to Look Out for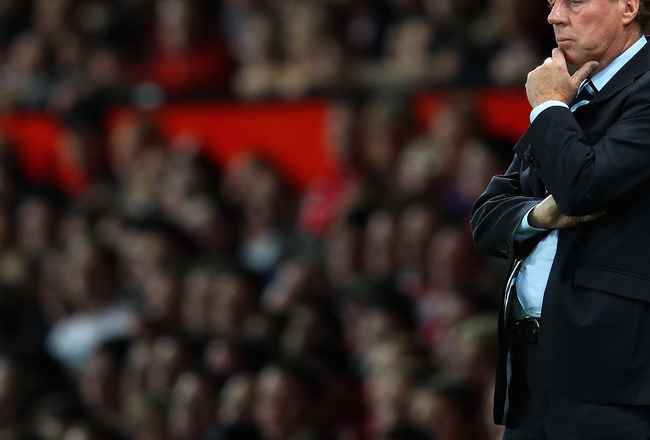 Harry Redknapp will be looking to secure a result from Sunday's match
Alex Livesey/Getty Images
There is a football match this weekend that everyone should be watching. A club from north London will be facing their opponents from Manchester, and it will most likely be the best match of the weekend. That game, of course, is Manchester City versus Tottenham.
Here are five things to keep in mind while watching.
Christmas Comes Early for Harry Redknapp in the Form of Emmanuel Adebayor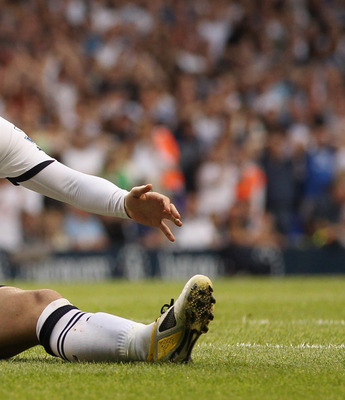 Rafael van der Vaart looked rusty in Spurs' opening match against Manchester United
Scott Heavey/Getty Images
Rafael van der Vaart was an absolute revelation for Spurs last season. The Dutchman scored 15 goals in all competitions, and he provided a great box-to-box presence that Tottenham had lacked prior to his arrival. If Spurs have any hope of getting a result against City, or resembling the prior successes of qualifying for Champions League football, the Netherlands international will have to regain the form he was in last campaign.
Samir Nasri Has Left Arsenal for Money...I Mean Manchester City
Samir Nasri has made the switch from Arsenal to Manchester City
Alex Livesey/Getty Images
Samir Nasri, a standout player for Arsenal last season, has made the move north to play football with Manchester City for a reported fee of £23 million. Nasri left Emirates Stadium in a bitter fashion after clashing with the Arsenal supporters and taking to Twitter to confront them. He now joins a squad that boasts the most expensive midfield in the world and a plethora of options.
Whether or not he will play remains to be seen. However, it is worth noting that Nasri played a very similar role at Arsenal as David Silva plays for Manchester City.
The Tactics of Manchester City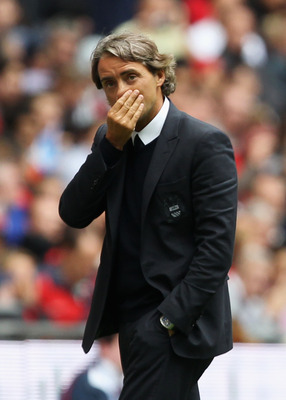 Roberto Mancini has been frustrating to City supporters with his defensive minded tactics
Clive Rose/Getty Images
Roberto Mancini arrived at Manchester City with ambitions of challenging for the title and Champions League Football. It's fair to say that these have both come to fruition for the Italian tactician. Along the way, Mancini has frustrated City supporters with his defensive-minded game plans, but this season has been all about the goals. Mancini's side has scored seven in two games—the most in the Premier League.
Whether or he will revert back to his old defensive style against Tottenham will be something to look out for, as many experts believe City need to attack in order to fully realize their ambitions for success.
Luka Modric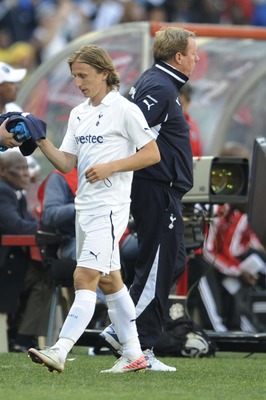 Luka Modric has been a transfer target of Chelsea for much of the summer.
Gallo Images/Getty Images
Luka Modric did not feature for Spurs in last week's clash with Manchester United, which leaves some speculation as to whether or not a deal is being worked out with Chelsea. As of now, though, the Croatian midfielder belongs to Tottenham Hotspur.
Manager Harry Redknapp has repeatedly professed that he is unwilling to part with Modric. If he does feature for Spurs on Sunday, it will be interesting to see the performance he puts in, as his mind very well may be over at Stamford Bridge.
Sergio Aguero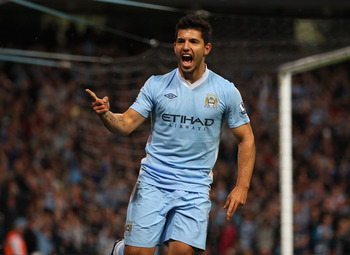 Sergio Aguero hit the ground running for Manchester City
Alex Livesey/Getty Images
The Argentinian took the Premier League by storm, coming on for City in their season opener against Swansea in the 60th minute. In just half an hour, Aguero scored twice and provided a brilliant assist to David Silva.
If he is included in the starting XI for Roberto Mancini on Sunday, the Tottenham defense is going to have a lot of work to do. Just look at his second goal against Swansea.
Keep Reading

Manchester City: Like this team?