US Open Tennis 2011: Calling Out for a WTA Star—Anybody Out There?
August 27, 2011
Will the real ladies champion please stand up, please stand up?
Who is the current star of women's tennis?  The WTA's No.1 and No.2 ranked players have both yet to win a Grand Slam.  Can Caroline Wozniacki finally step up this US Open?  Zvonereva has the game but does she have the mind power to win it all?  Probably not.
Including Wozniacki and Zvonereva, five of the top 10 players in the WTA haven't won a major.  The state of women's tennis seems best represented by meltdowns and inconsistent play.  Players are not beating each other, but are rather standing out of the way and watching by as they beat themselves.  Need I remind you of the Vera final fluster of last year?  Clijsters and the rest of America quietly stood by and watched the awkward mental epic fail.
Consider this is an invitation, Vera.  We see glimmers of the tiger in your eyes blazing those line-clipping winners across the court.  Step up!  Own your greatness. 
Maria, Caroline, Victoria—we aren't picky.  Give us a champion's corner to cheer in.  We're hungry for it.
Who will take a page out of the books of defending champion Kim Clijsters, who is out of the tourney with injury?  With Mean Irene welcoming in this year's Open, will a rising star be stirred into action?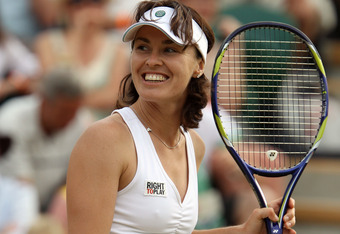 Will it be one of the 21 year old youngsters currently ranked at numbers five and six?  Will Wimbledon champ Kvitova establish herself as a consistent contender and reckoning force on tour?  Perhaps Li Na will play her way into her third final of the year.
Serena Williams, currently ranked No.29 in the world, is on a come-back trail after taking a year off attending to injuries.  13-time Grand Slam winner, Serena is a champion of champions.  At 29 years old, will her comeback trail to glory be all too easy through an anemic league?
I have a proposal, ladies.
I'm proposing that this year's field study the glory days of yesteryear (coincidentally highlighted by Martina Hingis' Grand Slam final appearances). 
Pay attention to these highlights, girls.  Pay attention to these champion players.  Learn from the younger Venus and Serena.  Learn from the Lindsays, Jennifers, Steffis and Monicas of just one tennis generation ago.
Note pad and pencil ready?
Martina Hingis played in 12 Grand Slam finals in a five year period of time from 1997-2002.  (Repeat, 12 finals in five years.  Want consistency?)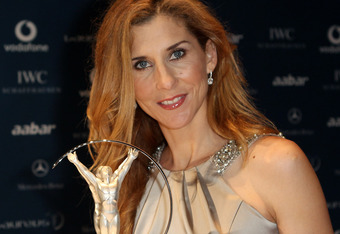 The list of players she had to battle through during this golden age of women's tennis is impressive, including Mary Pierce, Jana Novotna, Venus Williams, Conchita Martinez, Lindsay Davenport, Amelie Mauresmo, Steffi Graf, Serena Williams, and Jennifer Capriati. 
Reading off these names reminds us of a brighter time in women's tennis—a time when players fought to the finish on a high level of play, intense rivalries were naturally budding, and young teenagers gave the veterans a run for their money.
1997 Wimbledon:  Jana Novotna vs. Martina Hingis
Serve and volley, what? 
Hingis played like a veteran showing nerves of steel as she dismantled the serve and volley veteran and won her first of five majors.
Novotna stole the first set with a hot serve.   Keeping her emotions in line, Hingis came from behind to win 2-6, 6-3, 6-3.  Not bad at 16 years old.
One year later, though, the Czech finally got her turn.  In a rematch of the '97 final Novotna took out Hingis in the semifinal en-route to winning the title.
1998 French Open:  Monica Seles vs. Aranxta Sanchez-Vicario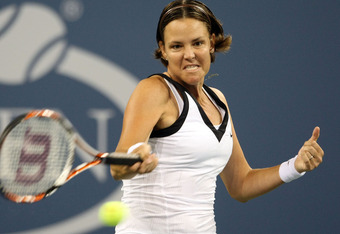 Always the underdog, Sanchez-Vicario won her fourth and final grand slam final by beating Monica Seles 7-6, 0-6, 6-2 in a battle.  Nine-time Grand Slam champion, this was also Seles' final appearance in a major final.
1998 US Open:  Lindsay Davenport vs. Martinia Hingis
Have any of you top ten ladies spoke to Lindsay Davenport lately?  Surely she can offer some tips on defying gravity in New York.
''No one ever said when I was growing up that I was ever going to be any good or get to a Grand Slam final; in my teens I wasn't expected to do anything,'' Davenport said after a 6-4, 6-4 demolition of the talented 18-year-old Williams sent her into the final against Hingis.
Davenport went on to win her first ever Grand Slam in easy fashion against Hingis.
1999 French Open:  Steffi Graf vs. Martina Hingis
On her way to the final Graf beat world No.3 and No.2 in Monica Seles and Lindsay Davenport.  Wow!
The final was competitive and emotional.  Hingis was up a set and a break, serving for the match at 5-4 before Graf came from behind to win the match 4-6, 7-5, 6-2.  Both players greeted the crowd in tears.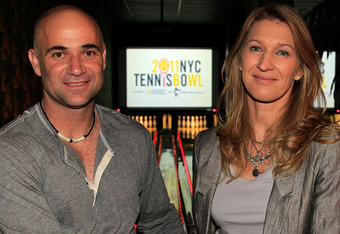 1999 Wimbledon:  Lindsay Davenport vs. Steffi Graf
Taking another page from Davenport, today's WTA players may want to learn something else about overcoming weaknesses. 
"Now I can't believe I overcame myself on grass to win at Wimbledon.  Now I have won the two biggest tournaments there are in the world and few players can say that," she said about her 6-4, 7-5 victory over Graf.
Ever gracious, Steffi retired after this Wimbledon final appearance.   And she took her 22 Major titles with her!
1999 US Open:  Serena Williams vs. Martina Hingis
At the ripe age of 17, Serena took home her first championship trophy.  Beating defending champion Davenport, and Monica Seles on her way to the final, Serena won in a contested battle 6-3, 7-6 (7-4).
2000 Australian Open:  Lindsay Davenport vs. Martina Hingis
The words of concession Lindsay Davenport heard coming from Martina Hingis as they stood waiting for the trophy presentation meant almost as much as the silver cup itself.
"I just hate playing you," Hingis said.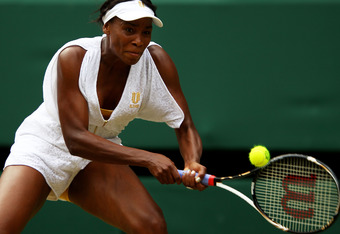 And we shouldn't she?  Davenport was now 3-0 in Grand Slam finals.
2000 Wimbledon:  Venus Williams vs. Lindsay Davenport
Venus Williams is loving her 2011 US Open draw.  Compared to what she's used to it's a walk in the park.
In order to win her first Grand Slam, Venus had to defeat Hingis in the quarterfinals, Serena in the semis, and finally Davenport, undefeated in 3 previous Grand Slam finals.
2000 US Open:  Venus Williams vs. Lindsay Davenport
In 2011, some folks are picking a rematch of this year's Wimbledon final between Sharapova and Kvitova in the quarterfinals.  When was the last time the Wimbledon final reunited in the US Open final?  2000.
The outcome to the Open was the same as the outcome at Wimbledon—Venus took the victor's trophy home.
Want a competitive final?  "Never before had two women's finalists walloped shots so fiercely and consistently as Williams and Davenport did in the rain-delayed, 1-hour, 25-minute duel.  Each player needed tremendous foot speed in order to keep up with the other."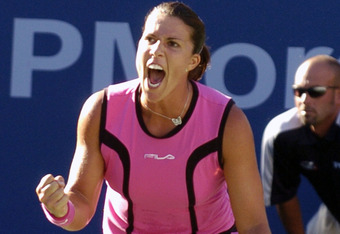 2001 & 2002 Australian Opens:  Jennifer Capriati vs. Martina Hingis
Hingis and Capriati faced off two years in a row in the final of the Australian Open.  In 2001, Hingis beat the Williams sisters in consecutive rounds for the first time to reach the final.  Capriati had to get through Davenport and Seles on her way to winning her first Grand Slam.
In 2002, Capriati won 4-6, 7-6 (9-7), 6-2 in what is considered one of the greatest come-from-behind victories in WTA history.  She saved four match points in the second set.
2001 French Open:  Jennifer Capriati vs. Kim Clijsters
This competitive history-making match wasn't decided in the third set until Capriati finally pulled away 12-10.  It was Clijsters' first appearance in a Grand Slam final.
2001 Wimbledon:  Venus Williams vs. Justine Henin
At 19, the well-known Belgian reached her first final and played well enough to steal a set from Venus Williams, but not to win the title.  Venus wins 6-1, 3-6, 6-0.
2002 French, Wimbledon, US Open and 2003 Australian Open:  Serena Williams vs. Venus Williams
Serena Williams is the last player, male or female, to hold all four Grand Slam titles at one time—an accomplishment she earned by defeating sister Venus in every final.
The Williams sisters were unbeatable in 2002.