Serena Williams Ranked 28 at U.S. Open? Time to Follow Wimbledon's Example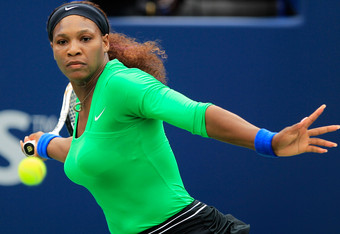 Williams' performance this summer should be given more credit.. (Photo by Chris Trotman/Getty Images)

Someone phone college football, because there is now another sport in which computers have the potential to royally mess things up.
According to the seedings for the U.S Open, the top seed is Caroline Wozniacki. Meanwhile, Serena Williams is ranked 28th.
Dwell on just what that means for a moment. The tournament organizers are saying that if the draw goes to form then Wozniacki should make the final and defeat Vera Zvonareva, while Serena will be knocked out in the third round.
This boggles the mind on so many levels.
First, it completely ignores grand slam history. Serena has proven that she is the dominant player of her generation,
Second, it ignores prowess on hard courts. Serena is arguably matched with Clijsters as the greatest hard court player, and yet she finds clay court specialists ranked considerably higher.
Third, and perhaps worst of all, it ignores the U.S. Open Series, which apparently is only the lead-up for marketing, naming, and prize-money bonuses.
Wozniacki has had two opening-match defeats in that series, the kind that dramatically increase doubts about her. Serena, by contrast, won two lead up titles and had a dominant summer until she realized the wisdom of getting some needed rest.
How high should Serena be ranked?
The Series clearly has an impact on the week-to-week rankings, but it must be weighted more heavily to allow for common sense seedings.
But Seedings Don't Really Matter...
Sure, you could make the argument that anyone can beat anyone else, and that regardless of seedings the best will rise to the top.
If that's the case, then why not use a random number generator to assign players?
Seeding is about much more than giving an assist to the eventual winner. It's about ensuring that the tournament favorites don't cannibalize each other in early rounds.
How many terrible women's finals have we seen in the last decade with the marquee match regularly occurring now in the quarterfinals or semifinals, if not earlier?
Beyond the interests of the viewer, the expanded seeding of 32 players is also about upward mobility among the players ranked outside the top 8. By being seeded, those players are more likely to get through a couple favorable early rounds and thereby get essential grand slam experience.
So Why Not Just Scrap the Rankings System?
Stubbornly, the U.S. Open, like nearly every major and tournament, follows the WTA rankings. The one exception? Wimbledon, which has thankfully realized the importance of taking current and past grass court prowess into consideration through their own formula.
I could bemoan the ranking system, but by itself it seems harmless. I can begrudgingly accept the idea that a non-slam winning player can be considered tops because the concept of "number one" feels abstract enough to be inoffensive.
The smaller tournaments are also important. They're tennis' life blood during most of the year, and players need some incentive to compete at them.
The problem is when the rankings are parroted in the grand slam seedings. Instead, they should simply serve as a baseline from which adjustments can be made.
Is There An Easy Fix?
Yes. Let's use a Wimbledon-like formula that adds in weighted points for hard court performance, or at least the U.S. Open Series.
Suppose to a player's ranking you added 100 percent of the points from that years lead-up U.S. Open Series, essentially double-counting them. Then, add another 50 to 75 percent of the points from the previous year's Series.
This would bump up players like Serena, but also others with hot summer streaks like Agnieszka Radwanska and Andrea Petkovic. Wozniacki would be leapfrogged by someone like Zvonareva or Sharapova, which makes sense.
This article is
What is the duplicate article?
Why is this article offensive?
Where is this article plagiarized from?
Why is this article poorly edited?