Men's Tennis: Ranking the Last 11 US Open Finals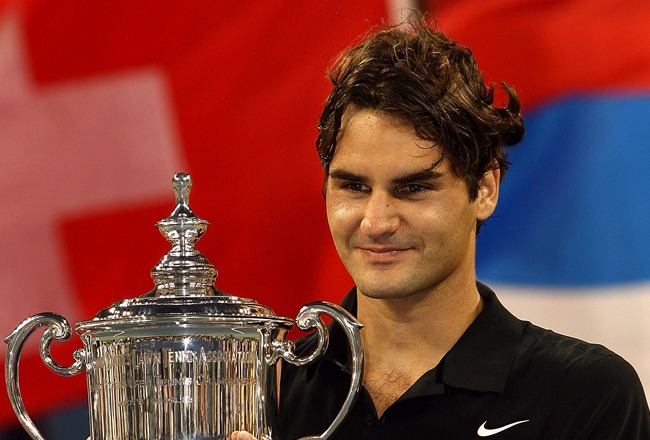 Clive Brunskill/Getty Images
With the US Open tennis tournament at Flushing Meadows just around the corner, it's time to look back at some recent events that happened in New York.
I will rank every final match we have had since the turn of the century, in order from No. 11 to No. 1.
There is much criteria to asses the final:
1. The quality of the matches. For example, matches that are full of errors or big serves usual won't be at the top.
2. How competitive the matches are. Five setters with close sets will obviously be higher than three sets that are blowouts.
3. The storylines beyond the game. Rivals, change of eras or other very important subplots are also taken into account.
Looking at all these aspects, I have ranked the last 11 Open finals. Without further ado, here are the rankings.
Enjoy!
11. Roger Federer vs. Lleyton Hewitt, 2004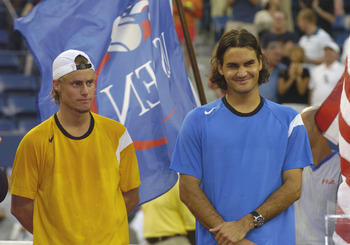 A. Messerschmidt/Getty Images
Scoreline: Federer def. Hewitt, 6-0, 7-6, 6-0
In 2004, Swiss Roger Federer entered the US Open bubbling with confidence. That year, he had won two of the three majors and had held the No.1 ranking since February.
On the other side of the net was two-time major champion Lleyton Hewitt.
Although what transpired was one the best individual performances ever, the final was rather boring because the final outcome was never really in doubt.
Federer played two amazing sets on each side of an attempted Hewitt comeback. Two bagel sets are almost unheard of in a major final.
This was Federer at his peak, where tennis was his traveling playground, but his unbelievable play sometimes worsened the quality of his matches overall.
10. Lleyton Hewitt vs. Pete Sampras, 2001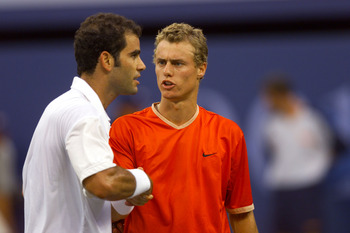 Jamie Squire/Getty Images
Scoreline: Hewitt def. Sampras 7-6, 6-1, 6-1
This was another match where one player completely outplayed the other and ruined much of the interest the fans had.
The sub-plot was interesting, as it was between a young player looking to win his first major against an aging great looking to take home his 14th.
However, this match led many people to believe that "Pistol Pete" was in the twilight of his career, and he was thoroughly outplayed by his younger opponent.
Hewitt showed much emotion and vasts amount of talent, and many people predicted the Aussie as the next "big thing."
This match may have been a changing of the guard of a sort, but the quality greatly lessens it's value.
9. Roger Federer vs. Andy Murray, 2008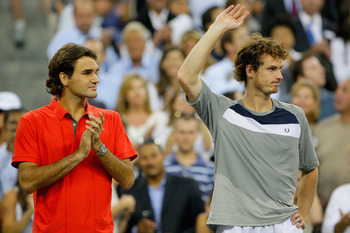 Matthew Stockman/Getty Images
Scoreline: Federer def. Murray 6-2, 7-5, 6-2
Roger Federer entered the 2008 US Open with a different taste in his mouth than in prior years. The Swiss star had yet to win a major and had tumbled to No. 2 behind archrival Rafael Nadal.
Federer strung together a few nice victories, and after a nice win over Novak Djokovic, he expected a French Open and Wimbledon finals repeat with Nadal.
Instead, Brit Andy Murray fought past the Spaniard in the semis and was to be Federer's opponent in the Swiss' fifth consecutive final in Flushing Meadows.
Federer enjoyed the significantly easier matchup, and despite a couple hiccups, he had no trouble finishing Murray off to win his fifth consecutive US Open and 13th major overall.
This was a rather low-quality match but nonetheless a very important one for the revival of Federer's career.
8. Andy Roddick vs. Juan Carlos Ferrero, 2003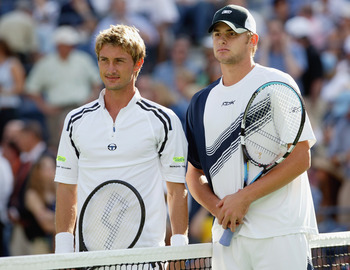 Alex Livesey/Getty Images
Scoreline: Roddick def. Ferrero 6-3, 7-6, 6-3
The American tennis empire was finally coming to a close—or so it seemed.
Pete Sampras had retired following his triumph at the Open in 2002. Although Andre Agassi was the top seed heading in, it was clear his days on tour were numbered.
However, during this tournament a new face, who proved to be a great player, showed he could win on the world's biggest stage.
Nineteen-year-old Andy Roddick fought his way through the draw, finishing off a great run with a devastating performance against French Open champion Juan Carlos Ferrero in the final.
The fourth-seeded Roddick dominated the tempo of the match with his overpowering, reminiscent of the serve of the legendary Sampras.
He grabbed early breaks in the first and third, and his monster serve insured he would never drop a hold game.
This match seemed to show America had found its savior, and that its tennis empire wasn't quite ready to fall. The quality of the match was good, but not great due to the fact that it was greatly powered through huge serves.
It infused a new youth swing, but still wasn't a great final.
7. Marat Safin vs. Pete Sampras, 2000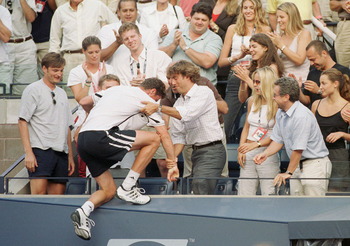 Gary M. Prior/Getty Images
Scoreline: Safin def. Sampras 6-4, 6-3, 6-3
Marat Safin had all the talent one could imagine. At the 2000 US Open, he fought through a couple of tough five-setters and in the final ran into aging great Pete Sampras.
The 20-year-old Safin put an absolute beating on Sampras, who had been victorious in each of his past eight major finals.
Safin played aggressive tennis throughout, and this might have been the best individual performance by such a young player in a Grand Slam final.
The competitiveness continues to lack in these open finals, as one player continues to dominate the play and then sits back and watches the show.
However, this one was a very fun match to watch, as it was thought that Safin would most likely be the successor to Sampras.
This was another youth movement, with the supposed best player of the next era cruising past the player of the last era.
6. Roger Federer vs. Novak Djokovic, 2007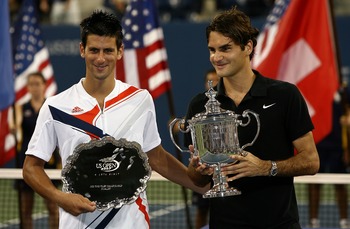 Clive Brunskill/Getty Images
Scoreline: Federer def. Djokovic 7-6, 7-6, 6-4
Roger Federer's fourth consecutive US Open championship was much more competitive than the scoreline would suggest.
Djokovic held set points at 6-5 in both sets, five in the first, two in the second. Federer kept his best tennis for the big points, saving all seven of these, including three in a row at 5-6, 0-40 in the first set with Djokovic serving.
Djokovic kept pushing forward, and Federer kept pushing him back, until finally Federer broke late in the third set.
The match was filled with great rallies and exciting points, and the quality of tennis was very high.
The young Djokovic seemed to have proved he could compete with the best, but he blew seven set points and double-faulted twice in the first-set tiebreak, giving Federer key points in a critical moment.
This match was a coming-of-age of sorts for Djokovic, and Federer showed another gear, as he was able to dig himself out of a huge hole.
5. Roger Federer vs. Andy Roddick, 2006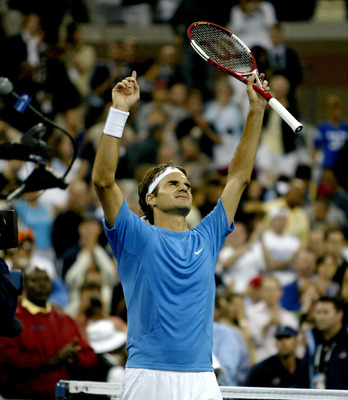 Cynthia Lum/Getty Images
Scoreline: Federer def. Roddick 6-2, 4-6, 7-5, 6-1
When superstar meets reviving hometown hero, the fans expect a great match. They got an early battle and a late display of genius during this 2006 final.
Federer, who has looking at his third consecutive US Open to go along with four straight Wimbledons and a pair of Australian Opens, met Roddick, the '03 champ Open champ who had climbed back in the Top 10 behind the coaching of Jimmy Connors. They played a great match.
After splitting the first two sets, as well as the first 10 games of Set 3, Federer jumped into a gear that no player has, winning eight of the last nine games and cruising to a win.
This match showed great shot-making ability by both players, as well as a great individual performance late in the game by Federer.
This match had everything: high-quality tennis, genius shots and an important event at stake.
If not for two blowout sets, this match would be much higher on the list.
4. Rafael Nadal vs. Novak Djokovic, 2010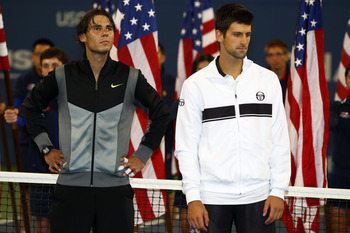 Clive Brunskill/Getty Images
Scoreline: Nadal def. Djokovic 6-4, 5-7, 6-4, 6-2
This match featured two men looking for their first triumph in NYC. Spaniard Nadal had already won the French and Wimbledon crowns, and Serb Djokovic had come from two match points down to beat Roger Federer in the semis.
Nadal entered the final as the favorite, due to a much smoother progression to the final match. Up to that point he had not dropped a set.
Although a rain delay helped the exhausted Djokovic, Nadal came out gunning on all cylinders, winning the first set 6-4.
Although a minor blip in the second set hurt Nadal a bit, he broke early in the next two sets and propelled himself to a win.
Rafa played exceptional tennis, going 40 consecutive points without an unforced error, as well as continuing to get his serve in action, hitting routinely in the 130s.
This match was exceptionally high quality, as both players played fantastic and made sure it was entertaining for all fans. It featured two players looking for their first win in New York and had a flawless performance in the late stages of the game by a great champion.
This was surely a great Open final, but the final two sets were rather unequal, which slightly diminished the intensity.
3. Roger Federer vs. Andre Agassi, 2005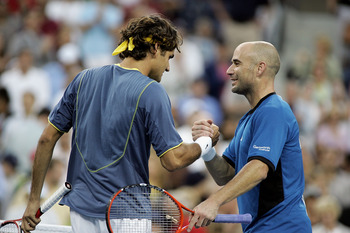 Al Bello/Getty Images
Federer def. Agassi 6-2, 3-6, 7-6, 6-1
Aging legend Andre Agassi entered his penultimate US Open with hopes of maybe winning a few matches. Although he was the No. 7 seed, it was tough to see his body hold up for seven matches, much less five-setters.
Agassi toughed it out through the draw, winning three straight five-setters in the fourth round, quarterfinals and semis. He watched as the king of the tennis world, the Swiss sensation Roger Federer, stormed through the draw to find himself opposite Agassi come the final Sunday.
After splitting the first two sets, Agassi and Federer traded blows back and forward through Set 3, which ended in a tiebreak.
Federer strung together some of the best tennis of his career for that breaker, winning seven straight points and taking command of the match.
He kept this unreal stretch of tennis up, continuing to dominate Agassi, taking control of every point and winning the set 6-1 and with that, his second straight US Open title.
This match was truly the changing of the guard, as Federer would go on to dominate the Open for three more years.
A very interesting match, as both players played very well, and Federer went into a gear that is unseen in the tennis world and played at a great level.
Agassi stuck with him for two and half sets, but it was too much for him, as he all but folded in the end.
A great match that was very important in both these legends' careers deserves the No. 3 spot on the list.
2. Pete Sampras vs. Andre Agassi, 2002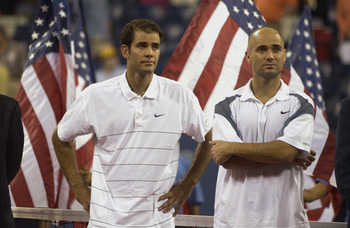 Ezra Shaw/Getty Images
Scoreline: Sampras def. Agassi 6-3, 6-4, 5-7, 6-4
American rivals Pete Sampras and Andre Agassi met in many great matches over the course of their illustrious careers, with Sampras taking 20 of their 34 meetings.
The 2002 US Open final was their final match, as Sampras was retiring at the tournaments' end. Agassi may have been the slight favorite because a coaching change had led him to a very successful summer season.
Sampras, runner-up of the past two US Opens, however, was the one who came out with all hands on deck, racing to a two sets to love lead and leaving Agassi in the dust.
The two rivals kept fighting, and eventually, it was Agassi who captured the third set and seemed to play better in the fourth.
However, a seemingly much fitter Sampras, bombing away serves and using his great touch around the net, finished it off 6-4 in the fourth.
The storyline was relatively better than the match itself. Sampras, who was struggling and without a title of any sort since the 2000 Wimbledon,played his final match against his greatest rival and won.
As all experts thought it was the end for Sampras, he proved them wrong with one final hurrah at Flushing Meadows.
The match was a bit sloppy, but it was very competitive and compelling, especially beyond the game.
1. Juan Martin Del Potro vs. Roger Federer, 2009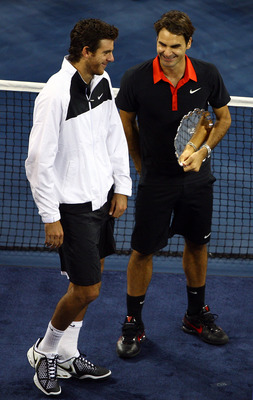 Julian Finney/Getty Images
Scoreline: Del Potro def. Federer 3-6, 7-6, 4-6, 7-6, 6-2
The only five-setter since 2000 pitted five-time defending champion Roger Federer against 6'6'' Argentine Juan Martin del Potro. Federer entered as the favorite, despite the fact that del Potro had shellacked Rafael Nadal in the semis.
This match was entertaining as hell from the first ball, but it was the Swiss star who drew first blood, breaking and eventually winning the set.
Serving for a dominant 2-0 set lead, Federer jumped ahead 30-0 before dropping the next five points, including one in which del Potro correctly challenged, which enraged Federer.
Del Potro kept up the pressure and took the set in a tiebreaker.
The tide continued to shift, as Federer got another break to take Set 3, and del Potro fought back to win another breaker, finally stealing the momentum.
The Argentine benefited from a serving off day from Federer, who made only 50 percent of first serves and put up 11 double faults.
Del Potro kept his best tennis for the end, playing sensationally en route to a 6-2 fifth set.
By far the best of the bunch, this match had it all: two generations going at it, one looking for Slam No. 1 and the other for his 16th; high-quality points from both players and a great performance from both players.
An easy choice for the top slot.
Keep Reading