See Which Team Owned the Best Shaquille O'Neal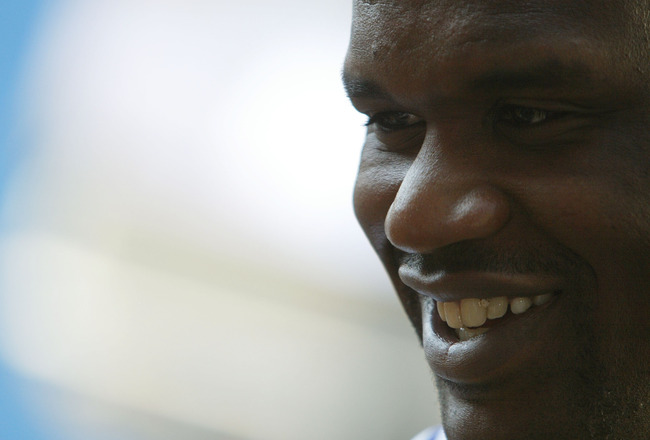 Mark Mainz/Getty Images
Shaquille O'Neal, or simply Shaq, was a phenomenon of the NBA ever since he was drafted in 1992. He was the first version of Superman playing hoop who revolutionized the skill of backboard shattering and rim hanging after each dunk. He dominated most seasons that he was able to be a part of. He was a living legend who continued to show that the center position matters.
And what's most memorable for Shaq? He was not just fifth in the all time scoring list, he also was the best worst free throw shooter who played the game. This impairment was somehow mantled by his dominance down low.
One more thing is he had seven (yes, seven) different teams who saw how he brought in his presence to the hard court. Which team was the luckiest to acquire the golden Shaq? Let's find out.
Boston Celtics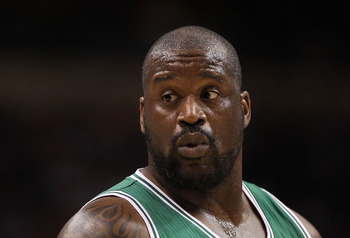 Christian Petersen/Getty Images
With Shaq in his final season with the league, the Boston Celtics were unlucky enough not to avail his full potential. Some people who love to watch basketball aren't even aware that the Diesel put on a green uniform. I'm not shocked by this.
Playing for only 37 games for the whole 2010-2011 season is the primary reason for this claim. Added seasoning? 9.2 points in 20.3 minutes. Clearly, the Boston Celtics were just lucky enough to have the privilege of having them retire Shaquille O'Neal.
Oh, and another thing, Shaq really looked bad in a number 36 jersey.
Cleveland Cavaliers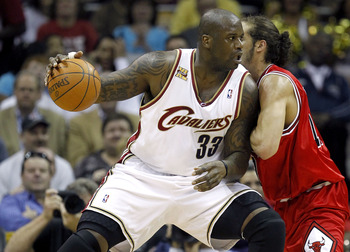 Gregory Shamus/Getty Images
It was so nice to see Shaq return to his old number 33. It was so nice to hear the metaphorical phrases of Cleveland winning a ring for the King and Kazam. It was so nice to see how both will adhere.
But seriously, the Cavalier Shaquille was one of the worst. He averaged 12 points and 6 rebounds in 23 minutes of playing time for 53 games.
We can't blame him. His degradation had started long before he joined the squad, which makes the Cleveland Cavaliers second from the worst. One more thing, they never won a championship.
Phoenix Suns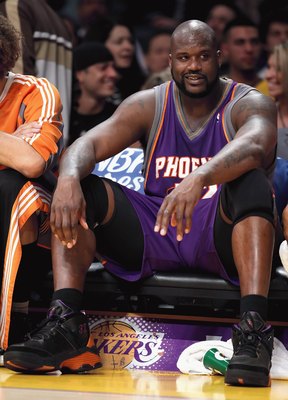 Christian Petersen/Getty Images
I put the blame on Phoenix for this one. They traded a magnificent finisher for a huge cactus by the desert. The departure of Shawn Marion and the arrival of Shaq could have been the first mistake (if not the biggest) of the Suns for not winning a title.
Good for them, Shaq averaged 17.8 points, grabbed 8 rebounds and had one block a night in his stay with the Suns. But still, Shaq was not golden on this one anymore. But I have to say that I loved watching what the Big Cactus would do on pregame introductions.
Miami Heat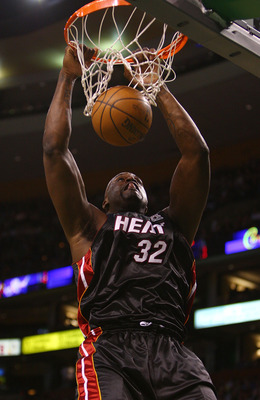 Elsa/Getty Images
Years before LeBron James took his talents to South Beach, Shaquille O'Neal left the Lakers for Miami. He was still dominant in that time and a championship was the seal for this one.
Though Shaq primarily played Robin to Dwayne Wade, it is undeniable that Miami enjoyed the Shaq attack. He posted down 22.9 points a night and 10.3 rebounds, an obvious capital for the Heat to value.
Unfortunately for the Heat, Shaq suffered multiple injuries which cost him a spot in the team.
Louisiana State University Tigers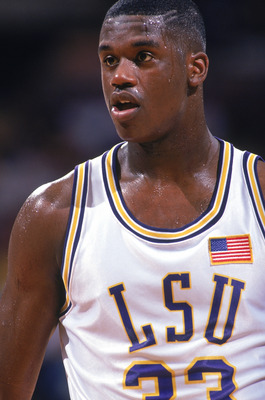 Getty Images/Getty Images
Shaq was an indestructible phenomenon in college. LSU was lucky that he chose to play for them. He was young, huge, and strong.
Throughout his college career, Shaq made LSU serious contenders for a national title. His dominance down low was felt all throughout the country. He was the rebounding leader of 1990-1991 when he grabbed 14.6 rebounds a contest. He also popped down 412 blocks in 90 games.
The dominance shown by Shaq in college tapped the next team's shoulder in 1992.
Orlando Magic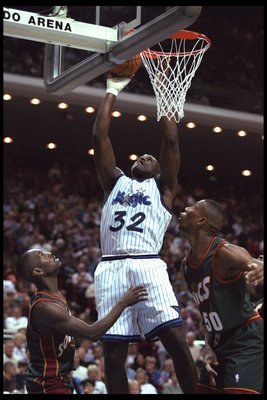 Getty Images/Getty Images
Shaq brought his college dominance from LSU to the NBA. He was the promise that kept the Magic holding onto their dream of having an NBA title.
Shaq never failed to impress the world by taking the team on his broad shoulders and carrying them through four seasons. He had his career best in rebounds during his rookie season with 13.9 boards in 81 games.
He was voted as an All-Star game starter as a rookie, the first since Michael Jordan in 1985. He was NBA Rookie of the Year in 1993. Shaquille O'Neal was most ripe in his time with Orlando.
During the 94-95 season, Shaq had his best scoring as a Magic with 29.3 points per game. And at the 95-96 season he lead his Magic to a 60-22 before being thrown away by the Chicago Bulls in the Eastern Conference Finals.
Orlando may have been Shaq's haven of destruction for four years and it was undeniable that he was a superhuman by that time. The only thing that was missing was a championship. This leads us to the team that had the Golden Shaquille O'Neal with them.
Los Angeles Lakers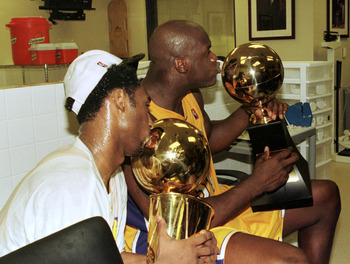 Jed Jacobsohn/Getty Images
Three straight NBA championships. Three finals MVPs. NBA MVP. The Batman to Kobe. 'Nuff said!
Keep Reading

Los Angeles Lakers: Like this team?