US Open Preview: 7 Fan Favorites on the Court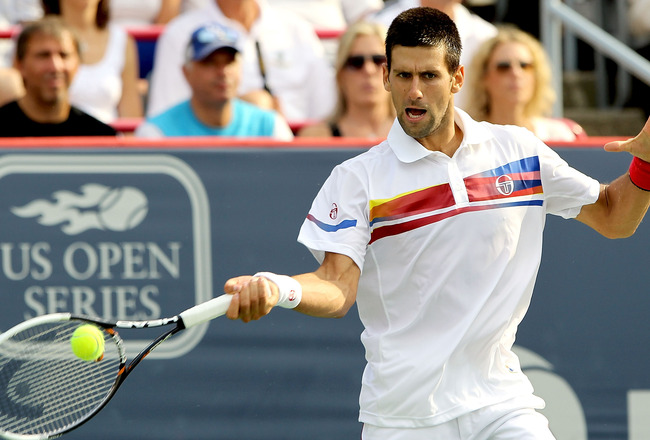 Matthew Stockman/Getty Images
The final Grand Slam of the year is just two weeks away, and it's time for fans to stick to their favorites. The always boisterous and highly-supportive crowd in New York is quite the spectacle under the night lights and always show where their allegiances lie.
Entering the 2011 US Open, not all of the favorites to win the tournament are the fan favorites, in fact some of the leading candidates to win could get booed for all we know.
Rest assured, the fan favorites will be made known by the echoing cheers come the first serve of the tournament on August 29th.
Serena Williams (USA)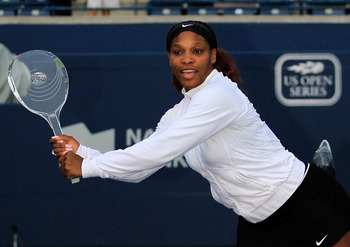 Chris Trotman/Getty Images
On the WTA side of the tournament, there will be some pretty obvious names, and we'll kick it off with Serena Williams.
Serena has had a difficult couple of years, but it appears she is coming back into form. She suffered a foot injury and dropped all the way down to No. 175 in the world in 2011.
Since coming back from injury, however, Serena has won her past two tournaments and is now ranked 31st in the world.
Williams will obviously get a strong reception from the fans at Flushing Meadows as they are extremely patriotic at the US Open and always want to see one of their own take home the title.
This will be just the first appearance in the US Open since 2009 when Serena lost in the semifinals to Kim Clijsters. It was also in the 2009 US Open semifinal where Serena's infamous blow up occurred.
The umpire claims that Serena said "I am going to kill you," and Serena subsequently received a fine from the WTA; it was a dark spot on Williams 2009 season.
It should be interesting to see how Williams performs on center court at the US Open this year, but there is no doubt in the world that she is a fan favorite.
Maria Sharapova (RUS)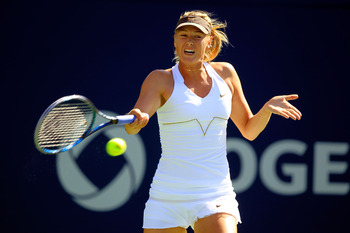 Chris Trotman/Getty Images
Maria Sharapova is originally from Russia, but she has been in America since age 9, and the US Open crowd loves her. Actually, most tennis fans like her.
She captured our hearts when she won Wimbledon back in 2004, just her second full season as a professional. Since then, Sharapova has gained fans making four more Grand Slam finals including winning the 2008 Australian Open and even the 2006 US Open.
Former US Open champions usually garner crowd support. Sharapova is also one of the few female athletes who is well known in pop culture; this helps her to be a fan favorite as well. Like Anna Kournikova in the past, Sharapova has done lots of modelling and is well liked for her beautiful looks just as much as her skills on the court.
Coming into the 2011 US Open, Sharapova is 34-10 and has won one tournament. She is currently ranked No. 7 in the world.
Venus Williams (USA)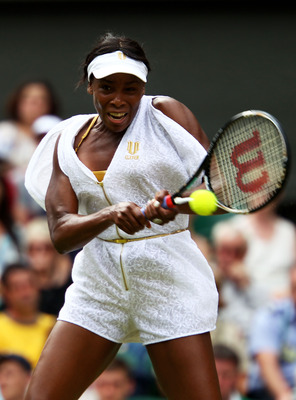 Clive Brunskill/Getty Images
If one Williams sister is on the list, then sure enough the other must be as well.
The Williams sisters are beloved by American tennis fans everywhere. Venus is having a tough 2011 campaign where she has missed much of the season due to a recurring hip injury, and most recently, was forced to withdraw from US Open Series events in Toronto and Cincinnati due to a viral illness.
With hopes that she is able to play in the US Open, Venus will get a warm reception from the New York faithful when she steps onto the court. Having just played in 12 tournaments this year, Venus sits at 36th in the world coming into the US Open.
It should be interesting to see how much she has left in the tank in 2011 when she first hits the surface for her opening match, but the crowd will be behind her for sure.
Novak Djokovic (SRB)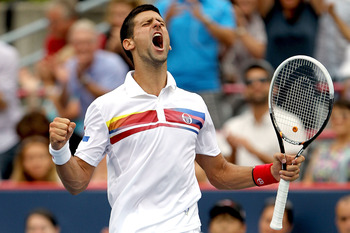 Matthew Stockman/Getty Images
On the men's side of the net, there is Novak Djokovic.
The ATP's current No. 1 comes into the 2011 US Open as one of the most well-supported, undisputed No. 1 players in a long time. It is no longer Nadal vs. Federer; it's now just Djokovic.
Novak is an astounding 53-1 this season heading into the US Open. He has already won two of the three Grand Slams this season—the Australian Open and Wimbledon—and will be looking for the trifecta after losing out at the French Open.
Fans love seeing a player have the opportunity to compete for multiple Grand Slam titles in a single season.
Furthermore, US Open faithful have no reason to dislike Djokovic. He is probably one of the more fun-loving and entertaining players on tour today.
Look for Djokovic to have strong backing in Flushing Meadows.
Jo-Wilfried Tsonga (FRA)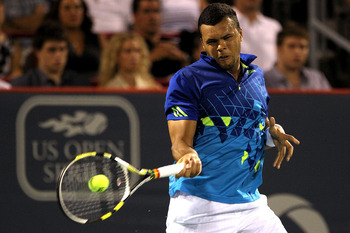 Matthew Stockman/Getty Images
It is always nice to see a fresh face in the mix in men's tennis. Tennis fans have found that in Jo-Wilfried Tsonga of France.
Tsonga has proven he can play with the best of them in 2011. He has defeated Rafael Nadal once and Roger Federer twice already this season. That and everyone likes an "underdog."
Although Tsonga has yet to defeat Novak Djokovic, he has shown tremendous strides this season. The casual fan at the US Open may not know much about Tsonga, but he has a strong style of play and is highly entertaining.
If he wasn't a favorite going into the US Open, he should be one coming out of it.
Mardy Fish (USA)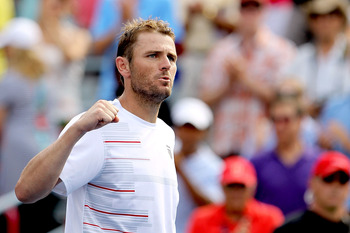 Matthew Stockman/Getty Images
The first male competitor from the USA on this list, seventh ranked Mardy Fish will be adored by US Open fans. He is also, somewhat surprisingly, the highest-ranked American going into the Open. Fish is 33-16 on the season and has one tournament victory—the Atlanta Tennis Championships.
Fish has one thing that most American tennis fans like—a huge first serve. Fans love seeing the rapid speeds pop up on the radar gun. Fish follows up with a good net game which adds more excitement to the match. US Open attendees should get their money's worth when watching Fish play.
Unfortunately for Open fans, his lack of composure has hurt him in the past, and if he can't handle the pressure of playing in front of a very supportive home crowd, he could bow out early.
Andy Roddick (USA)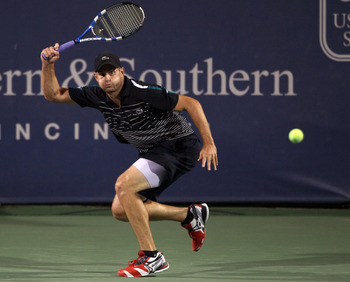 Elsa/Getty Images
We all know who the real fan favorite will be come the opening ceremonies of the 2011 US Open—Andy Roddick.
Since Agassi and Sampras have both retired, Roddick is the one man fans find hope in to win the US Open for America. The one name that will echo until the end of the Open will be "Andy, c'mon Andy!"
To date, Andy has rewarded his supporting crowd just once, winning his only Grand Slam title at the 2006 US Open.
Despite his lack of success in 2011, Roddick will always be a crowd favorite until he has retired from tennis. He always goes out and puts it all on the line, and the fans love that.
Honorable Mentions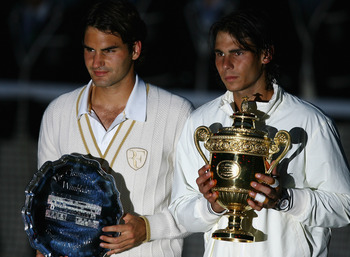 Julian Finney/Getty Images
Of course, we weren't going to leave Roger Federer (SUI) and Rafael Nadal (ESP) off the list entirely. Unfortunately for the two superstars, due to the influx of new talent in the ATP, their welcoming to Flushing Meadows may not be as grand as it once was.
If, however, Rafa and Fed meet again in a Grand Slam final, the fans should be split. That will be an unbelievable match, just as all their finals matches are.
Don't take it the wrong way, Federer and Rafa will have fans behind them, just not as much as some of the previously mentioned competitors.
All in all, it should be an interesting US Open.
Keep Reading