Serena Williams Poised to Win WTA Toronto 2011 This Weekend
August 12, 2011
Chris Trotman/Getty Images
Serena Williams almost looks like a sure-thing to win the Premier Mandatory event in Toronto this week as the former world No. 1 has a pretty straight forward draw all the way to the title.

Williams is already into the quarterfinals where she will face Lucie Safarova, a player who has never beaten Williams in the past.

In three head-to-head meetings, including one from Toronto in 2009, Williams has only dropped one set against the Czech player and it would be a huge upset if the American were to take a loss in their Friday match.

Next up would be either Victoria Azarenka or Galina Voskoboeva, with Azarenka the most likely winner between the two. Voskoboeva has pulled off several upsets in Toronto but the clock has to strike midnight soon for Cinderella and Azarenka is playing well in Toronto and she'll know not to take her quarterfinal opponent lightly.

Williams has faced Azarenka five times in the past and the American has won four of those matches, including their most recent match at the 2010 Australian Open. In that match Azarenka crumbled as she was up a set and a break in the second set before losing in three sets, a loss that remains the biggest meltdown in the Belarussian's career so far.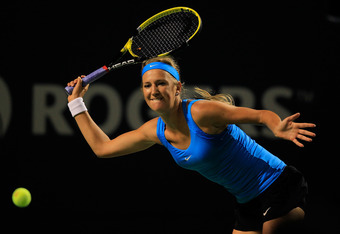 Chris Trotman/Getty Images

Should Williams and Azarenka meet in Toronto this weekend you have to wonder what kind of baggage the four seed will have in her head due to the meltdown from the last time they faced.

In the final Williams could face no one ranked higher than Samantha Stosur, the 10 seed in Toronto. The Australian has just one hard court victory over Williams with another victory from the 2010 French Open. More importantly, Stosur simply does not win many titles as she has been a top player on tour since making the French Open semifinals in 2009.

Even so, Stosur only has two titles from Charleston 2010 and Osaka 2009: tournaments that are not of the same caliber as the event in Toronto. Stosur has lost in tournament finals so many times (eight) that it would be hard to picture her besting Williams, the greatest player of this era, in a match as big as the Toronto final.

The biggest threat in a prospective final would probably be Agnieszka Radwanska, as the 22-year-old has a proven ability to win WTA titles as she's picked up a handful so far in her career. However, she is 0-2 against Williams straight up and if Williams is playing well enough to make the final, it's hard to picture Radwanska or Andrea Petkovic stopping the 13-time Grand Slam singles champion.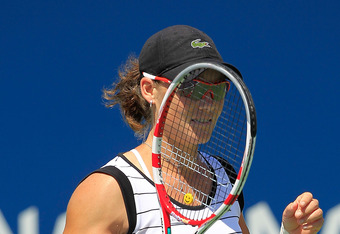 Chris Trotman/Getty Images

The players remaining in the draw are a combined 3-15 heads up against Williams with Azarenka and Stosur the two players who hold career wins over the world number one.

Upsets certainly happen but the math looks like it is on Williams' side and a title in Toronto would definitely help the American on her comeback trail, as it would catapult her from her current rank of 80th over-top of about 50 other players on tour.
Here's the breakdown of how Williams has done against the seven other players remaining in the event in Toronto:

vs. Stosur, 4-2
vs. Vinci, 1-0
vs. Radwanska, 2-0
vs. Petkovic, 1-0
vs. Safarova, 3-0
vs. Azarenka, 4-1
vs. Voskoboeva, 0-0