ATP Montreal 2011 Quarterfinals Preview: Tomas Berdych vs. Janko Tipsarevic
August 12, 2011
Matthew Stockman/Getty Images
Tomas Berdych, the ninth ranked player in the world, will face Janko Tipsarevic at the Montreal Masters on Friday for a spot in the tournament's semifinals.
Although Berdych enters the match as the higher ranked player, Tipsarevic has been playing the best tennis of his career this season and threatens to crack the top 20 for the first time.
Berdych enters as the betting favorite to win the match. However, the Czech player has lost the only two matches that he has played against Tipsy at the tour level. Their most recent match came in the round robin of Davis Cup play in 2010 and Tisparevic—playing for the eventual champion, Serbia—took Berdych out in four sets.
Berdych has had some pretty questionable losses in recent tournaments—at least for a top 10 player—and that makes him look vulnerable against the only unseeded player remaining in Montreal. The Czech No. 1 lost in Halle to 71st ranked Philipp Petzschner and at Roland Garros Berdych lost to Stephane Robert, ranked 140th at the time of their first-round match.
During the hard court season earlier this year Berdych was playing decent. However, he still dropped matches to Marin Cilic and Andrey Golubev, players that Tipsarevic currently outranks.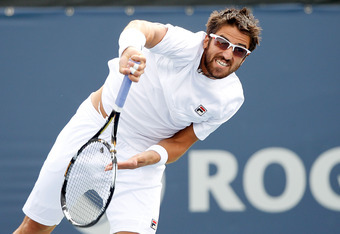 Matthew Stockman/Getty Images
Berdych's stay in the top 10 might not last much longer while Tipsarevic is a player on the rise and stands a good chance of making the top 15 soon, or least the top 20.
The bottom line with Tipsy is that he is 0-4 this year against players in the top 15 and that makes him a tough pick against Berdych.
The match is scheduled for 2pm ET and Berdych looks like the pick to make since Tipsy's wins over players in the top 10 are so few and far between.