Mardy Fish Will Enter US Open as America's Top-Ranked Player
August 6, 2011
Mike Ehrmann/Getty Images
In the world of tennis, it would be almost sacrilegious to say anyone in their late 20s isn't over the hill. 
Yet America's top-ranked player, 29-year-old Mardy Fish, has had the best year of his career.
Fish has a 29-15 match record, has won one title and made at least the semifinals in five tournaments. He also turned in career-best performances by reaching the third round of the French Open and the quarterfinals of Wimbledon.
These results have taken him into the top 10 for the first time in his career, surpassing Andy Roddick, who has struggled with injury and inconsistent results.
Because of that, Fish—currently ranked No. 8—will enter the U.S. Open as the No. 1 American for the first time in his career.
"With being the No. 1 American comes a little bit of extra pressure, but it's good pressure. It's certainly a position you want to be in," Fish said in a USTA conference call with members of the media. "Again, it's new for me. It's not a place that I feel extremely comfortable in."
Until this year, Fish has always been the second- or third highest-ranked American behind Roddick and James Blake. Despite his recent success, Fish said he still doesn't feel like the best American player.
"I don't necessarily feel like I'll be the top American. I will maybe be ranked the highest," Fish said. "But it feels strange to say that considering Andy has been the No. 1 player—and I've said it all along—the No. 1 player throughout our generation or my generation that I've played."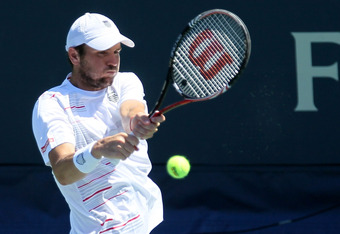 Stephen Dunn/Getty Images
He added that Blake has played "extremely well" the last few years, which has helped him fly under the radar.
Fish credits much of his success to his improved fitness, which has made him a better player and given him more confidence.  
"I think it started with the weight loss. It started with changing my discipline and changing my outlook on the game and how I took it from a week-to-week basis and a month-to-month basis," he said.
He said he also found better reasons to be on the court and found more ways to enjoy it.
"Then the confidence just comes, you know, you hope it's not arrogance. You hope it's just confidence on the court and sort of speaking about your game. That comes from winning matches."
The American No. 1 has set his sights on the U.S. Open and hopes to continue his good form until the end of the year.
"The ultimate goal is to make the Masters Cup, which I've never done before," he said. "I'm right in the mix, so that'll be the goal for sure."
Originally posted on Tennis Now.