The 25 Most Insane Golf Trick Shots on YouTube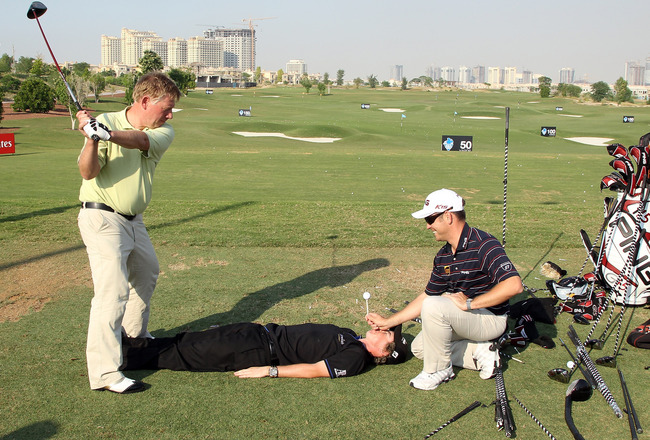 David Cannon/Getty Images
Golf trick shots take hand-eye coordination and a whole lot of skill, but as I rummaged through YouTube looking for the best and brightest in golf trick shots, I could not help but get inspired.
I quickly set up a few cups around my house and began.
The result did not end up anything like the videos on this list, which is why you have to give some respect to the people in any of these videos—even if they took 50 takes.
25. Appalachian State Golf Team
A cool video shot in a really cool golf practice facility.
However, I expected a little more from a college golf team.
24. Germans Being Ridiculous
Its not as much a trick shot as it is Germans being extremely daring.
The man posing as the human tee is a very brave guy, and the man posing as the golfer simply does not care about the man on the ground.
23. Marc Shlenker—Germany 2.0
This is your classic "flop it to yourself and hit again" shot that many professionals pull off with moderate ease. However, this seems to be just an amateur on a driving range, which makes it all the more impressive.
22. Backyard Trick Shots
I thought I would find more of these on YouTube, but i was a little disappointed.
This kid is annoying and also made this video just to sell a product, but the shots are talented.
21. Golf Tee Peg Trick
This really should be higher on this list, considering the difficulty level, but it seemed more of an accident than something planned.
20. Ben Witter—Double- and Triple-Ball Shots
Ben Witter is one of the better trick shot players out there, which is why he makes a couple of appearances on this list.
Go home and try to do those two-club and three-ball trick shots. They're not as easy as they look.
19. Kent Chase—Juggling Golf Shot Trick
I would love to know how many takes this took, but I get the feeling after watching that it may have only been this one.
All the more impressive.
18. Tiger Woods Skips It over the Water
Woods makes his first appearance on this list.
It's a pretty tough shot to pull off, especially to get it up and over the wall before the green.
I would expect Tiger to have maybe two or three tries at this before landing it on the green.
17. Jeremy Dale—Scissors and off the Balance Ball
Looking through all these videos, the scissors trick shot impressed me the most (the first trick). The amount of hand-eye coordination mixed with arm strength is impressive.
Also, go home and stand on a balance ball and try to do anything for five seconds.
16. Phil Mickelson Copy
This arrogant little club champion does pull off a pretty tough trick here.
We have seen Mickelson do it with ease, but a young kid performing it and putting the shot that close to the hole is rather impressive—even for a kid who gloats about it afterwards.
15. Urban Trick Shots
These hacks will do anything and everything in their free time, but some are rather impressive.
I especially liked the trick where the one player threw it to the other and he hit it.
Try pulling that off at home in 50 takes.
14. Flop to Himself
This guy does not look like he would be much of a player on the golf course, looking at his flop form, but he pulls this off rather easily.
It is one thing to flop it to yourself, but it is another to strike the ball well with a lob wedge in mid-air.
13. Two Golf Balls, One Cup
I am accepting that this took many takes, but it is a great trick shot nonetheless.
12. Thrown from Behind
We have all tried to do this before, but he pulls it off while the camera is on after deep concentration.
I suggest you use this on your next 20-foot par putt.
11. Ben Witter with the 10-Foot Driver
The shot from the balance ball is probably one of the harder trick shots to pull off, based on the balance it takes.
However, adding a ten-foot driver into the trick puts it over the top as far as difficulty level.
10. 200 Miles an Hour Through Plywood
DO NOT TRY THIS AT HOME.
I say that because the ball will most likely hit you in the face after ricocheting off the plywood.
It takes impressive club speed and faith in yourself to hit this shot.
9. Clay Pigeon Golf Shot
The video got to be tough to watch at one point because they were so close, but the overall accuracy and skill it takes to hit that clay pigeon is beyond the weekend golfer.
8. Iron-to-Driver Trick Shot
No, it is not cool to wear flip-flops while playing golf, despite what he says.
The trick is impressive, though, and the driver head flying off afterwards gives it a little humor too.
It makes up for the fact that the ball only flew 100 yards or so.
7. Spit the Dog
Hitting the ball when spit out of your mouth seems simple, but striking it flush (as he claims) makes this shot one of the better ones on YouTube.
6. Tiger Woods Nike Ad
As much of a phenomenon as this commercial once was, the trick is rather pedestrian these days.
The impressive part is that it took him one take after the Nike filming crew thought it would take an entire day.
5. Phil Mickelson Backwards Shot
As terrible as his acting is, this is a tremendous shot that could actually become useful in real play.
The best short game player ever has to make an appearance on this list.
4. Golf Shot from the Neck
Extremely impressive.
It is one thing to balance it out of mid-air on the back of your neck, but it is another to hit it on the green from there.
3. Scissors and Shots from the Knees
The first guy in the red is who we really want to focus on.
The scissors trick, as you can tell, takes crazy hand-eye coordination and arm strength to pull off.
His second trick from his knees is impressive because he hits every ball consistently perfect.
2. Dan Boever—Through Wood and Through the Legs
We saw the 200 miles per hour shot it takes to get through wood back at No. 10, but this time it is through a guy's legs as well.
Two people are at risk to be hurt on this shot: the golfer, if the ball ricochets off the plywood, and the person on the other side of the plywood if the golfer misses his target.
That person has a ton of faith in Boever to pull this shot off.
1. Phil Mickelson's Two-Ball Shot
Again, Mickelson's acting is terrible, but this is a great trick shot.
It is definitely not as easy as he makes it seem, which is why this is the greatest trick shot on YouTube.
Keep Reading