UFC Superstars Nate Marquardt and B.J. Penn Exchange Harsh Words on Twitter
July 17, 2011
Jon Kopaloff/Getty Images
In an article released by The Underground, Nate "The Great" Marquardt and "The Prodigy" B.J. Penn battled via their Twitter accounts regarding Marquardt's latest positive test for a banned substance.
To provide some history, Marquardt originally tested positive for a banned substance in August of 2005. Fighting in the inaugural Ultimate Fight Night on Spike TV, Marquardt defeated Ivan Salaverry only to be suspended by the Nevada State Athletic Commission after testing positive for high levels of Nandrolone, an anabolic steroid.
Stating that the positive test was a result of over-the-counter supplements, Marquardt was suspended for five months and was awarded a reinstated license by the NSAC in 2006.
Fast forward to June 26, 2011 and Marquardt was scheduled to compete against Rick Story in the main event of UFC Live 4 on Versus.
Another positive test doomed Marquardt and ultimately forced his dismissal from the UFC.
Under very different circumstances, "The Great" received testosterone replacement therapy through his physician. However, his blood serum levels were elevated and he was not provided clearance by the Pennsylvania State Athletic Commission to compete.
Once again suspended for essentially utilizing a performance-enhancement drug, UFC president Dana White swiftly released Marquardt from his contract.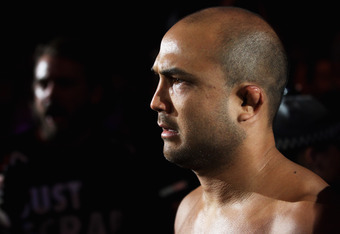 Mark Kolbe/Getty Images
With rumors swirling regarding Marquardt's second positive test for a banned substance, fellow fighters began to speak about Marquardt's use of performance-enhancing drugs in a disparaging manner.
One of those pundits was fellow UFC veteran B.J. Penn.
Recently reinstated by the PSAC and all suspensions dropped, Marquardt is essentially a free agent. He has, however, not forgotten about those who have stepped on the fallen star during his tumultuous month.
Taking the battle to Twitter, Marquardt assured Penn that he was clean and that he would take the necessary drug tests proving his innocence.
Marquardt said, @Penn, "How about I give u my most recent and another one [drug test] now showing that it's low and I still mop the floor with your midget head?" 
Responding to Marquardt's tweet, Penn stated, "What a Joke! 1 drug test? lol.. You should be tested every week for 3 months... and then we'll fight. ... I have no doubt I will beat you if you come in natural like i have been doing my entire career."
Marquardt, seemingly attempting to salvage his mixed martial arts career, will need to pass the necessary testing requirements as well as defeat an elite fighter such as B.J. Penn to prove that he can compete with the best and to exclaim that he is not a cheater.
Only this will shut the mouths of the pundits.
I welcome your comments.