Predicting the Leafs' Next Trading Partner: Anyone Have Glen Sather's Cell?
July 13, 2011
Bruce Bennett/Getty Images
The Toronto Maple Leafs, widely known and loved for their generous spirit, are in a perfect position to help out the next woebegone general manager on their list of prospective charity cases: poor old Glen Sather.
I don't know from personal experience, but I've heard it can be challenging to run an NHL franchise!  Unfortunately, mistakes are bound to be made.  As Brian Burke has said in the past, there is always risk involved when you're gambling money on people.  Such sage wisdom.
Unfortunately for the New York Rangers' top dog, he may have missed out on the part of GM orientation and training during which they explain the pros and cons of draining your resources in an effort to sign just one person, regardless of any factors that actually involve evaluating this person's talent, character, or potential contributions vs. roster needs.
Hey, the man has big ones, I'll give him that.  He's not afraid to take risks.
Nonetheless, these risks have not always been calculated properly.  Few have actually panned out.  Some of the more epic contracts he has handed out, courtesy of this Bleacher Report article by Matthew Calamia, include:
Scott Gomez for seven years at $7 million per season
Bobby Holik for five years at $9 million per season (Ovechkin much?)
Michal Rozsival for four years at $5 million per season
Darius Kasparitis for six years at $5.2 million per season
Chris Drury for five years at $6 million per season
Wade Redden for six years at $6.5 million per season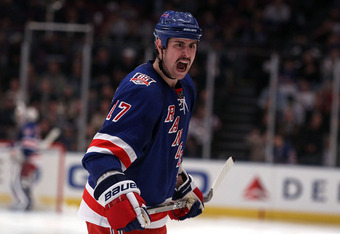 Bruce Bennett/Getty Images
I actually could not believe my eyes when I read the contract he doled out to Bobby Holik.  I thought the Redden contract was one of the worst contracts in history.  Until now.  Never scored more than 65 points in his career and never hit the 30-goal plateau, ever.  I mean he was a good player but jeez...
Given the information provided thus far, it is no surprise that Sather is once again facing a tight situation when it comes to managing his cap dollars. 
Three core players for the Rangers that are all currently RFA's looking for new contracts are Brian Boyle, Ryan Callahan, and Brandon Dubinsky.  According to capgeek.com, Sather has just under $13 million to play with in order to resign all three.  But, Sather also needs to have room to pay a fourth player, as they only have five NHL D-men listed on the roster currently.
If Sather has any hope of being able to resign all three of his key RFA's and a D-man, he's going to have to create some room for himself.
This is the point at which, out of nowhere, Brian Burke swoops in with his kind heart and his cap space.
I can just picture it: tears of joy begin to stream down Glen's face, streaking the thin layer of cigar ash as they drop gently to the floor.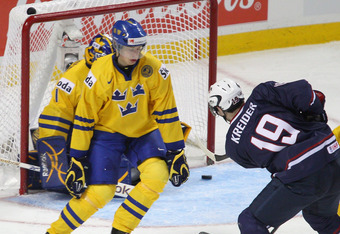 Rick Stewart/Getty Images
Now, I know what many people have been saying for the past few months—that Burke should attempt to make a trade for a centerman like Dubinsky.  It would have made sense but for the fact that Burke signed Connolly to an obnoxious deal following the start of free agency. 
The glut of NHL-ready center ice men in the Leafs' system makes a deal for an established one almost redundant at this point.  Dubinsky would walk on as the best C on the team, in my opinion—but the improvement would be so marginal that it would not be worth parting with the picks and prospects that Sather would ask for in return.
Bottom line: the Leafs chose Connolly.  They have made their bed and will lie in it.
As for the Rangers, I imagine they want to lock him up long term, so the point is moot anyway.
However, looking over the Rangers roster, there IS one contract that sticks out like a sore thumb to me—Mr. Wojtek Wolski's.
He has one year remaining on his deal at $3.8 million.  Could this be the man Sather attempts to jettison in order to resign all of his RFA's and that pesky 6th D-man?  I think it is a very, very strong possibility.
The Leafs currently have $5,885,000 in cap space.  There isn't a ton of room to play with because Luke Schenn still needs to sign before the beginning of the season.  Ladies and gentlemen, the math on this proposed deal is going to be tight—but hear me out.
In order for this trade to happen, Luke Schenn would have to do Burke a large favour and sign a deal for a little less money than he might be expecting.  This past year his cap hit was a shade under $3 million dollars.  The base salary was $850,000 but the contract was bonus-laden.  Whether or not he got the full amount is unclear at this point.
The contract Schenn would need to sign is one worth $3 million per year.  Given that he may be expecting more money, Burke should leave the term of the deal more or less completely up to Luke.
This would leave the Leafs with $2,885,000 in cap space.
Now that the stage has been appropriately set, at long last, here is the proposed deal:
Wojtek Wolski and Chris Kreider for a second-round pick and Colton Orr.
I chose a second-round pick because, to be quite honest, I don't think they should give up a first-round pick in this deal.  It just doesn't feel right to me.  If they absolutely have to, though, I might not be opposed to it.  If the sticking point is whether or not the pick is a first or second, then just give him the damned first. 
Sending Orr and his $1 million back to the Rangers, who no longer have a heavyweight on the roster following the tragic passing of Derek Boogaard, would give the Leafs $3,885,000 in cap space. 
Wolski would eat up $3.8 million of that, leaving a mere $85,000 in cap room for Burke and co.  Tight?  You betcha. This is kind of why Kreider absolutely has to be included in the deal.
Now, other factors to consider are that Burke can go over the cap by 10 percent over the course of the summer in the event that Schenn demands a bit more money.  Furthermore, if Matt Lombardi is not deemed healthy by training camp, he can be placed on LTIR, thus freeing up an additional $3.5 million in cap space for Burke.  In the meantime, he can work on a deal to free up a bit more cash so that he is not within $100,000 of the cap ceiling. 
Additionally, Chris Kreider is in college and will not leave to turn pro for at least another school year, according to this article.  Therefore he wouldn't be creating a logjam up the middle in the 2011-2012 season.  On the other hand, in one or two years when he does turn pro, there will actually be room for him.
Chris Kreider is the Rangers' No. 1 forward prospect and is rated an 8.5C according to hockeysfuture.com.  The scouting reports on him indicate that he could step into the NHL at this point as the league's fastest skater.  At just 20 years old and 6'2", 201 pounds, he is well on his way to being physically ready for the NHL.  He is an explosive, dynamic offensive talent and he could be the No. 1 C Toronto needs so badly in a very short time.
Here is another link for some additional information on the New England native.  To say the least, he is a player Leafs fans would be extremely fortunate to have in the system.
As always, feel free to offer your thoughts and feedback.  I always appreciate it.
Thanks for reading!