Novak Djokovic: 5 Reasons He Is a Favorite to Win the U.S. Open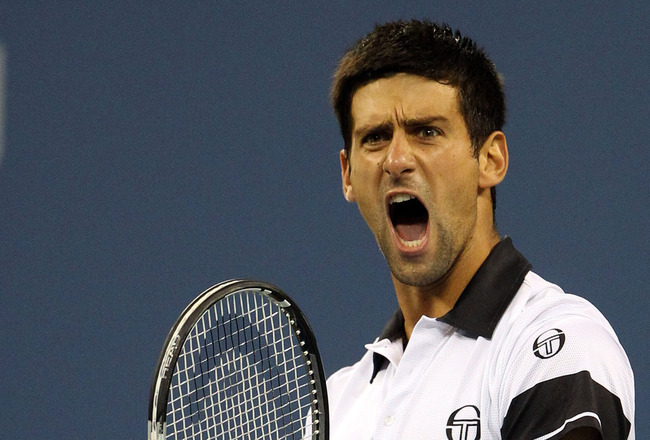 Matthew Stockman/Getty Images
With Wimbledon now firmly entrenched in our rear-view mirror, it's time to focus on the season-ending Grand Slam tournament, the U.S. Open.
Reputation and recent history suggest that three predictable players will battle it out in September. Roger Federer, with five U.S. Open championships to his name, is itching to get his first major title of the year. Rafael Nadal is the defending champion and he just relinquished the No. 1 overall ranking.
But it is Nadal's successor in the top spot that must be the clear favorite. Novak Djokovic, coming off his first career Wimbledon title, has everything going for him right now. This has been his year from the beginning, highlighted by his 41-match winning streak and two Grand Slam championships.
Now, Djokovic has a chance to end his season appropriately, with a proper bookend on his dominant 2011. Here is why, right now, everyone should believe that he will come out on top at the U.S. Open.
1. Numbers Against Nadal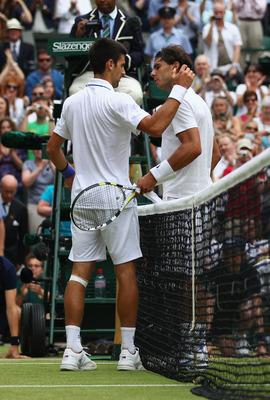 Clive Brunskill/Getty Images
Rafael Nadal has handled Roger Federer well during his career, but another rival has emerged in the form of Novak Djokovic. The Serbian star has been a thorn in Nadal's side all year.
Nadal has suffered four hard-court losses in all of 2011. An impressive number, to be sure—but one must realize that half those losses have come at the hands of Djokovic.
In fact, Djokovic is 8-4 all-time against Nadal on hard court, the surface on which the U.S. Open is played. Combine that with the fact that Djokovic just won his first Grand Slam match against Nadal (in his sixth chance) on the biggest of stages—the Wimbledon final—to take over the world's No. 1 ranking, and his confidence has to be at an all-time high.
Advantage: Djokovic.
2. Fighting off Federer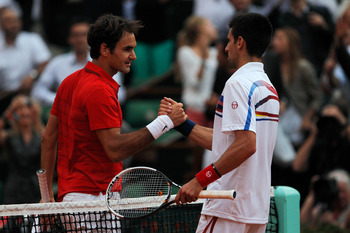 Matthew Stockman/Getty Images
Roger Federer still leads the overall head-to-head rivalry against Novak Djokovic, 14 to 9, but Djokovic has come on strong in the past year.
His defeat of Federer in last year's U.S. Open followed by his triumph over him in this year's Australian Open—both in the semifinals—made Djokovic the only player besides Rafael Nadal to beat Federer in consecutive Grand Slam matches.
Three out of the four hard court losses Federer has suffered this year have come to Djokovic. Obviously, one of those was already in a major. (The Australian Open is played on hard court.)
Of course, it was Federer who took down Djokovic in the French Open semifinals—which remains the Serb's only loss of the year. It was this match that kept Djokovic from potentially establishing a record-breaking winning streak. It also prevented him from now staring at a possible Grand Slam.
Think Djokovic will be a little extra motivated if he crosses paths with Federer?
3. The Other Guys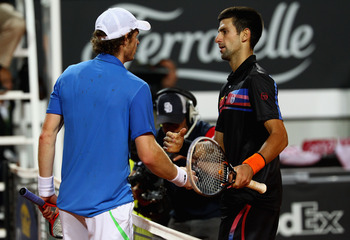 Clive Brunskill/Getty Images
Of course, it's not just Roger Federer and Rafael Nadal about whom Djokovic has to worry.
Here is his record against some other major contenders:
Andy Murray: 6-3
Juan Martin del Potro (2009 U.S. Open Champion): 4-0
Robin Soderling: 6-1
David Ferrer: 6-4
Tomas Berdych: 6-1
Marcos Baghdatis: 5-0
On second thought, maybe Federer and Nadal are all Djokovic has to worry about. The biggest threat outside of those two may be Jo-Wilfried Tsonga, against whom Djokovic is 3-5 in his career—though Djokovic just beat him in the Wimbledon semifinals.
4. The Power of No. 1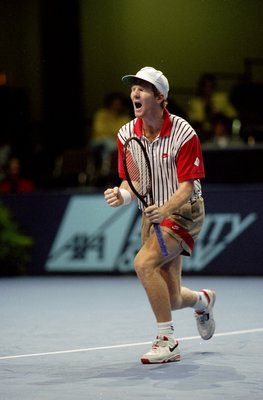 Gary M. Prior/Getty Images
The U.S. Open will mark the first Grand Slam tournament in which Novak Djokovic enters as the world's No. 1 ranked men's singles player.
That in itself has to be quite a boost. But in case Djokovic doesn't feel the extra adrenaline rush on his own, he'll be happy to know he has some history on his side. A few very notable players have won their first subsequent major after earning the No. 1 spot.
Jim Courier was christened No. 1 on February 20, 1992. He went on to win the 1992 French Open.
Pete Sampras reached the top ranking (for the second time; the first lasted 19 weeks) on September 13, 1993. He went on the win the next Grand Slam event, the 1994 Australian Open, on his way to extending his stint as No. 1 for 82 weeks.
Rafael Nadal reclaimed the No. 1 position from Roger Federer on June 7, 2010. He went on to win Wimbledon about a month later.
How will life at the top treat Djokovic? We can only guess it will be well.
5. Always a Bridesmaid, Never a Bride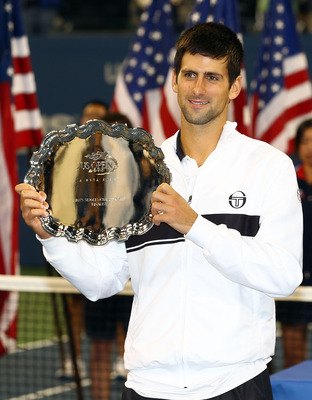 Clive Brunskill/Getty Images
Novak Djokovic has twice lost in the U.S. Open finals—to Roger Federer and Rafael Nadal in 2007 and 2010, respectively.
Every other major in which Djokovic has reached the finals, he's won. He has never finished as a runner-up in any Grand Slam tournament but the U.S. Open.
Even if you find someone who is skeptical about Djokovic winning the whole thing, you'll be hard-pressed to discover a poor soul who doubts his chances on at least reaching the finals. And they say the third time's the charm, right?
Keep Reading