Dario Franchitti Spins Will Power, Goes on To Win Honda Indy Toronto
July 10, 2011
Defending race winner and championship contender Will Power couldn't have been happier when today's race at Toronto began.
Unfortunately for him, the day went downhill from there.
Power started the race from pole position and led 32 laps on the day. Late in the race, Dario Franchitti got on the inside of Power and spun him out. Originally, Franchitti was given a drive-through penalty, which was retracted just a few minutes later.
After the race though, IndyCar officials claimed there never was a penalty issued to Franchitti.

As if that weren't enough to make Team Penske's blood boil, Alex Tagliani then spun Power out a few laps later. Power was able to make it back to pit lane, but his car was too badly damaged to repair.

This is the second straight race where Power ended with a DNF.
Franchitti won the race, his teammate Scott Dixon was right behind him in second and Ryan Hunter-Reay joined them on the podium with a third-place finish. Marco Andretti and Vitor Meira rounded out the top five.
While Franchitti won his fourth race of the season, it was the fourth runner-up finish for Dixon.
Power finished the race in 24th position. Without being given the drive-through penalty, Franchitti now has a 55-point lead in the standings heading into the next race at Edmonton, Alberta.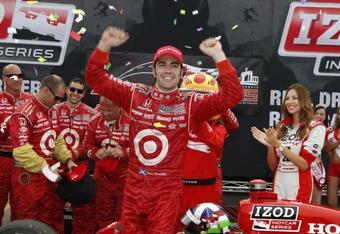 The old saying goes, "cautions breed cautions," and that couldn't have been more true of today's race. It was a mess out there, especially in the hairpin turns, which could easily be blamed on the double file restarts.
All three Penske cars and all four Andretti Autosport cars made contact with other cars at some point in the day.
Naturally, drivers were frustrated after the race, most of them for good reason. After Power climbed out of his car, he expressed his displeasure with Franchitti and the penalty that was retracted for taking him out.
In an interview on Versus, Power said, "Dario never gets a penalty," and it was a "dirty move" that Dario used to take him out. When then asked about the contact with Tagliani, Power just called him a "wanker" and left it at that.
With five laps remaining in the race, Ryan Hunter-Reay made contact with Graham Rahal, who was running in second place at the time. Ryan went by as Rahal was spun around and lost 11 positions, finishing in 13th.
Sebastien Bourdais, Ryan Briscoe, JR Hildebrand, EJ Viso and Simona de Silvestro rounded out the top 10 finishers. Ana Beatriz, Oriol Servia and Rahal were the last cars to finish on the lead lap.
It wasn't a good day for the hometown drivers either, as Hinchcliffe finished in 14th, Tracy in 16th and Tagliani in 23rd.
The series will now have two weeks off before the next event. The teams and cars will head to Edmonton City Centre Airport for the next race on Sunday, July 24.