Football National Champions: 1981 Clemson, 2004 USC, 2010 Auburn
July 8, 2011
Kevin C. Cox/Getty Images
In 1981, Clemson celebrated its only national championship in college football, under coach Danny Ford, and the school's first in any team sport. Less than one year later, the NCAA found Clemson in violation of a multitude of NCAA rules. These infractions ranged from improper benefits to recruiting violations.
The NCAA came down harshly on Clemson. The Tigers received a two-year postseason ban (1982-83), reduced the number of scholarships from 30 to 20 for the 1983-84 seasons and included a live television ban for 1983-84. (The complete details and violations and penalties can be found here.)
However, one thing is missing. Many of the violations listed occurred during the late 1970s and early 80's. During the recruiting years leading up to its national championship, Clemson tried to lure recruits with cars, cash, and transportation. It is undisclosed which of the recruits receiving these benefits ended up playing at Clemson, but at the very least, a few players on the '81 team received improper benefits while enrolled.
The question now has to be raised: Why did the NCAA not strip Clemson of its national championship?
Looking back at the situation 30 years later, it seems amazing that Clemson did not have to forfeit any games. Less than one year after the season ended, Clemson received heavy sanctions for violations committed in regards to players on the 1981 team. If what Clemson did was against NCAA rules, the players would have been ineligible.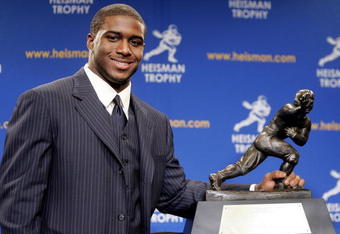 Stephen Chernin/Getty Images
In 2004, USC won its only national championship of the Pete Carroll era (LSU won in 2003). For USC, though, it was not hit with NCAA penalties until 2010, but this was not a blessing. The NCAA was stricter with USC.
The Trojans received a two-year postseason ban (as did Clemson) for 2010-11 and had their scholarships reduced by 10 per year for three years. With USC, it is more well known who received the benefits. Reggie Bush and his family were provided with a house in exchange for Bush signing with an agent.
The NCAA did not take wins from Clemson, but this precedent did not follow with USC. USC wound up being stripped of all wins in 2004 and 2005 and its BCS national championship in 2004. Additionally, Bush is the only Heisman winner to have forfeited his trophy.
But, in my opinion, what Clemson did was much worse.
USC was cited (at least mostly) due to the improper benefits Bush received from an agent. In the NCAA's declaration of Clemson's rules violations, it explicitly states that the coaching staff provided many of the improper benefits. Clemson knowingly was committing violations and hoping to get away with it.
USC may not as knowingly have been allowing players to receive benefits, yet the Trojans no longer have wins from two seasons.
In one perspective, this is good news for college football, as the NCAA is handing out harsher penalties, but it also leaves fans feeling cheated. Clemson was able to sacrifice a few seasons for a national championship, a deal many fans—especially those of less prominent schools—would quickly accept.
It can't be proven that Clemson only won in '81 due to recruiting violations and improper benefits, but the infractions were committed and players receiving improper benefits are ineligible. The Clemson coaching staff did all it could to make the team the best it could, even if it was against NCAA rules, and it worked, as Clemson has a national championship banner that every school wants.
It worked for USC too. I know they have been stripped on the 2004 title, but everyone will remember that USC won it, even without a banner. It is not the same as if they had never won. I would take a stripped national championship over no national championship any day.
The Auburn 2010 National Championship will always be controversial as well. I have issue with the NCAA saying that Cam Newton had no idea that his father was shopping him and that Auburn had no idea about it. ESPN reported that an "emotional Cam Newton phoned another recruiter to express regret that he wouldn't be going to Mississippi State, stating that his father, Cecil, had chosen Auburn for him because 'the money was too much.'"
If this is true, Newton knew about the deals his father was involved in, and so to did Auburn. Even if the NCAA never levies sanctions on Auburn, I will always remember this phrase and place an asterisk on the 2010 title. 
I believe two things need to be done to bring college football to a higher level of popularity and credibility. First, the NCAA needs to increase penalties. I know USC was handed a very strict penalty and it is good to see the NCAA work on increasing penalties, but USC still enjoyed the success of the 2000s of which many schools are quite envious.
Why not extend postseason bans for 10 years for major violations? Schools should not be allowed to knowingly commit violations, period. Coaches also need to receive stricter penalties. Why not give lifetime bans to coaches who commit major violations, especially for repeat offenders? They know the rules; if they break them, they should be banned.
Secondly, I believe the fans and media can help and it's simple: Don't support schools that break the rules. I know you will never stop supporting your school, but at least stop supporting the coach who broke the rules. Push the university to find a new coach with higher character and integrity, although this can be difficult to decipher (Jim Tressel).
If it's not the school you pull for, then by all accounts, discredit and disapprove of that school's accomplishments and actions. I know many fans hate their rivals, but instead you should save the hate for those that cheat (I have a new found respect for Penn St. and BYU, the only two schools with a football championship to have never committed major violations).
According to Clemson, Clemson won the national championship in 1981. According to the NCAA, Clemson won the National Championship in 1981. According to me, Clemson did not win the national championship in 1981 and if I am ever in a conversation involving Clemson football, I will make sure to discredit the '81 season; the same goes for any school that was helped in its title season by infractions. I hope you will do the same and maybe as fans we can help restore integrity to the game we love.
PS: Sorry for using Clemson and USC as my examples; the same applies to any school that cheated for its success. Same to you John Calipari. ESPN, please stop saying he's been to three Final Fours when the NCAA has officially discredited two of them.
Editor's note: An earlier version of this article incorrectly stated the 1981 football championship was the first of any type at Clemson. Noel Loban won an NCAA wrestling national championship at 190 pounds in 1980. We regret the error.