Novak Djokovic: 10 Bold Predictions for Him in Wake of His Win at Wimbledon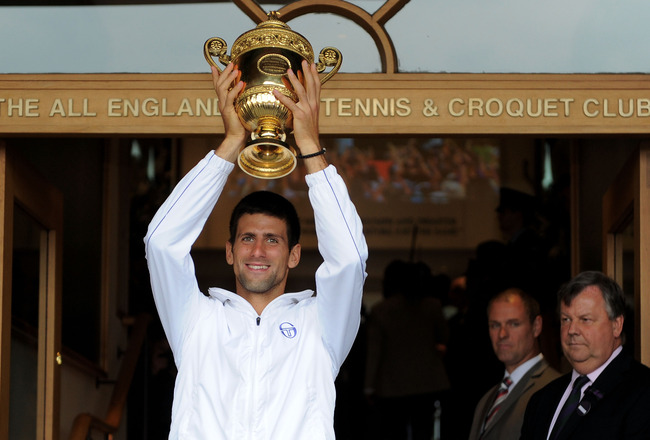 Michael Regan/Getty Images
The Serb has done it all this year, and in winning Wimbledon, done just about everything a tennis player would like to.
We have a new No. 1 at the helm of men's tennis—of that there is no doubt. What lies ahead for our new king?
Does his win at Wimbledon mark a high point in his career, never again to be reached, and from which he only has one way—down—to go? Or is this simply the beginning of the makings of another career in aspiring GOAT-hood?
These are 10 bold predictions for Novak Djokovic.
Djokovic Won't Win the 2011 US Open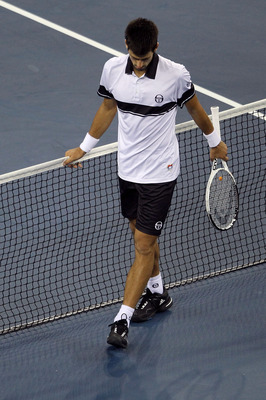 Nick Laham/Getty Images
It's best to first get over with the negative stuff. It may sound crazy, considering what has transpired over the last half year, but Novak Djokovic, one projects, will not win the US Open this year.
Sure, Nadal did three in a year last year, and Federer thrice before, including on all occasions a win at the US Open. But for Djokovic, as much as his win at Wimbledon clears up his multi-surface proficiency, a third Grand Slam win in the same calendar year may possibly be out of his reach. Federer and Nadal will be hungry come New York, and the Serbinator, perhaps just that bit win-wearier.
He Will Become Nadal's Nemesis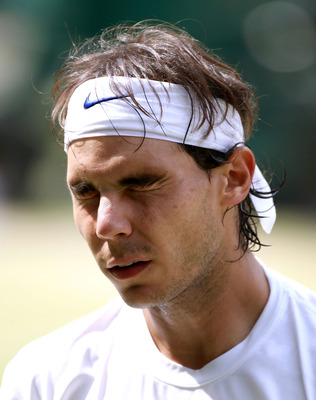 Julian Finney/Getty Images
On a more positive note, however, Djokovic may well become that monster we have all been waiting for—the trouble in Rafael Nadal's head.
Let's face it: Five straight wins over Nadal is something no one has ever achieved; Federer has never won more than two in a row, while Nikolay Davydenko and Juan Martin Del Potro set the previous record of three straight wins.
Clearly, the Serbian's game poses problems Nadal hasn't been able to answer, and may well continue to struggle answering, over the next few months. Watch out for some interesting body language from the Spaniard in their next few matchups.
He Overturns the Head-to-Head Against Nadal, but Not Against Federer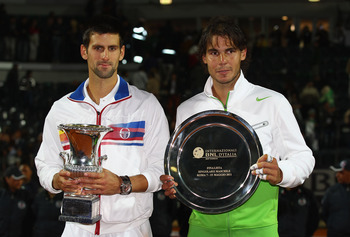 Clive Brunskill/Getty Images
To project even further, Novak Djokovic, over the course of his career, overturns his head-to-head against Rafael Nadal, which stands at 12-16 after his win at Wimbledon. A win at the All-England Club has often signalled the raising of the sluice, and may mean the same for Djokovic against Nadal.
Djokovic, however, may not overturn his record against Federer (currently 9-14). While he may have been dominating the Swiss over the first half year, Federer's win at the French only signified one thing—that he, as Djokovic is to Nadal and Nadal has been to him, is the bane of the Serb. His game just matches up with that bit more difficulty for Djokovic.
Djokovic Wins at Least Five Slams in His Career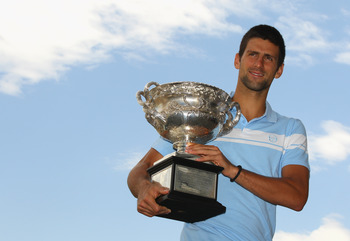 Mark Dadswell/Getty Images
Is the Serb ready to remain at three? One thinks not. With two convincing wins at the Australian Open already, and now a Wimbledon crown, it is not hard to see Djokovic clocking more Grand Slam wins.
Whether he will ever cut the gargantuan figures of Federer or Nadal is hard to say, but the number of five, at least, is not untouchable. Another win at Melbourne, which suits best his game, and possibly another at the US Open sometime in the next few years, would see him reach such a number.
He Will Be No. 1 for Nearly a Year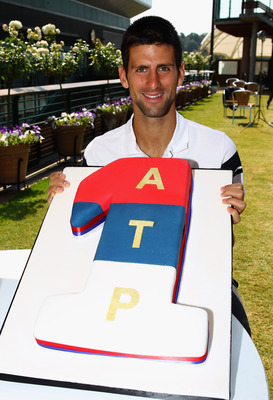 Clive Brunskill/Getty Images
What is Djokovic's claim to longevity? He has already shown us that in an incredible stretch of six months of invincibility. We are more than halfway into 2011, and he has only suffered one loss in 50 matches.
Holding on to his No. 1 ranking, which will certainly be consolidated by even more career-defining results later this year, seems a likely for the next 12 months. As great as the heights may be from which he may fall in 2012, it would equally take a while, too.
He Defends His Title at Melbourne in 2012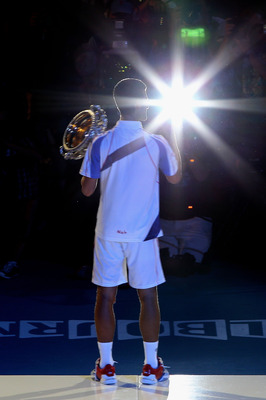 Cameron Spencer/Getty Images
As part of the crystal-ball gazing over the next year, it is not inconceivable that Djokovic defends his title at Melbourne in 2012. The surface at the Australian Open suits his game just right, and he is likely to have the requisite confidence from his victories in 2008 and 2011, and the confidence from this year's results (however, it may yet end).
He Beats Nadal at the 2012 French Open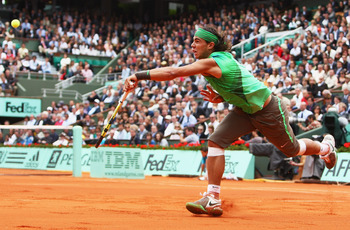 Mike Hewitt/Getty Images
We have already seen that Djokovic may well surpass Nadal in his head-to-head record against the Spaniard, but greater heights may well lie before him.
His win at Wimbledon this year marked certain milestones in his rivalry against Nadal: a victory in a Grand Slam—and in a final, at that. These are crucial advantages to have against him, and could prove decisive should they ever meet at Nadal's favourite turf—at Court Philippe Chartrier, Roland Garros.
Will Djokovic one day dethrone the six-time champion at the French Open? We have yet to see; although, at the rate things are going, it must be a possibility come next May.
Makes Two More Wimbledon Finals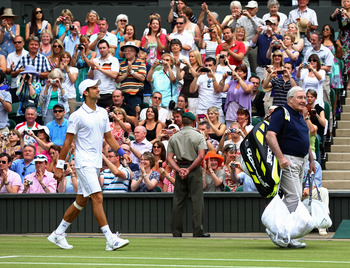 Clive Brunskill/Getty Images
A Wimbledon final, a Wimbledon win. Djokovic is the quintessential modern player, adept on all surfaces, on all occasions. A win in his first final at Wimbledon is promising; moreover, history has shown that those who have done as much reach more finals in the future.
Agassi did so at least once more—in 1999, after winning in his debut final in 1992. Borg, Becker, Sampras and Federer did so too—although it is difficult at this stage to speak of Djokovic in their terms.
The point, at least, is that Djokovic is talented enough to reach a couple more Wimbledon finals—two perhaps.
Wins at Least One US Open in His Career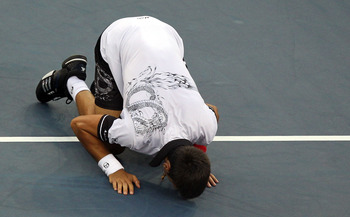 Al Bello/Getty Images
We projected that Djokovic won't quite overturn his woes at the 2011 US Open, where he has been 0-4 in semifinals and finals over the last four years; but rest assured—his day will come, one day, at Flushing Meadows.
If he doesn't, it would only have been a waste of a talent who has proved not only the suitability of this game at the fast hard courts of New York and of that mental fortitude which, up to this point at least, has been enough already to bag three Grand Slams, a Wimbledon included.
Accrues at Least 15 ATP 1000 Masters Series Shields over the Next Three Years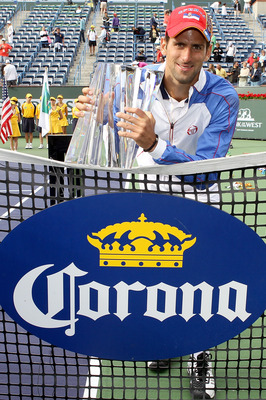 Matthew Stockman/Getty Images
Djokovic currently has eight ATP 1000 Masters series shields under his belt. of which four—crucially—have come in 2011, a clear indicator if anything of his dominance this season.
More records, perhaps insurmountable, stand in his way here, with Nadal currently topping the all-time titles record at 19. It may be hard seeing him get to that figure anytime soon, but for him to come close and into the double-digits department over the next few years is not impossible. Fifteen, perhaps, is realistic by 2014.
Keep Reading