Wimbledon 2011 Review: Strawberries & Cream, Dreams Dashed and Promise Fulfilled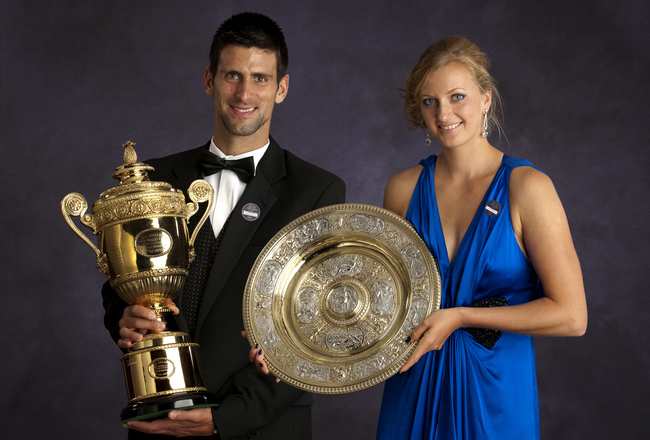 Pool/Getty Images
From Roger Federer being upset to the Williams Sisters being dethroned, there were so many Best Moments of Wimbledon 2011.

The window between the French Open and Wimbledon is minuscule. There is not nearly time enough for the players to negotiate the Channel, plus the change of moving from clay to grass.

With only a handful of grass warm-up tournaments available, many players found themselves trying to play their way into the tournament, hoping that they could survive the first few rounds to make it into Week 2.

This year, there were many new performers claiming their moment in the sun, although rain was a more prevalent condition in Week 1 at the All England Club.

As is true of all major tennis tournaments, there were some surprises and special matches during each day of the tournament.
Looking back, these are the highs and the lows of the Wimbledon fortnight.
Day Two: Bad Day for Jelena Jankovic, but It Was Serena Who Cried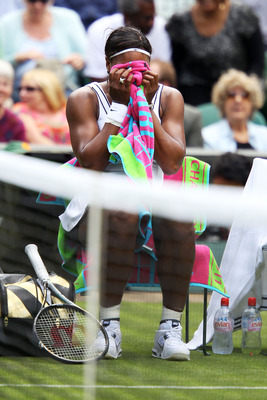 Julian Finney/Getty Images
Jelena Jankovic
Jelena Jankovic could not have been happy to have her opening-round match scheduled against Maria Jose Martinez Sanchez.
The Serb lost to the Spaniard in the final in Rome last year. She lost again in her opening-round match to Martinez Sanchez, 5-7, 6-4, 6-3.
In a very unusual postmatch interview, former World No. 1, Serena Williams surprised people watching on Centre Court as well as those watching from around the world when Williams wept after defeating her first-round opponent France's Aravane Rezai.
After a year of suffering with foot surgery plus a pulmonary embolism, the defending Wimbledon champion was thrilled to get through her opening-round match against a very tough opponent in three sets.
People were moved to find out just how much coming back in this event meant to the younger Williams sister, confessing to everyone just how hard the comeback had been.
Day Two: This Time, Isner Defeats Mahut in Three!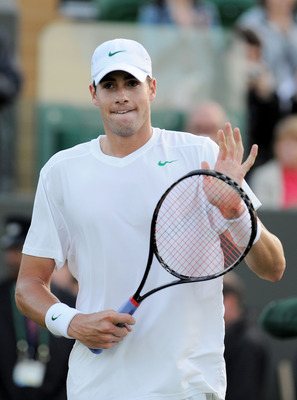 Michael Regan/Getty Images
It was so preposterous that John Isner and Nicolas Mahut would be drawn to play each other again in Round 1 that when it happened, no one could quite believe it.
The consensus was that it had to be some large cosmic joke.
After last year's epic three-day, five-set, 11-plus-hour final, the idea lingered that perhaps the tennis world would see a repeat of last year's marathon match.
But, that was not the case. Isner won the match in three sets and the world shrugged, moving on.
The match became another large non-event on Day Two.
Day Three: A Spanish Hunk, Stan the Man and the Canadian Go Home Early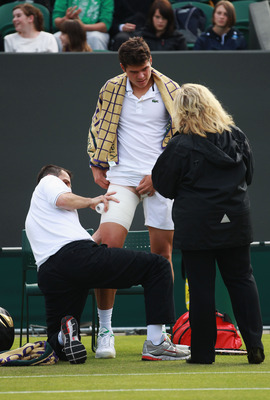 Julian Finney/Getty Images
Stanislas Wawrinka
Grass was never really Stanislas Wawrinka's strong suit.
His time at Wimbledon ended abruptly on Day Three when the Swiss No. 2 player lost unexpectedly to lucky loser Simone Bolelli.
Wawrinka, the No. 14 seed, became one of the first seeds to be ejected out the men's draw as the Italian won 7-6, 3-6, 7-6.
On this day also Fernando Verdasco, the No. 21 seed, could not drag himself back from the brink again, losing to Robin Haase of the Netherlands.
On day two, Verdasco had bludgeoned his way back from being two sets down to triumph over Radek Stepanek.
The Spaniard, however, could not muster enough game to repeat another long contest. Haase won the match 6-3, 6-4, 4-6, 6-2.
Milos Raonic
Then there was the letdown over Milos Raonic seeded No. 31 who was scheduled to be on hand for a blockbuster third-round encounter against the No. 1 seed Rafael Nadal.
It was a matchup that had everybody talking.
The Canadian was, however, forced to retire against wild card Gilles Muller.
Raonic sustained a thigh injury early in the first set after a fall on the slick grass. Treatment failed and Raonic conceded while leading 3-2 in the opener.
Day Four: Li Na and Lleyton Hewitt Exit, Disappointing Their Fans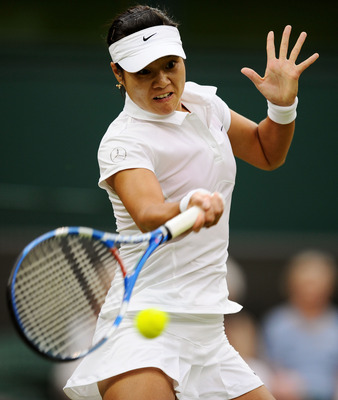 Clive Mason/Getty Images
Li Na of China was fresh off her triumph after winning her first French Open title, also her first Grand Slam title ever.
One of the favorites to win Wimbledon, it was a huge shock when under the closed roof of Centre Court, the German wild card Sabine Lisicki out-dueled Li Na 3-6, 6-4, 8-6 in two hours and 11 minutes.
The match was a roller-coaster ride filled with continuous ups and downs as the players traded advantages.
Lisicki, who fought her way back from an ankle injury, held on to capture the biggest win of her career.
Utilizing her big booming serve, Lisicki threw in 17 aces as she collapsed in tears at the end of the match.
Li Na, the No. 3 seed, was out of the tournament while Lisicki lived to fight on through the semifinals. It was quite a tournament for the unseeded German.
It never pays to let Lleyton Hewitt go up two sets in a best-of-five major. But Robin Soderling did not quit, even being down to the legendary Aussie.
Instead, the Swede took on one of tennis' great warriors and stayed with him all the way to end of their second-round match.
Soderling went the distance in a little under four hours to beat back the challenge of Lleyton Hewitt 6-7, 3-6, 7-5, 6-4, 6-4.
The fifth seed lingered throughout the match on the verge of defeat—and Soderling remained well aware of his fate. The relief of finally winning was evident at the conclusion of the match.
Soderling lived on to fight another day while the former Wimbledon champ, Hewitt, was finished for the fortnight.
Day Five: Andy Roddick's Dream Dashed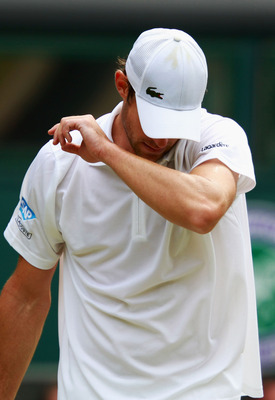 Julian Finney/Getty Images
In a stunning upset, Feliciano Lopez upended three-time Wimbledon finalist Andy Roddick 7-6, 7-6, 6-4.
Prior to this match, Lopez had faced Roddick seven times and he had never won. Ranked World No. 44, no one expected Lopez to defeat Roddick.
But Lopez had 57 winners and seven unforced errors during the match. His play was exceptionally good.

Roddick did not play a bad match with 40 winners and 16 unforced errors, but Lopez played a better one and came away with the win.
Grass and the Spaniard's big serve propelled him into the Round of 16 on Monday.

Roddick, who missed most of the clay-court season, did not have enough match play to handle the game Lopez threw at him in the third round.
In order to win at this level, you have to do the work and clearly, Roddick had not done enough hard work to get through to the fourth.

Lopez had an excellent chance to advance to the quarterfinals facing qualifier Lukas Kubot of Poland.
Although the Spaniard got off to a slow start, he did overcome Kubot to win the match.
Lopez faced Andy Murray in the quarterfinals.
Day Five: Vera Zvonareva's Ambition Thwarted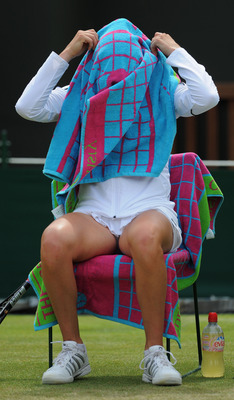 Michael Regan/Getty Images
All was not well with the No. 2 seed Vera Zvonareva as she faced Tsvetana Pironkova, the No. 32 seed from Bulgaria.
At Wimbledon in 2010, Vera Zvonareva was a Wimbledon finalist, losing the championship match to Serena Williams.
But on Friday of Week 1 of Wimbledon 2011, the No. 2 seed fell hard to Pironkova 6-2, 6-3.

Remarkably, Zvonareva defeated Pironkova in the semifinals a year ago at the All England Club.
The No. 2 seed threw everything she could at Pironkova but all to no avail. The Bulgarian simply absorbed the punches and threw them back with emphasis.

Zvonareva, with an injured foot, limped quietly out of this year's Wimbledon, assured that her No. 3 ranking was in serious jeopardy.


Day Six: Ivanovic Gone, Soderling Forgotten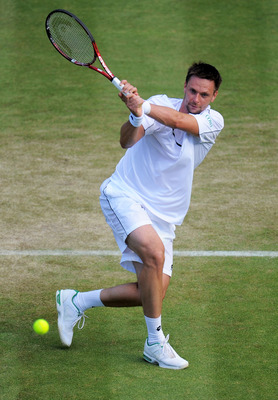 Michael Regan/Getty Images
Robin Soderling
It was fitting somehow that the 18-year-old from Australia should defeat the man who dismissed Lleyton Hewitt––the man who exemplified tennis "Down Under" for the past decade.

Bernard Tomic defeated Robin Soderling in the third round of the Wimbledon Championships after the Swede took out Hewitt in five tough sets in Round 2.

Soderling, the No. 5 seed, who was extended to five sets against Hewitt, seemed to have nothing left as Tomic totally dominated him 6-1, 6-4, 7-5 in one hour and 52 minutes.

Australia potentially has a new No. 1 player for the men who has advanced into the men's quarterfinals where he will face the No. 2 player in the world, Novak Djokovic.
Soderling, who never quite seemed himself during the Wimbledon tournament, will return to Sweden to work out the kinks in his game.
Ana Ivanovic

When Ana Ivanovic began play at the 2011 Wimbledon Championships, she had some great rounds dispatching Melanie Oudin of the United States 6-0, 6-1 in the first round.

The Serb followed that by defeating Eleni Daniilidou of Germany 6-3, 6-0 in Round 2.
But, that was the end of the great form Ivanovic displayed early on.
In Round 3, all winning instincts disappeared from Ivanovic's game as she floundered against a very talented Czech Petra Cetkovska.
The Serb could no longer compete well enough to win, losing 6-2, 7-6(0).
Wimbledon 2011 was now just another sad chapter in Ivanovic's sliding tennis fortunes.
Day Seven: Nadal Scared, Fearing Injury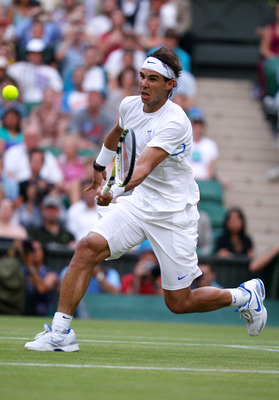 Clive Brunskill/Getty Images
It was another chapter in the Nadal injury saga, as the No. 1 seed stopped play in his fourth-round match with Juan Martin del Potro.
Eventually, Nadal continued, winning this match in four sets as both players overcame injuries or suspected injuries to finish their match.

The top seed reported severe pain in his left foot, requiring treatment late in the first set of his fourth-round encounter with 2009 US Open champion Juan Martin Del Potro.
Nadal said he was not sure he could continue playing the pain was so intense.

Del Potro also underwent an injury scare, as the Argentine fell, apparently bruising his hip midway in the third set.
This necessitated del Potro leaving the court for treatment. Regardless, both offered up an exciting match on Centre Court with Nadal prevailing to advance to the quarterfinals.
Day Seven: The Williams Sisters Dispatched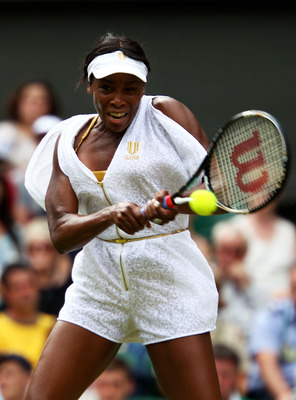 Clive Brunskill/Getty Images
Serena Williams
In an all-out war, the French woman Marion Bartoli defeated Serena Williams, the defending champion, in their fourth-round contest.
Serena Williams in reflecting on her defeat took the loss in stride realizing that advancing this far was a great accomplishment, considering that she had not played competitive tennis for almost a year.
Williams knows there are better days ahead and that she can improve upon her play.
Serena Williams remained optimistic about her improving fortunes going forward.
For older sister Venus Williams, the results were the same.
In her match, Venus faced Tsvetana Pironkova, the same Bulgarian who defeated her at last year's Wimbledon. On this day, Venus failed to get the ball within the painted lines.
Predictably, once again, Pironkova took full advantage, defeating Williams 6-2, 6-3 to send the elder Williams sister packing.
The Bulgarian defeated Venus Williams for the third time in four meetings.
But Williams could not credit her defeat to anything other than her own inability to make shots. Pironkova seemed to bring out Williams' worst game.
Like her sister, Venus is returning from a year filled with injury and her loss can be attributed to her long layoff and lack of competitive match play.
Venus Williams was not discouraged by her results because she feels she has no way to go but up.
Day Seven: Caroline Wozniacki Disappointing and Disappointed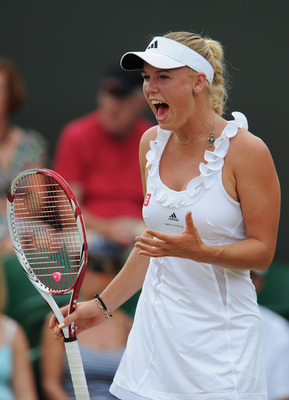 Michael Regan/Getty Images
Dominika Cibulkova, at 5'3", is the shortest player in the women's top 50.
On Day Seven of the Championships, the Slovakian ended the quest of World No.1 Caroline Wozniacki to advance to her first Wimbledon quarterfinal.
The tennis commentators jumped all over Wozniacki again because the Dane has never won a Slam, even though Wozniacki is ranked No. 1 in the world and has been since last October.
Never mind that Wozniacki has earned her spot according to the criteria established by the WTA. That does not matter to the tiresome pundits who keep harping about her status.
Wozniacki was her usual candid self, disappointed in her performance but dismissive of questions about "deserving to be No. 1."
Still only 20 years of age, Wozniacki will remain No. 1 at least until August 1, having won five titles so far in 2011.
Cibulkova would go on to suffer defeat in the quarterfinals against Maria Sharapova.
Day 8 Women's Quarterfinals: Sharapova Shines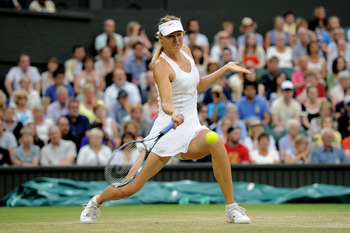 Michael Regan/Getty Images
Maria Sharapova, who stood a foot taller than the diminutive Slovakian Dominika Cibulkova, blasted her smaller opponent off the court on Day Eight.
It took only an hour as Sharapova powered her way past Cibulkova 6-1, 6-1.
It was obvious from the minute Sharapova took the court that she was determined to win.
She gave Cibulkova no opportunity to make her mark in the match, clamping down hard and early.
The Slovakian quickly became a non-factor as Sharapova advanced to the women's semifinals.
Day Eight Women's Quarterfinals: Lisicki Delights the Crowds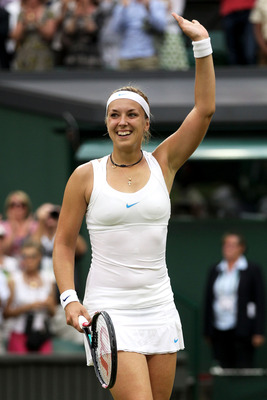 Oli Scarff/Getty Images
After her win over Serena Williams, you had to wonder how much Frenchwoman Marion Bartoli had left for the teenager Sabine Lisicki.
Evidently, not quite enough.
Sabine Lisicki took two hours and 21 minutes to beat Bartoli 6-4, 6-7, 6-1.
The German teenager enjoyed a terrific run through the draw during the 2011 Wimbledon Championships after suffering through a year of injury, wondering if she would ever get back to playing tennis again.
Putting away the determined Frenchwoman was not easy, especially during the time when Bartoli came back to take the second set in a tiebreak.
The Frenchwoman remained in constant motion throughout the match whether or not she was actually playing a point. It was an exhausting match, as well, for Lisicki.
But the teenager outlasted Bartoli, winning the last set easily as the Frenchwoman finally ran out of gas.
Day Eight Women's Quarterfinals: Petra Kvitova Overcomes Pirnonkova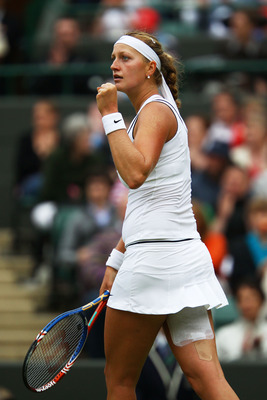 Clive Brunskill/Getty Images
Czech Petra Kvitova was stretched in her quarterfinal contest with Bulgarian Tsvetana Pironkova but not broken, advancing to the quarterfinals.
Kvitova seemed to be going strong and then inexplicably lost the second set to Pironkova.
In the third set, the Czech regained her edge and finished the match strong 6-3, 6-7, 6-2.
After making the Wimbledon semifinals in 2010, Kvitova has proven that her run to the semifinals a year ago was no fluke.
She climbed to the No. 8 ranking after being ranked No. 62 a year ago. Her game has improved on all surfaces, not just grass.
With her big serve and her powerful groundstrokes, in time she will dominate on the grass courts.
Day Eight Women's Quarterfinals: Azarena Moves on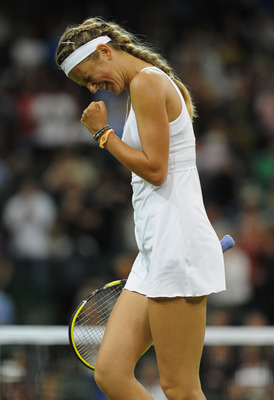 Michael Regan/Getty Images
Wimbledon broke tradition by moving the match between Victoria Azarenka and Tamira Paszek of Austria from Court 1 to Centre Court when rain threatened to postpone the completion of the women's quarterfinals.
It was the last women's match of the day and it was imperative that the match finish so that the semifinal field would be complete.
Azarenka came out determined to win with her power dictating from the back of the court.
She delivered 30 winners with only eight errors, which allowed the lady from Belarus to find herself in her first Wimbledon semifinal facing the eighth seed, Petra Kvitova.
Defeating Paszek 6-3, 6-1, Azarenka was delighted to move on to the next round.
Day Nine Quarterfinals: Federer Loses While Tsonga Wins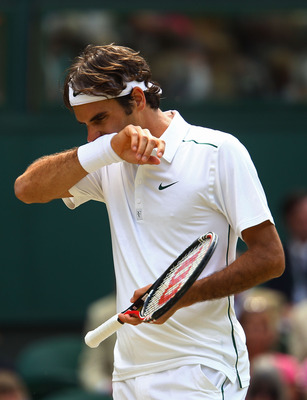 Julian Finney/Getty Images
When Roger Federer went up two-sets-to-love against Jo-Wilfried Tsonga in their quarterfinal match, Federer fans relaxed a bit.
But the relaxation was premature as it turned out, because after breaking Tsonga in his first service game, Federer never saw another break point again in the match on the Tsonga serve.
Tsonga admitted at the end of the match that the whole experience seemed like a dream and that he felt perfect on court—in control of the match, even down two sets.
Federer did not play a bad match but unlike Tsonga, the Swiss was not perfect. He lost in five sets 3-6, 6-7 (3), 6-4, 6-4, 6-4.
The six-time Wimbledon champion was out of the tournament and for the second consecutive year the Swiss failed to make the semifinals.
Tsonga moved on to meet Djokovic in the next round.
Day Nine Quarterfinals: Murray Dispatches Lopez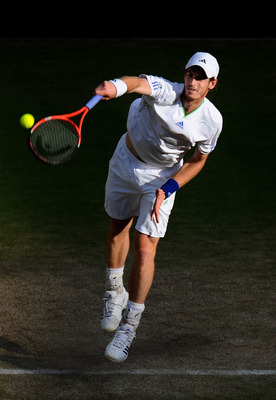 Clive Mason/Getty Images
Andy Murray played Spaniard Feliciano Lopez in his semifinal contest, winning fairly comfortably 6-3, 6-4, 6-4.
The Spaniard had knocked American Andy Roddick out of the tournament in the third round.
Then Lopez had battled qualifier Lukasz Kubot for five sets to make it to the quarterfinals.
The Spaniard had little resistance to offer in his match with Murray after battling his way into the Wimbledon quarterfinals.
The handsome Spaniard seemed content to get this far.
Murray, however, was more concerned about his upcoming semifinal match with Nadal than he was interested in celebrating his win over the Spaniard.
There was a much more serious challenge ahead for the Scot.
Day Nine Quarterfinals: Djokovic Overcomes Aussie Teenager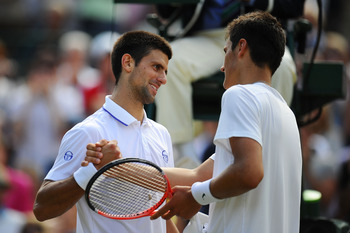 Clive Mason/Getty Images
The Serb Djokovic appeared a bit nervous but soon exerted his superior play on Tomic, defeating him 6-2, 3-6, 6-3, 7-5.
That would send Djokovic onto the semifinal to face another surprise survivor, Frenchman Jo-Wilfried Tsonga who had upset Roger Federer earlier that day.
Not having to face Federer—the only man who had defeated him in 2011—had to relieve some pressure from the No. 2 seed.
The Aussie was able to take a set from Djokovic after the Serb had won the first set easily.
But the blip was a temporary one. Djokovic soon had control of the match again, winning out in four.
Day Nine Quarterfinals: Nadal Spears Fish in Four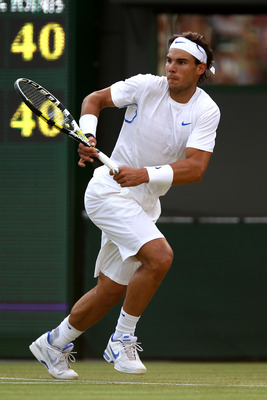 Clive Brunskill/Getty Images
After a brief scare surrounding a foot injury during his fourth-round match with Juan Martin del Potro, Rafael Nadal had to get by American Mardy Fish in his quarterfinal matchup.
The foot, however, gave Nadal no problems and the No. 1 seed dominated action on Court 1, dispatching Fish 6-3, 6-3, 5-7, 6-4.
Fish did not serve as well as he had in previous matches and Nadal was returning with much more power and precision than the American's previous opponents.
Early on, Fish was was not allowed into the match.
Advancing into the second week of a major, Nadal was playing the kind of tennis fans were accustomed to seeing him play.
The longer the match lasted, the more determined the Majorcan grew. He took the first two sets with little resistance.
Fish, however, found a foothold in the third, coming back to steal a set.
Ultimately, Nadal came back quickly and closed the door, sending the American back home.
Nadal would face Andy Murray in the semifinals, again.
Day 10: Sharapova Advances to the 2011 Wimbledon Final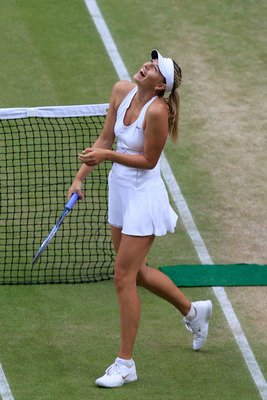 Pool/Getty Images
As the match got underway on Centre Court, Sharapova looked like she was moving in slow motion.
By the time she got her racket raised, she was down 3-0. Her opponent Sabine Lisicki seemed in complete control.
Could it be that after coming this far, Sharapova was going down for the count?
Finally, Sharapova began the slow task of taking back control of the match inch by inch.
By the time she worked way back to 4-4, Lisicki was beginning to feel the weight of the Sharapova determination to win.
When Sharapova broke to go up 5-4 and serve for the set, the tide had turned completely in Sharapova's favor.
The former Wimbledon champion won the first set 6-4 and went on to take the second set 6-3, ending wild-card entry Lisicki's fabulous run at Wimbledon in 2011.
Sharapova moved on to Saturday's final.
Day 10: Petra Kvitova Moves on to the 2011 Wimbledon Finals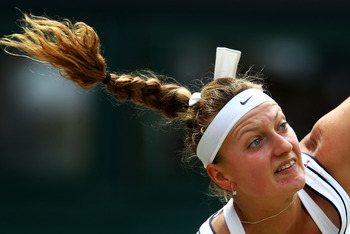 Julian Finney/Getty Images
Petra Kvitova was one step away from improving on her 2010 showing at the All England Club.
The Czech left-hander, who dreamed of being a Wimbledon champion, needed to turn back the challenge of Victoria Azarenka in order to reach the final.
With her childhood idol, Czech-born compatriot Martina Navratilova, watching in the stands, Kvitova defeated Azarenka 6-1, 3-6, 6-2 in one hour and 44 minutes on Centre Court.
The outcome of the match was in doubt until the early stages of the third set when Kvitova rose up to take the match.
The Czech had to fight her nerves and a determined Azarenka, who threatened to break back in the last set but could not.
The win propelled Kvitova into the final where she would face former Wimbledon champion Maria Sharapova.
Day 11: Novak Djokovic Advances to the Men's Final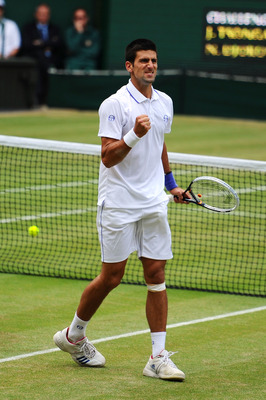 Clive Mason/Getty Images
Novak Djokovic was concerned about facing Jo-Wilfried Tsonga in the semifinals considering the Frenchman's display of perfect tennis against the No. 3 seed, Roger Federer.
It was certainly a more confident Tsonga than the Serb was used to facing.
But the No. 2 seed overcame his nerves and enhanced his amazingly successful year by defeating his opponent 7-6, 6-2, 6-7, 6-3 in three hours and seven minutes, advancing to his first Wimbledon final.
Furthermore, the victory marked Djokovic's 47th win with only one defeat in 2011. It moved the Serb into the No. 1 position in the world rankings ahead of Rafael Nadal on Monday morning.
Djokovic did not play a perfect match, but then, neither did the Frenchman, who was unable to dominate on his serve as he did against Federer.
Still, Tsonga provided the crowd with some brilliant shot-making and some great tennis before he finally fell in four sets.
Djokovic was moving on to his very first Wimbledon final.
Day 11: Rafael Nadal Finds His Way Back into the Wimbledon Men's Final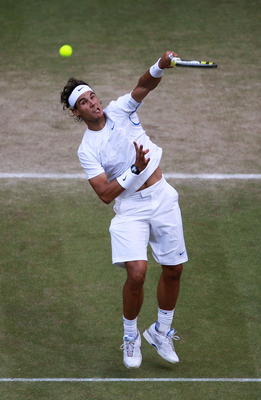 Julian Finney/Getty Images
It looked for a short time as if Murray would also finally make his way into a Wimbledon final.
Murray dominated action in the first set, taking the opening set 7-5.
The Scot seemed to be not only keeping pace with Rafael Nadal but outmaneuvering him.
It did not take long, however, before Nadal rose back up and dashed British hopes of having a countryman in the final at the All England Club for the first time since 1938.
Nadal shut Murray down, coming back to win 5-7, 6-2, 6-2, 6-4 in just under three hours.
Nadal re-established his dominance after the opening set committing only seven unforced errors in the match while Murray, under excruciating pressure, committed 39.
It was a typical performance by Nadal in the final stages of a major where losing cannot be accepted.
There was off-and-on talk about Murray's thigh injury and Nadal's foot injury but neither of these factors were impacting play in this semifinal contest.
Murray was simply outplayed after the first set.
The crowd soon settled into inevitability.
In the final, Nadal would face Novak Djokovic, who replaced him on Monday as the new World No. 1.
Day 12: Petra Kvitova Reigned on Centre Court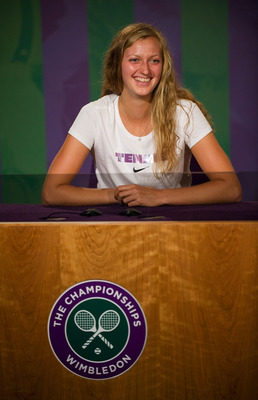 Pool/Getty Images
There was a reason that Maria Sharapova did not play especially well in the women's final at the All England Club on Saturday. It had to do with her opponent on the other side of the net, who simply outplayed Sharapova.
Kvitova won 6-3, 6-4 in an hour and 25 minutes, making her the second woman in 2011 to win her first major. Li Na had accomplished that a month previously at Stade Roland Garros during the 2011 French Open.
It was interesting that Kvitova compared herself to the big-hitting, big-serving Argentine, Juan Martin del Potro, who defeated both Rafael Nadal and Roger Federer in 2009 to win the U.S. Open––his first major. Their playing styles are quite similar, as both make use of their power and their on-court aggression to win matches.
Although most gave Sharapova the edge because of her experience in winning majors––in fact winning this title in 2004—Kvitova simply paid no attention to the pundits or the oddsmakers in winning this match.
Initially, it looked as though Sharapova would win because she began the match by breaking in the opening game chiefly on a pair of Kvitova forehand errors.
But the Czech responded aggressively and broke back, not allowing Sharapova to feel comfortable throughout the match. In fact, it became apparent right away that the former Wimbledon champion would have to dig down deep to come up with the strokes necessary to stay with Kvitova.
Then, the double faults crept into the Sharapova serve as she struggled to stay with the Czech. Her return game became her only inroad.
Sharapova kept fighting and managed to pull even in the second set. But that did not last long.
Eventually the superior power and shot-making of the Czech won out, serving for the set and the match.
Kvitova served it out at love, punctuating the last serve with an ace, her first of the match, to seal her first Wimbledon championship.
Day 13: Novak Djokovic Shines, Winning His First Wimbledon Championship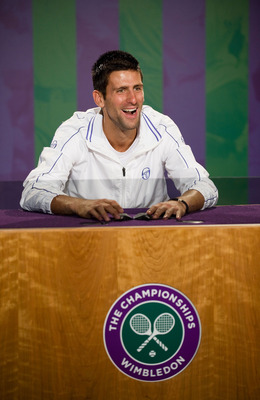 Pool/Getty Images
New World No. 1 player Novak Djokovic defeated the defending champion Rafael Nadal in the men's final on Sunday, July 3, 2011 to claim his first Wimbledon championship 6-4, 6-1, 1-6, 6-3 in two hours and 28 minutes.

The Serb served up 21 winners, including seven aces as opposed to 12 unforced errors while Nadal was not far behind with 21 winners, five aces and 15 unforced errors. The break-point conversion was the biggest stat with Djokovic breaking Nadal in five of six opportunities while Nadal won only three of his six chances.

On Sunday, Djokovic responded positively to the fact of his imminent No. 1 ranking as he took his place on Centre Court. From the early going, it appeared that the Serb was going to anoint his ascension to the top of men's tennis by winning his first Wimbledon Championship.

Nadal came out blazing, bouncing and ready to rumble. The No. 1 seed was serving brilliantly in the first set getting over 90 percent of his first serves in. Even so, he needed to serve that well to stay in the match with the Serb, who was moving as smooth as ice.

With Nadal serving at 4-5 to level the match, Djokovic broke the Majorcan during his first break-point opportunity—taking the first set 6-4. In the second, Djokovic broke the Nadal serve twice to take the second set, 6-1.

In the first two sets, Nadal had to come up with perfect shots to stay alive—even during his own service games—as Djokovic played almost perfect tennis.

But in the third set the tide began to turn. It was finally Nadal's turn as he repeated the action of the second set, only this time it was Nadal who broke twice to take the third set from the Serb 6-1. Was Nadal going to fight all the way back in this match?

Djokovic, however, broke first in the fourth set, taking an early 2-0 lead. But Nadal broke right back to 2-1. They stayed on serve until 4-3 when Djokovic managed to break the Nadal serve again going up 5-3 and serving for the match.

The Serb held his nerve, serving it out for the set and the match, winning his first Wimbledon Championship. Djokovic sealed his new No. 1 ranking with an exclamation mark for a year where, so far, the Serb has lost just one match.
There seems to be nothing or no one standing in the Serb's way as he heads into hard-court season. These synthetic surfaces have been his best and there is no reason to suspect that Djokovic will not dominate on the hard courts as well as he has on grass and clay.


Keep Reading