Wimbledon 2011: Rafael Nadal's Learning Curve
July 4, 2011
Julian Finney/Getty Images
Tennis spring began in earnest in the Continental clay, and concluded today with Wimbledon. What have we learned?  
First, there exists a big three, not a big four.  Andy Murray possesses the talent and the game to get into Grand Slam semis, but not to go beyond them, at least not now.  
His body language against Nadal, his inability to get aggressive and stay aggressive, dooms him against the game's best who are at that higher level precisely because they possess the heart and the head to take the game to their opponent, consistently.
If and when he pushes away the passivity, he'll get to the inner echelon.  
Federer's results take us back to an earlier time (cf. Rosewall and Laver) when great players played great tennis into their 30s.  It is sad and weird this Lord of the Flies world of ours where we now assume that anyone on the north side of 25 faces impending decline and irrelevancy.  
Mentally and physically, Federer still has the goods to win at the highest level.  I can't but help dwell on the past:  if he'd been more open to varying his game against Nadal, as he demonstrated this year, he might have achieved better results.
It is also obvious yet somehow needs restating:  this guy has been the second best clay courter in the world, consistently, since 2005.  If not for either the #1 or #1a grinder of all time, Federer might have racked up twenty or so Slams and at least one yearly cycle.  
Wimbledon tells a crueler truth:  when players no longer fear you you have to play that much harder and better.  Tsonga, and others increasingly, will play believing they can beat this guy, even from two sets down. Federer will have to play that much harder to win, especially in the five-set slams.   

Like all winners, Nadal at the French both earned his triumph and benefited from the good fortune of Federer's upset of Djokovic.
Rafa refreshingly confessed his lack of confidence, and mixed results, in the first week in the week one in Paris, which likely reflected his concern that even on clay he now doubted his supremacy.  
How could he not wonder, given his losses to Djokovic in Madrid and Rome? For the first time since 2005, an astonishing length of time in any sport and literally pretty much his entire adulthood and professional career, rational analysis suggested that at the very least he now had a rival who had the game and the physical and mental toughness to beat him.
Though he behaves toward Federer with the greatest respect, for a long time Nadal knew that he had more answers for Federer than vice versa.  Wimbledon should reinforce his doubts about his game vis a vis Djokovic's.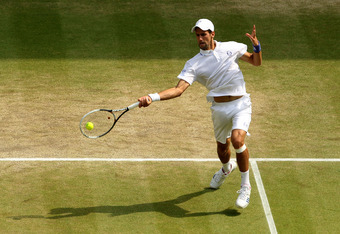 Pool/Getty Images
Djokovic learned--in defeat at the French and in triumph in London--that the Slams demand a different level of focus and toughness.  Everyone pays lip service to that reality, but results suggest that most players fall short.  
For all of his game, on a day when he was not at his best, he couldn't find a way to defeat Federer. Did fatigue or injuries play a part?  Perhaps.  
But there's no crying in baseball and the Hall of Famers make plays when it counts, much as he did last year at the U.S. Open semi-finals when he overcame Federer and some match points.  
Yet Wimbledon told a different story.  He knew that he could beat Nadal on the red clay since he'd recently done so.  He had no such experience of success on the grass.  
But he picked up right where he left off:  serving and returning well, and putting mental and physical pressure on Nadal that no one--even Federer--has been able consistently to maintain. This first Slam against Rafa should tremendously reinforce his confidence.  
At this point Rafa faces the biggest question mark, both mentally and strategically.  He knows that Djokovic now wields the complete arsenal--the flatter strokes, the returns, the serve--to reduce Rafa to behind the baseline defense.  
Is there something else that Rafa can and should do to try to regain the advantage, or must he just hope that Djokovic comes back down to earth from his stratospheric play of late?
Rafa's comments at Wimbledon suggests that he either doesn't feel the need to make significant adjustments or doesn't know what those would be.  
Such passivity seems uncharacteristic for team Rafa.  He needed a better serve to pressure Federer; he produced it.  He needed to volley to win Wimbledon; he developed a credible volley. He added slice, the drop-shot.  
This is a player who knows how to improve not just by fine-tuning his "natural" arsenal, but by developing new aspects of his game.
Has he reached his limit, or are there new things he can and should learn to become more competitive against his newest, most dangerous rival? Time will tell.