Wimbledon 2011: Nadal and Djokovic in Final Leaves Americans Yearning for 2009
July 3, 2011
Michael Regan/Getty Images
Rafael Nadal and Novak Djokovic are a couple of extraordinary tennis players. They are two of the three best tennis players in the world (Roger Federer being the other) in an era that may later be looked upon as a golden age of men's tennis.
Still I suspect that few sports fans in this country will take time out of their Sunday morning to watch what promises to be a spectacular match between the top two seeds in this year's draw. Normally, a premier matchup like Nadal versus Djokovic would be all people need to capture their attention.
The reason for this probable lack of mainstream interest on the part of American sports fans is because the casual tennis fan in the United States is still yearning for what could have been in 2009.
For my money, the 2009 Wimbledon final between Roger Federer and Andy Roddick is one of the best matches in Wimbledon's storied history. I believe it is one of the greatest championship moments I have ever seen.
I have to admit, I did not watch all of that match, quite frankly because I had seen Federer and Roddick clash in the past and I knew how it ended. I had seen Roddick fail time after time to knock off Federer, including several times in the finals of major tournaments.
I've often said Andy Roddick is the Ken Norton of tennis. Ken Norton was an all-time great boxer who was overshadowed because he fought in the same era as Muhammad Ali and George Foreman. In the same way, I am convinced Roddick would be the winner of multiple major championships if he played in another time.
Ken Norton did have his moment against the great Ali though, and in 2009 it looked as though Roddick would have his moment against the great Federer. I tuned into the 2009 final after hearing Roddick had triumphed over Federer in the first set. In one short set, Roddick had turned me back into the believer I had secretly been all along.
The next two sets did not go as well for Roddick as Roger Federer took them both in tiebreakers. Having watched more of Andy Roddick's matches than I care to admit, I was convinced that he was done. Whether fair or not, I feel comfortable saying that at this point in time, Roddick did not have the best reputation of bouncing back from adversity.
That is when something amazing started to happen. Roddick dominated the fourth set, playing his best tennis of the match when most people had given up on him. Truth be told, most people had probably given up on him a couple years before the tournament even started.
For me personally, I was simply thrilled that Andy Roddick had taken Roger Federer to five sets. I still was not convinced that he could beat Federer but at the very least he had earned some respectability that he desperately needed.
The fifth set presented a problem for me though. I was supposed to attend church with my mother and it was time to go. Something inside me told me I had to watch the end of this match, I knew it was going to be important; so naturally I lied. I told my mother I was going to go to my normal church instead of hers. I'm sorry mom, but I didn't go to church that morning.  
It was about 11 in the morning by this point and Buffalo Wild Wings was just opening for lunch so I went to a bar on a Sunday morning. I had only a few dollars in my wallet so I went to the bar and lied again. I said I was waiting for a friend and that all I wanted was a Diet Coke while I waited. Truth was, I did not think the end of the match would take more than a half hour and a Diet Coke was all I could afford.
So this is where I witnessed a sporting event which has inexplicably left such an impact on me. If you remember this match at all, you know that the fifth set lasted much longer than a half an hour. That set was a roller coaster of ties and lead changes and match points flowing fluidly to each player. 

It seemed as though each point was an alternating indication of Andy Roddick's impending doom and Andy Roddick's most glorious victory. All I know is that at some point I came to the realization that I knew Andy Roddick was going to prevail. 
Unfortunately I was wrong. Eventually Roddick faltered and Roger Federer won the fifth set by a score of 16-14, claiming his record-breaking 15th major championship. The funny thing is, what I remember about that match is not Roger Federer's record and truth be told I had to look up the score of the fifth set.

 What I remember is that Andy Roddick made me believe.
Tennis is one of those sports that Americans only really care about if one of their own is relevant and in contention. I have a theory that Americans will become fans of any sport that we are good at. My main pieces of evidence are cycling and swimming. Did anyone care about the Tour de France before Lance Armstrong?  Has anyone cared since? The same questions can be asked of swimming and Michael Phelps.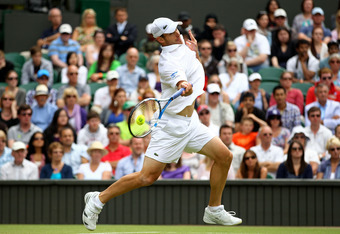 Julian Finney/Getty Images
Tennis is the same way. Americans loved tennis back in the day when every title was one by either Pete Sampras or Andre Agassi. Tomorrow, I do not think tennis will be at the forefront of the American consciousness. Not very many people will watch the match on television in the morning for the same reason not very many people will read this article; because the final is between a Spaniard and a Serbian.
I am not even claiming to be any different. I cheer for Roddick because he is an American and we are both from Omaha. I went hoarse celebrating Landon Donovan's extra-time winner versus Algeria. I made a scene at a restaurant (ironically Buffalo Wild Wings) rooting for Michael Phelps, all because of national pride.
There is one thing that sets me apart though: I will be watching Nadal and Djokovic tomorrow morning. I will be watching because I love good tennis. I will be watching because five or ten or 20 years from now when some American whose name I do not currently know upsets a giant to win Wimbledon, it will be that much sweeter.
How do I know this will happen, you might ask? I don't. I just know that Andy Roddick made me believe.