Wimbledon 2011 TV Schedule: Will Rafael Nadal Dominate Novak Djokovic in Final?
July 2, 2011
Michael Regan/Getty Images
Rafael Nadal gets the chance to defend his Wimbledon title Sunday on Centre Court against the hottest man in tennis, Novak Djokovic.
The final can be seen on NBC at 9 a.m. EST, in all time zones, on Sunday, July 3. 
No matter the result, Novak will usurp Nadal come Monday morning. By reaching his first Wimbledon final, Novak will be rewarded with the world No. 1 ranking.
But the No. 1 ranking means nothing if you can't win Grand Slams. Just ask Caroline Wozniacki.
Meanwhile, Djokovic is going for his third major title after winning his second Australian Open this year. That victory in January sent the Serb on a tear that has seen him lose just one match all year, to Roger Federer in the French Open semifinal. 
Four of his final victories this year have come against Nadal. It should be noted, however, that those were best-of-three matches.
The last time Novak and Rafa met in a Grand Slam was the US Open final last year. Rafa won in four sets, though Novak was aided in the second set by a rain delay.  
Meanwhile, Nadal is going for his third Wimbledon title and 11th overall.
Both Nadal and Djokovic have lost only three sets so far this tournament, and neither have been pushed past four sets.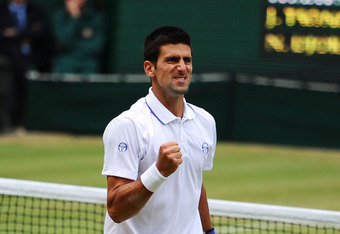 Clive Mason/Getty Images
Nadal has been on this stage before, pretty much ever since he came on the scene. For Novak, this is all new.
Will Novak be able to handle the pressure of being No. 1? What's more, will he handle the pressure of not being the crowd favorite yet again?
Judging by Novak's French Open semifinal showing, the answer appears to be no.
Novak lost rather tamely to Federer in four sets in Paris and looked visibly upset at the crowd's overwhelming support of Federer, even though Novak's been the best player on tour this year.
He can expect more of the same from Wimbledon.
Rafa has given this crowd some fantastic performances over the years, not least of the which was his epic 2008 final victory over Federer. The fans will be behind him, and rightly so. He's provided more entertainment over the years.
Rafa and Novak come into the final pretty even in their play, and so this will come down to a battle of wills.
This is Rafa's fifth appearance in the Wimbledon final. For Novak, this is his fifth final appearance overall.
The Djoker cannot afford mental mistakes against Rafa. Andy Murray made just one in the semifinal, and Nadal ran away with the match.
Novak needs to stay focused and pounce on Nadal early in the match because there's no such thing as coming back against Nadal in a Grand Slam final. 
I don't think Novak is ready for this yet. Sure, he's looked great this year and has made all kinds of impossible shots, but Nadal has been doing that for years and still defies logic with how he gets to every ball. 
I see Nadal winning in four sets, but Novak will get a glimmer of hope winning the third.