Wimbledon 2011: Predicting the Men's Semifinals
July 1, 2011
Oli Scarff/Getty Images
Three matches to go and we have a Wimbledon champion. By now, I think there is one clear favourite and his name is Rafael Nadal. He's the only man left in the drawwho's won Wimbledon.
And he has the clearest path to the final by facing Andy Murray, who he's beaten in straight sets two times at Wimbledon already. 
Nevertheless, as we saw with Jo-Wilfried Tsonga against Roger Federer, there's always a place for the upset. 
Nadal vs. Murray
Head-to-head: 11-4. 
Nadal has done it before and knows exactly what it takes to beat Andy Murray. Murray, on the other hand, will have to come up with something special to beat Rafa.
He's done it twice in a slam, but both those times where on hard court, where the bounce is higher allowing his counter-punches more bite. 
Before the tournament, I predicted Murray would actually beat Rafa in the semis. Not so much out of reason as out of: he has to come through at some point. The evidence speaks in favour of Rafa, though. 
He's won a tough match against Del Potro, had an easy time with Fish and is on a 19-match winning streak at Wimbledon. He's won four of the last five slams and beat Murray in straights in last year's semi.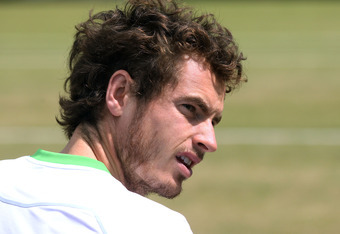 Oli Scarff/Getty Images
If Murray is to pull the upset, and make no mistake, it would be an upset equal to that of Tsonga beating Federer, he needs to play a near-perfect match and he needs to play out of his comfort zone. He needs to attack and take his chances. 
He did well against Rafa on clay, both in Monte Carlo and in Paris. But he didn't win. Can he turn the tables tomorrow? I think his second serve is too weak and his first serve percentage is too low. If he can get the latter close to 70 percent, he does stand a very decent chance, as he is as good or better than Rafa returning. 
Then there's the intangible. It's Wimbledon, and Murray is British. Will it finally lift him to produce something special? Few expect him to beat Rafa, so he can play relatively free of expectations, the focus being on relatively. 
Reason tells me that Rafa will win yet again and eventually also win the title. However, I feel I should stick to my pre-tournament pick, so I take Murray in four to five. 
Jo-Wilfried Tsonga vs. Novak Djokovic
Head-to-head: 5-2
In my quarterfinal previews, I stated that Tsonga was by far the most dangerous opponent for any of the top four. I didn't quite realize how right I was until I saw him turn a 2-0 deficit into a five-set victory against the Maestro in the latter's own backyard. 
Tsonga is a natural on grass and would have been a champion on the surface even more so before it got slowed down. His all-out attack, big serve, big forehand and crisp volleys are made for the surface. 
His opponent is the guy who could not lose a tennis match for six months in a row. At Wimbledon though, he hasn't looked half as strong as he did on the hard and clay courts. Sure, he has won and he hasn't been pushed to five sets. 
But who has he beaten? Djokovic probably ended up with the easiest draw of any of the top players, yet he manages to lose a set here and there nevertheless. 
Based on form and head-to-head, I go with Tsonga. Then again, there is a parallel. Tsonga also came from a high-profile win, when the two of them met at the Australian Open final in 2008, where Djokovic won in straights. 
Will Tsonga's form dip again? Can he keep winning his own service parties with ease against the best returner on tour? 
Those are the crucial questions going into the match. Tsonga's shots are without a doubt big enough to keep Djokovic honest. But can he hit the lines that well two matches in a row? 
I say he can, Tsonga in five.