Jo-Wilfried Tsonga Lives Up to Potential, Beats Roger Federer on Grass
June 29, 2011
Julian Finney/Getty Images
We've come to expect everything and more from the man who gave us everything for so many years.
Every loss is another catastrophe, every loss is another proof of the decline, the aging, the lack of intensity and concentration over a full match.
In the immediate aftermath of Roger Federer's second consecutive quarterfinal loss at Wimbledon, this time to Jo-Wilfried Tsonga, pundits, fans and non-fans were quick to declare him death yet again.
Blaming him for not trying enough. For giving up too easily.  For squandering a 2-0 sets lead for the first time in 179 Grand Slam matches.
Perhaps starting to feel the pressure of his own success, the great man himself stated at the end of 2007: "I've created a monster," referring to the expectations that are skyrocketing when you win 11 slams out of the last 16 and only miss two finals.
Ever since then, every major Federer loss has been a story of him in decline. Later perhaps, every single loss has got its own decline momentum spun around it.
But this match, or this tournament, was not about Federer's decline.
Rather, the match was about a Frenchman named Jo-Wilfried Tsonga playing good tennis for one and a half sets and lights out tennis for three-and-a-half sets.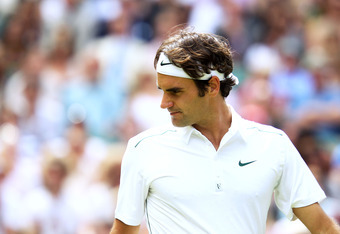 Julian Finney/Getty Images
Federer didn't simply squander a two sets-to-love lead. Tsonga raised his level to almost unbelievable hights.
Sure, Federer could have tried to change things up more. Sure, Federer seemed his old stubborn self, refusing to change to break up the rhythm of the Tsonga storm. But in the end, it was Tsonga who won it, fair and square, not Federer who blew it.
I most confess, I had barely heard of the Frenchman back in January 2008 while travelling Cambodia. I read about his run through the tournament and got to watch his semifinal against Rafael Nadal in my shabby hotel room.
I was thrilled, stunned and baffled.  Tsonga not only won the match. He gave Nadal a  comprehensive beating by playing unbelievably well, aggressive, attacking tennis. His serve was marvelous, his forehand was scary and his volleys were crisp.
The Ali look-a-like became an instant favourite of mine as he played exactly the kind of tennis I prefer to watch. The very same day I wrote a friend and fellow tennis-fan: We're looking at a top-five player by the end of this year.
Alas, I was slightly wrong. By November, Tsonga reached his highest position to date at sixth in the world.
He's got as much potential, touch, athleticism and raw power as anyone on tour. But he also got a very large body-size for a tennis player and has paid for it with countless injuries and a consequent inconsistency.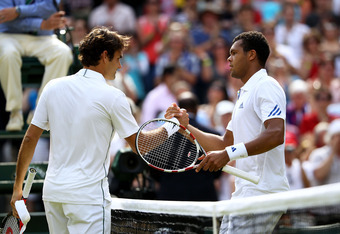 Julian Finney/Getty Images
Tsonga is 26 now and he's only playing his 16th Slam tournament. Federer won his first slam on his 16th try.
Against Federer, Tsonga was free flowing, injury-free and playing tennis in the zone, without thinking, or caring, whether the balls he was belting would go in or out.
Against an opponent like that you only have four options: 1) wait for a dip, 2) hope you'll hit your own zone, 3) try to change it up enough for your opponent to lose his zone or 4) take a toilet-break or an injury-time out and hope that brings your opponent back to earth.
Federer opted for option 1 and 2, but neither of them quite materialized. But his fans shouldn't be concerned about his demise just yet. Both of them played an a very good match, Tsonga's level was just a notch or two above.
If he can keep this otherworldly level, there's no player left in the draw whom he cannot beat. Chances are, that he can't. Chances are, the best returner on tour can steal a service break here and there.
Nevertheless, as tennis fans, we should so far simply be happy with the threat both of them gave us.