Wimbledon 2011: Rafael Nadal and Men's Quarterfinals Live Blog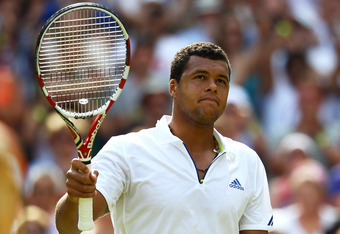 Julian Finney/Getty Images
The championships, Wimbledon 2011. Men's quarterfinals. Let's live blog this.
Today's Slate
No. 3 seed (still weird saying that) Roger Federer (SUI) vs. No. 12 seed Jo-Wilfried Tsonga (FRA) at 1 PM London time, 8 AM EST and 2 AM Hawaiian time on Centre Court.
No. 2 seed Novak Djokovic (SRB) vs. unseeded 18-year-old Bernard Tomic (AUS) on Court 1 starting at 1 PM London time.
No. 4 seed Andy Murray (GBR) vs. unseeded Feliciano Lopez (ESP) to follow on Centre Court.
No. 1 seed Rafael Nadal (ESP) vs. No. 10 seed Mardy Fish (USA) to follow on Court 1.
The Predictions
Federer in straights. Fed takes two tight first sets and Tsonga goes away in the third.
Djokovic in straights. Tomic brings one set to a tiebreaker.
Murray in straights. The bigger question: Has he shaved?
Nadal in four sets. Fish takes the second.
Alright, keep this window open, why don't you? Updates will refresh automatically.
Clive Brunskill/Getty Images
And Rafael Nadal advances to the semifinals of Wimbledon 2011 with a 6-3, 6-3, 5-7, 6-4 victory over Mardy Fish.
Nadal will play Andy Murray in the semifinals on Friday.
Novak Djokovic and Jo-Wilfried Tsonga will play on Friday for the other spot in the final.
Michael Regan/Getty Images
Andy Murray moves on to the 2011 Wimbledon semifinals with a 6-3, 6-4, 6-4 win over Feliciano Lopez.
Murray moves on to face the winner of Rafael Nadal vs. Mardy Fish.
Murray's win earns him his third straight Wimbledon semifinal appearance.
Clive Mason/Getty Images
There's an early break for Rafa. Let's finish it off so I can go play some tennis, yeah?
Clive Brunskill/Getty Images
Mardy Fish takes the third set, 7-5. If this goes to five sets, I will be nonplussed, to say the least.
Clive Brunskill/Getty Images
Mardy Fish holds serve to go up 5-4 in the third set, making this hugely dull match a little less dull until he inevitably loses the set in a tiebreaker.
Michael Regan/Getty Images
Andy Murray closes out the second set, 6-4. Ho-hum.
Clive Brunskill/Getty Images
Fish holding tight in the third, but I think we all know this one's over. Nobody's coming back from two sets down against Nadal (although, I would have said the same thing about Federer).
This one won't go to a fourth set. 2-2 in the third.
Nadal wins the second set, 6-3. Could I be headed for an early day?
I have a question to pose. Please read this and comment:
If I handed an alien a highlight video of both Roger Federer and Rafael Nadal (never playing against each other) without providing any context (Federer's record 16 Grand Slams, Nadal's overwhelming advantage over Federer in head-to-head), who would the alien think is the better player? And why?
Mardy Fish: decidedly less highlight-prone than the rest of the guys playing right now.
But whatever. America!
Rafa Nadal just grabbed an early break in the second set and leads 3-1. It's going to be a short day for Fish.
Andy Murray highlight time, from his win over Tsonga a couple weeks ago.
Murray just broke Lopez after a few missed chances. The hometown hero leads 4-2 in the first set.
Highlight time! Feliciano Lopez's win over Andy Roddick.
What a great-looking serve. Lopez and Murray are on serve, 3-2.
Oli Scarff/Getty Images
I could not be less enthused for these two matches. My favorite player in either match is Feliciano Lopez because I like his name.
I want Roger Federer back.
Michael Regan/Getty Images
Rafael Nadal breaks Mardy Fish for the third time in the set to take a one-set lead. He made that look easy. My day may be salvaged after all!
Of course, Andy Murray will find a way to make this more difficult than he needs to, and I'll grow to be one with my couch. I'm thrilled.
Pool/Getty Images
The results are in. Andy Murray's face still looks disgusting.
Murray holds for a 1-0 lead.
Mardy Fish just broke Nadal for 3-5. He's still down a break.
Michael Regan/Getty Images
All right, here we go. Round two of the 2011 Wimbledon quarterfinals.
Rafael Nadal broke Mardy Fish in the first game of the match. Nadal leads 4-2.
Andy Murray and Feliciano Lopez will take Centre Court shortly.
Julian Finney/Getty Images
Goodbye.
Jo-Wilfried Tsonga defeats Roger Federer, 3-6, 6-7 (3), 6-4, 6-4, 6-4 to move onto the semifinals of Wimbledon.
Unbelievable comeback by Tsonga. Federer can only help but smile, but you know it's killing him.
Tsonga will play Novak Djokovic in the semifinals. Believe it or not, Tsonga leads the all-time series, 5-2.
Na-na-na-na, na-na-na-na, hey-hey-hey...
Big cheer from the crowd. You know who it's for. I know who it's for. Tsonga's the only person who doesn't know who it's for.
Tsonga with a few huge serves to go up 5-3. He's one game away from the second two-set comeback of his career.
Federer barely hangs on, almost blowing a 40-0 lead. Tsonga to serve for the match. Will he crack?
Baseball reference from McEnroe. Why?
Clive Brunskill/Getty Images
Jo-Willy holds again for a 4-2 lead. Federer holds for 3-4. He'll have two more chances at breaking Tsonga's huge serve. He got to 30-30 that game, we'll see if he can close it out this time.
Not much to say right now. Tsonga is dominating from the baseline and on his own serve. Wouldn't be surprised he Tsonga broke this game or the next Federer game for a real blowout of a set.
Roger Federer is getting absolutely nothing on Tsonga's serve. Tsonga with a gorgeous drop volley to consolidate his break. Tsonga leads 2-0.
Clive Mason/Getty Images
Novak Djokovic advances to the Wimbledon semifinals with a 6-2, 3-6, 6-3, 7-5 win over 18-year-old Bernard Tomic. What an excellent showing by the young Aussie. I look forward watching him play in the near future.
Djokovic will play the winner of Tsonga vs. Federer. Tsonga's up a break in the fifth set.
Julian Finney/Getty Images
Tsonga breaks Federer to open the fifth set. I'm speechless.
This article is
What is the duplicate article?
Why is this article offensive?
Where is this article plagiarized from?
Why is this article poorly edited?