Wimbledon 2011: Previewing the Men's Quarters
June 29, 2011
Julian Finney/Getty Images
It's no longer Magic Monday, but nevertheless, today's lineup looks damn fine. All eight men will be in action. Let's review them in the order of play. 
Roger Federer vs. Jo-Wilfried Tsonga
Head-to-head: 4-1, never met on grass. 
This one would seem easy to call. Six-time Wimbledon champ versus a man who's never made it past the quarters at the All England club. But make no mistake. Tsonga has got game. And he is hitting his serve as well as it can be hit. 
Against David Ferrer, one of the best returners on tour, he won a whopping 50 out of 54 first serves. That's 93 percent. Add to that that he hit 66 percent of his first serves and won 54 percent on his second, and you can see why he only offered to breakpoints; needless to say, he withstood them both. 
Against Fernando Gonzales, he pulled a similar performance in yet another straight set victory. Ironically, his toughest match has been against a young guy better known as mini-Federer than Grigor Dimitrov, which he pulled through in four tight sets. 
The injury-prone Frenchman has had a good couple of weeks for once playing injury-free for a longer stretch. At Queens, he beat Rafael Nadal in the quarters only to lose a tight match to Andy Murray in the final.
I would venture, the Frenchman is the biggest threat for any of the big four.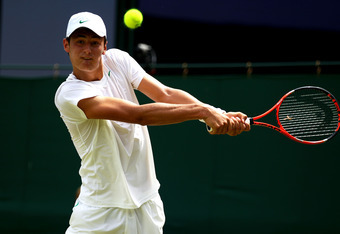 Clive Brunskill/Getty Images
Nevertheless, I do not see him making it past the six-time champion.
Why not?
When Federer is on, he's got too much for Tsonga to handle. He has proved this time and time again. Has anyone played better than the Maestro at this year's championship? I can't say whom though Nadal has looked pretty damn good too. Let's call it a draw for now.
Prediction: Federer in four
 Bernard Tomic vs. Novak Djokovic
Head-to-head: None, though they practiced several times. 
When Federer sets out at one o'clock on center court, Novak Djokovic finds himself pushed out on court one at the same time.
While I can't claim to have predicted this quarterfinal lineup in my preview, I at least saw Tsonga coming in Federer's half. Tomic, on the other hand, is the surprise of the tournament. The Australian prodigy has long been touted a great talent, but this tournament is certainly his breakthrough performance. 
Tomic is a bit in the same mold as another young unorthodox player who's had a minor breakthrough this year, Alexandr Dolgopolov. However, the youngest man in the men's quarters since Boris Becker in 1986 stands a very slim chance of upsetting Djokovic.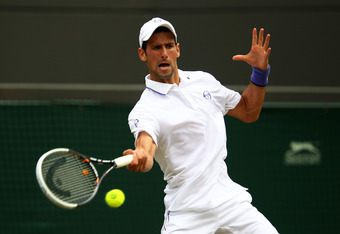 Julian Finney/Getty Images
With all due respect to Tomic's big win against Söderling, the big Swede wasn't feeling quite right. And the win against Malisse? Well, he's not quite in the same league as Djokovic. Neither is Nikolay Davydenko these days, whom Tomic beat in straights in the first round. 
When push comes to shove, Djokovic is too rock solid, too strong on his serve and especially too strong on his return game. Nevertheless, Tomic has nothing to lose and should go out there to fight for his chance. 
Prediction: Nole in three. 
Andy Murray vs. Feliciano Lopez
Head-to-head: 4-0, none on grass.
This match is Murray's to lose. The son of Scotland could not have wished for a much easier quarterfinal at the All England club. Lopez just spend well over four hours taking out world no. 93, Lukasz Kubot in the fourth round while Murray dispatched the much more dangerous Richard Gasquet in straights. 
Then again, Lopez did take out Andy Roddick in straights as well, but Roddick is no longer the Roddick as of old. Nevertheless, an opponent who can hit 80 winners to go with 20 unforced errors as Lopez did against Kubot should not be taking lightly and rest assured: Murray won't.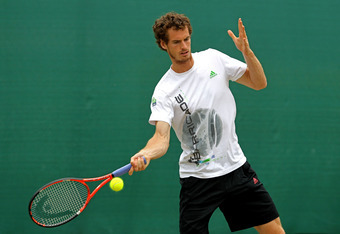 Pool/Getty Images
The risk is rather that he will take the match too seriously and get uptight. His mother is probably not making it better by her constant tweets about how hot Deliciano is. 
The crowd and his better overall game should carry him through, though. He's only lost one set to Lopez so far. I say Lopez might be able to take one more here, but no more than that. 
Prediction: Murray in four, possibly three. 
Rafael Nadal vs. Mardy Fish
Head-to-head: 5-0, including 1-0 at Wimbledon and 1-0 at Queens. 
Finally, we have the defending champion playing against the sole remaining American in the tournament, Mardy Fish. 
There's nothing in their past records to suggest that Fish can push Rafa half as hard as Delpo did in the fourth round. Though meeting Rafa three times as early as 2006, two on hard, one at Wimbledon, Fish had to wait until their last meeting at the US Open 2008 before Rafa even allowed him a set.
To his credit, Fish has taken out higher ranked opponents and pulled a dominated performance against last year's runner-up, Tomas Berdych. As Tsonga, Fish also won more than 90 percent on his first serve in his fourth-round encounter. Berdych wasn't able to break him. Both of them will have serve just as good if they are to trouble their respective Wimbledon champions.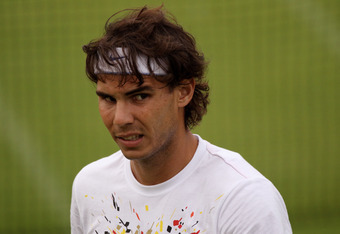 Oli Scarff/Getty Images
There is the intangible of Rafa's foot, but I would be very surprised if it bothered him. When he can play three sets against Delpo on it, he should be more than fine two days later against Fish.
I could have seen Rafa being annoyed by Raonic, troubled by Delpo, but I just don't see what Fish has that Rafa can't counter. He'll get to the semi's almost as smoothly as Djokovic.
Prediction: Rafa in three, four if Fish' serve is on song again.
Which leaves me with the same four semifinalists I picked pre-tournament. Gotta stick with the big four, when they slow no signs of slowing down and gotta stick with my pre-tournament picks.
If you want to know my picks for the final and the title, take a look at my initial preview. 
And enjoy your semi-magic Wednesday.